6 Ways to Spring Clean Your Lifestyle
Offload the weight of winter and welcome the refreshed, revitalized you—all with one stop at this SouthPark destination.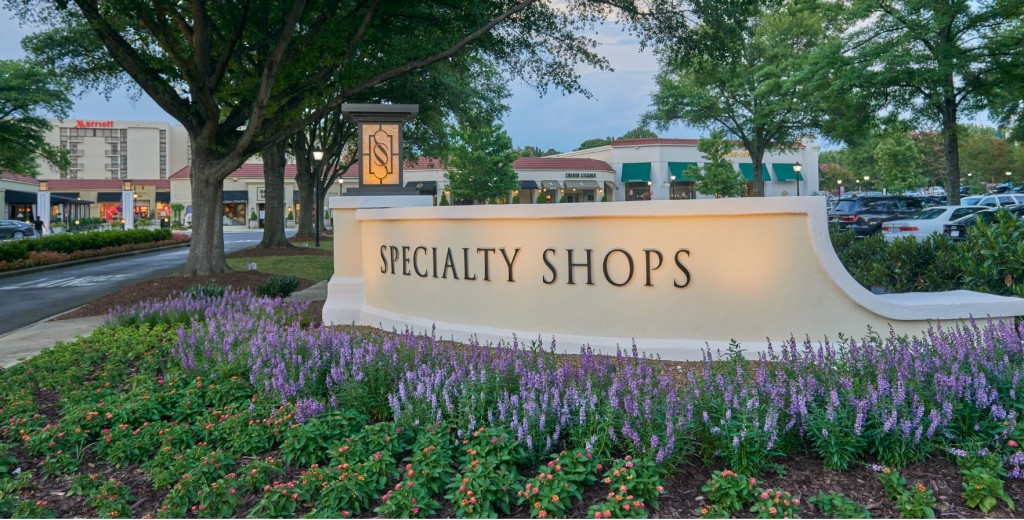 Whether it's enjoying a glass of wine on a patio or browsing new home décor or working off stress in a fitness class, we all enjoy different things and unwind in different ways.
Spring cleaning doesn't always mean purging half your closet or bleaching the entire house. Sometimes it means giving your personal life a boost by making room for me-time and taking care of yourself, no matter what that looks like.
Luckily, you can refresh your lifestyle in a multitude of ways with one visit to a longstanding SouthPark destination.
Specialty Shops SouthPark (6401 Morrison Boulevard) offers customers a sophisticated and refined upscale shopping experience at privately-owned boutiques, national retailers, and acclaimed restaurants. For almost 40 years, this vacation-like local destination has been giving Charlotteans the chance to experience something new and delightful each and every visit.
In 2020, the shops and restaurants at Specialty Shops SouthPark offer a variety of ways to refresh and unwind, no matter your "spring cleaning" style.
1. Get some (stylish) sleep
Your bed is perhaps one of the most important pieces of furniture in your home. It's where you return each night to recharge–which is much easier when your bed is properly equipped.
For a refreshed perspective this spring, change up your bedding to something luxurious and on-trend.
From Bedside Manor, the fun, fresh floral bedding pictured above is a collaboration between the renowned Schumacher design house and Matouk fine linens. The result is a vibrant style printed on a luxurious 500-thread-count percale and finished with a pretty scalloped edge.
How to Buy: Available in three luscious colorways including Citrus (pictured). Call Bedside Manor at 704-442-4006 or visit the store at Specialty Shops SouthPark to purchase.
2. Go for a girls' night out
… At the salon! Gather up your girlfriends for a girls' night out full of pampering at the upscale Anthony Vince' Nail Spa. Here, you can truly relax the senses as you repair and nourish your hands and feet.
This exceptional salon uses only the finest products. Pick your spring mani-pedi color from their incredible collection, including the newest trends for 2020.
How to Book: Anthony Vince welcomes walk-ins—you'll find the salon in the Specialty Shops courtyard next to Talbots. Appointments are available too; call 704-910-6820.
3. Start transitioning your wardrobe
Welcome spring with open arms by beginning the wardrobe transition. Because cold days (and sometimes snow) are known to sneak into Charlotte's spring forecasts, it's smart to stock up on sweaters that can be transitional and easy to wear into warmer months.
Dressing in between seasons can be tricky, so Ivy & Leo suggests pairing a distressed, pastel sweater with denim and booties for the perfect spring look.
How to Buy: All sweaters shown above are under $40 and available at Ivy & Leo. Call Ivy & Leo at 704-365-3222 or visit the store at Specialty Shops SouthPark.
4. Strengthen your core and your mind
Still going strong on that resolution to lose weight—or just getting around to starting?
As summer approaches, invest in your confidence and try a Pure Barre class. This musically-driven total-body workout focuses on low-impact, high-intensity movements designed to strengthen and tone your muscles. Pure Barre SouthPark is filled with supportive staff and amazing fellow classmates, making for an irreplaceable community to become a part of.
How to Book: Visit, call 704-364-2888, or email southpark@purebarre.com to learn more about the membership specials they offer.
5. Take care of your hair
Few things compare to the confidence a flesh blowout brings. If you're feeling drab post-winter, a blowout by the approachable experts at Drybar can revitalize your look immediately.
To fight bad hair days all the way through summer humidity, pick up a few items in-store from Drybar's product line created specifically for the perfect blowout.
How to Book: Walk-ins are accepted at Drybar, but if you prefer to have an appointment, call 704-749-2159.
6. Update your closet with fresh styles
Memorial Day is coming soon, and cool, breezy white fabrics will be your best friend this spring and summer.
These soft silhouettes from Amina Rubinacci will give you a casual, sophisticated look ideal for lounging on your favorite local patio with a glass of wine in hand.
How to Buy: Visit Amina Rubinacci at Specialty Shops SouthPark to purchase in-store or call 704-817-9247.
Even if you're just looking for a little fresh air this spring, there's no better place than the courtyard setting at Specialty Shops SouthPark. Outdoor benches and patio furniture beg you to sit as the luscious greenery and tranquil fountain ask you to stay awhile, and that's exactly what you should do.
Located in the heart of SouthPark at the intersection of Morrison Boulevard and Roxborough Road, Specialty Shops SouthPark is easy to visit. Just be careful—you might end up spending the entire day.
Visit this spring at 6401 Morrison Boulevard, Charlotte, N.C., 28211, or head to SpecialtyShopsSouthPark.com for more information.