A 2022 Look at Breakfast in Charlotte
A collection of stories examining the ever-growing scene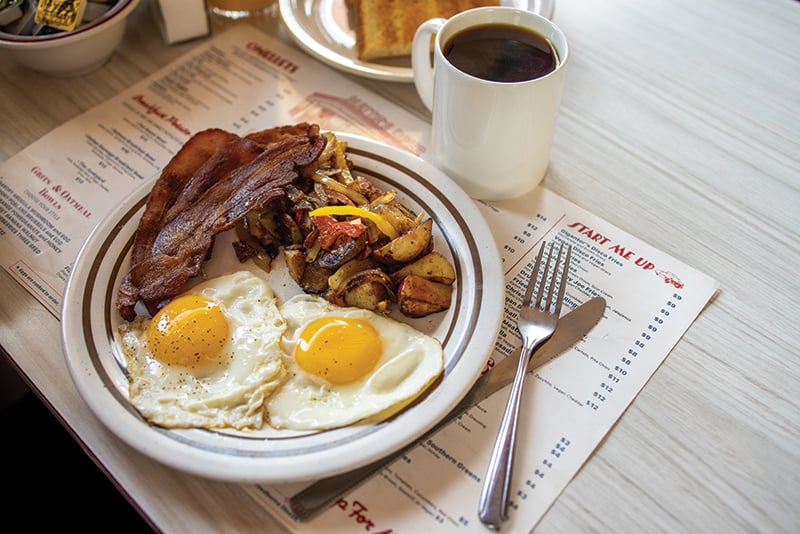 How Much Can Charlotte Fit on Its Breakfast Menu?
Suddenly, it seems, this city is filled with roughly a million ways to eat breakfast. You can break your fast at farmers markets, food trucks, old-school lunch counters, and gourmet bistros that serve espresso martinis alongside chorizo-and-queso omelets. (Is breakfast the new dinner?) Have your eggs in a taco and your cereal in a milkshake. Feast on vegan chicken and waffles, gluten-free cinnamon rolls, and cannoli-flavored cruffins.
This array of options is fairly new, here and in a lot of cities like Charlotte. A generation ago, for the most part, your choices were limited to cereal or a Pop-Tart at home, a local greasy spoon that offered three kinds of coffee (weak, strong, or burned), or McDonald's. That started to change in the 1990s, seemingly hand-in-hand with the explosion of Starbucks and "third places." Breakfast got bougie. Sunday brunch became a weekday possibility in fast-growing cities where urban cores swelled with affluent newcomers (sound familiar?). Hello, Flying Biscuit and Tupelo Honey. Good morning to you, Snooze A.M. Eatery.
This package is an attempt to take stock of Old Breakfast and New Breakfast in Charlotte, with the understanding that we can't account for every place. It's a snapshot of the ways this city treats and eats what we've all been told is the most important meal of the day. (Which you now can eat in the afternoon! Night, even!) We'll revisit beloved greasy spoons, explore new bakeries and gourmet markets, and cover the spectrum from biscuits and gravy to avocado toast. They're all worth getting out of bed for. —Taylor Bowler