Anthony Foxx: All Roads Lead to Washington
A year ago, he was still Charlotte's mayor. Now settled into his job as U.S. Secretary of Transportation, the West Charlotte graduate has the task of addressing perhaps the most important question for America's future: How are we going to get around?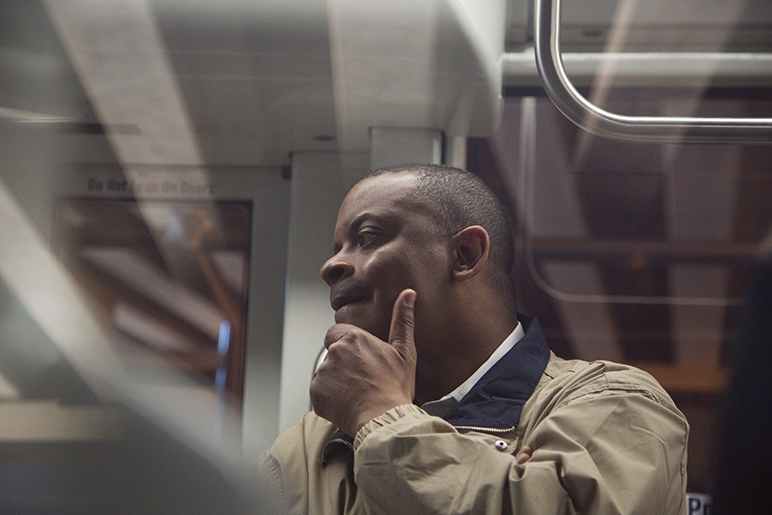 One day this past winter, Anthony Foxx took his children to work. He arrived at the U.S. Department of Transportation's headquarters, which spans two city blocks along Washington, D.C.'s southeast waterfront, with his 9-year-old daughter, Hillary, and his 8-year-old son, Zachary. Foxx led his children into the imposing redbrick building, onto the executive elevator, and through the entrance to his ninth-floor work space.
From the windows of his spacious office, about 400 miles from uptown Charlotte, Foxx can see the Washington Nationals' 42,000-seat baseball stadium rising to the west. A black-and-white photograph of his mother and a silver Carolina Panthers football helmet rest behind his desk. A framed copy of the Senate's roll-call vote—unanimously confirming him as the 17th U.S. Secretary of Transportation—hangs on the wall.
That winter day, Foxx's children romped along the office's freshly vacuumed carpets, before they settled down to watch SpongeBob SquarePants videos on their tablet devices.
Soon, Hillary disappeared around the corner with a pen and paper. Foxx's family had recently returned to Washington after flying to visit cousins and his wife's grandparents in Louisiana, and Hillary believed her experience with the airline industry could be of value to her father. Hillary scribbled for several minutes and then presented her list of federal transportation priorities directly to the cabinet secretary.
Hillary had three recommendations. First, every seat on an airplane should be in first class. Second, airplane bathrooms should be bigger and cleaner. "And the final one," Foxx said to a giggling crowd at an industry conference in January, recounting the story, "she thinks that the airlines should come up with an invention such that when the plane lands, your ears don't pop."
If only Foxx's job were that simple.
Once the lynchpin of the American dream, the country's transportation infrastructure has deteriorated beyond recognition. One-third of the nation's major roads are in "poor to mediocre" condition, while 11 percent of our bridges are structurally deficient. Americans spent 5.5 billion hours stuck in traffic in 2011, and because we're still using 1950s air-traffic technology, America's skies are the world's most congested. In 2013, the World Economic Forum ranked the United States 19th in the world in infrastructure quality, putting us two rungs below Oman. Fixing our rickety infrastructure isn't just about getting people to work faster; it's essential to maintaining our standard of living. If American goods can't reach the global market, business will collapse, jobs will vanish, and entire communities will suffer.
When President Barack Obama nominated Foxx as transportation secretary in April 2013, he asked Charlotte's former mayor to lead the administration's effort to retrofit our outdated network. This involves much more than repairing potholes. Foxx must find new sources of funding at a time when politicians face growing pressure to cut spending, and he has to reach consensus with a U.S. Congress so dysfunctional it shut down the entire federal government last year. Fixing the American transportation system is among the most critical—but thankless—tasks in Washington. And it belongs to a 43-year-old graduate of West Charlotte High School.
***
About four years ago, long before his appointment, Foxx walked into the executive office of then-transportation secretary Ray LaHood.
"What brings you up here to D.C.?" LaHood asked Foxx.
Chip Somodevilla/Getty Images
Foxx has spent the better part of 2014 promoting President Obama's $302 billion transportation bill. If nothing's done, Foxx told reporters in this briefing in the White House's Brady Press Briefing Room, the country's transportation system will face a "dire moment."
"I'm here to see you," Foxx replied.
Foxx became Charlotte's youngest-ever mayor in 2009, just as the financial crisis toppled the local economy. Banks failed, home prices plunged, and unemployment soared. "I had never seen the city so depressed," Foxx says now.
In 2010, Foxx went to Washington for an annual mayor's conference and attended a presentation by Larry Summers, then a top economic advisor to President Obama. Summers' remarks, which focused on how local infrastructure investments could create jobs and grow economies, resonated with Foxx. He became convinced that transportation improvements must have a role in Charlotte's recovery. So he visited the then-transportation secretary's office to see how the federal government might be able to pitch in.
"He was smart enough to know that if he really wanted to get funding for transportation projects, he had to get to know me and get to know the department," LaHood says.
The effort paid off. LaHood's agency committed $18 million in federal funds to building platforms for Charlotte's light-rail service in 2011, $580 million to extend the line to UNC Charlotte's campus in 2012, and $25 million to launch its streetcar line in 2011. LaHood visited Foxx in Charlotte multiple times. "The streetcar project moves Charlotte a step closer to building a truly connected transit system that will enable commuters, students, and visitors to travel seamlessly in and out of downtown," LaHood told the crowd at the project's groundbreaking ceremony in December 2012.
Although the streetcar project had several stops and starts in the local City Council—most notably when then-Mayor Pro Tem Patrick Cannon rallied enough council members to block plans to raise property taxes to pay for it—Foxx's name continued to become more popular in Washington while he was Charlotte's mayor.
Specifically, Foxx drew the attention of LaHood's boss, the president. In March 2010, Foxx brought a delegation of Charlotte business leaders, including former Bank of America Chairman Hugh McColl, to Washington to meet with White House economic advisors. "We talked about small businesses and job creation and what [federal assistance] would be helpful in our city," McColl says now. Just as important: The exchange allowed the Obama administration—whose relationship with the business community was then in tatters—to highlight its efforts to jump-start an economic recovery and, hopefully, begin to make up with the private sector.
One month later, Obama flew to Charlotte to visit a company that makes battery components and trumpet his plans to revive the economy. Foxx and Obama became friends, Foxx says. All told, Foxx met with the president at least five times during his first 14 months as Charlotte's mayor, and with each encounter, Foxx lobbied the president to support Charlotte as host city for the 2012 Democratic National Convention, according to a February 2011 story in The Charlotte Observer. "Every time I have seen [President Obama], ever since the final cities were announced, the first words out of my mouth were, 'We'd love to have the convention in Charlotte,' " Foxx told the Observer.
The Queen City's selection as host city allowed Foxx to strengthen his ties with Obama. "During the time leading up to the convention and during the convention and after the convention, [Foxx] actually spent a lot more time than I ever did at the White House," says Mel Watt, the former North Carolina congressman, current Federal Housing Finance Agency director, and longtime friend of Foxx's. "He got to know the people in the White House very well and they came to respect him more and more."
***
Although critics worried that Charlotte might be too small to host a mega-watt political event, the 2012 Democratic convention proved otherwise. Obama was impressed, LaHood says.
Then, in late 2012, LaHood told the president that he planned to step down after four years in the post. Obama asked LaHood for his thoughts on a replacement, and the two agreed that big-city mayors would make strong candidates. Mayors, of course, have street-level experience managing transportation systems within limited budgets.
LaHood drafted a list of mayors and state government officials who would be suited for the position. "I ran it by the folks at the White House, who ultimately ran it by the president," LaHood says. "Anthony was right at the top of the list."
Foxx stunned Charlotte on April 5, 2013, when he announced he wouldn't seek reelection as mayor. He officially learned that he was under consideration for the transportation secretary post in mid-April, according to his press office now. Eventually, the White House narrowed its choices to him and one other candidate, Watt says. "We were all pulling for him," says Watt, who was among the few people outside the White House aware of the discussions.
Later that month, Foxx was at the Charlotte Convention Center for a meeting when his cell phone rang. It was President Obama, with a question for the mayor: Will you come to Washington to serve as transportation secretary?
Washington isn't a foreign land to Foxx. He served as a staff counsel to the House Judiciary Committee in the 1990s, and he even met his wife, Samara, in the city. But this time, the stakes are higher.
Foxx eagerly agreed. He began making regular trips to Washington to meet with members of the U.S. Senate, who would vote on whether to confirm his nomination. "He really reached far and wide to meet as many [senators] as he possibly could," North Carolina Democratic Senator Kay Hagan says.
Meanwhile, Foxx scrambled to find a place to live and a school for the kids. "It was a crazy time," he says.
In late June, the Senate voted unanimously to confirm Foxx. "In this ultra-partisan environment that we are in right now, that seldom happens," Hagan says. And on July 2—the first day of his lease on a home in suburban Maryland—Foxx was sworn in as one of the youngest cabinet members in U.S. history.
***
Just four days after Foxx's swearing-in, a South Korean jet carrying 307 passengers crash-landed at San Francisco International Airport. Three passengers were killed and more than 180 were injured.
Logan Cyrus
In May, Fast Company magazine named Foxx one of its 100 most creative people in business.
Safety is the top priority for any transportation secretary. During his first day on the job, Foxx's senior advisors gave him a series of briefings detailing the agency's response protocols to aviation accidents. "We characterized it as, 'The day you hope you never have, and here's how it goes,'" says John D. Porcari, who was Foxx's second-in-command until he stepped down in December.
"[Foxx] was very methodical about being prepared."
Foxx oversaw a seamless response to the accident, Porcari says. Agency officials preserved air-traffic control records that could help determine the cause, monitored the airline's compliance with the legal requirements to notify and assist families, and kept White House officials up to speed on the incident and their response. "He knew exactly what to do," Porcari says.
I met Foxx at his office in mid-December. He wore a dark suit and a navy blue tie. He spoke in a cautious, deliberate manner that contrasts sharply with the approach of his colorful predecessor, LaHood, whose off-message quips occasionally got him in trouble with the White House. "[Foxx] is less entertaining [than LaHood], but more thoughtful,'" says Joshua Schank, president of the Eno Center for Transportation, a nonprofit and nonpartisan transportation policy think-tank.
Even by Washington's standards, the Department of Transportation is a behemoth. With nearly 55,000 employees and a $70 billion budget, the agency is comprised of 12 different bureaus—the Federal Aviation Administration, the Maritime Administration, the Federal Railroad Administration, among others—with regulatory purview over everything from long-haul truckers to natural-gas pipelines. As the agency's director, Foxx's job is to ensure the nation's transportation system is safe and efficient, while advocating for the White House's agenda in Congress and to the public.
After the South Korean jet crashed, Foxx's staff soon learned that the air carrier, Asiana Airlines, took nearly a full day to establish a toll-free hotline for passengers' loved ones. And airline officials needed four additional days to get in contact with family members of all passengers. In late February, the agency, led by Foxx, fined Asiana Airlines $500,000 for violating a federal law requiring swift outreach to crash-victims' families.
"In the very rare event of a crash, airlines have a responsibility to provide their full support to help passengers and their families," Foxx said in a statement announcing the first-of-its-kind penalty. "The last thing families and passengers should have to worry about at such a stressful time is how to get information from their carrier."
Just one month later, Malaysia Airlines Flight 370 disappeared. Foxx helped lead the federal response, sending three Federal Aviation Administration officials to assist in the investigation and asking for regular briefings on developments.
***
In late February, Foxx traveled to St. Paul, Minnesota with the president. The two toured a light-rail maintenance facility and headed to the city's historic railroad station, where Obama unveiled his long-awaited plan to modernize our infrastructure.
JEWEL SAMAD/AFP/Getty Images
In February, Foxx joined Obama at a light-rail operations facility in Minnesota during a trip to announce a new transportation and infrastructure package.
While still the world's safest, the U.S. transportation network needs an upgrade. Following World War II, President Dwight Eisenhower's interstate highway system connected disparate parts of the county and paved the way for decades of prosperity. But today's global economy requires policymakers to look beyond highways and invest in new technologies—high-speed rail, more efficient public transit, and improved freight networks—according to a report by Building America's Future, a bipartisan coalition advocating for
transportation reform.
Obama's proposal would devote more than $300 billion over four years to repair roads and bridges, expand local transit programs, and upgrade the country's freight network. Obama would bankroll much of this investment by reforming the tax code and plowing the savings back into transportation.
It's Foxx's job to sell Obama's plan to the American public and lawmakers on Capitol Hill. In mid-April, Foxx embarked on a five-day bus tour of highway and bridge projects in eight states—from Ohio to Texas—to build support for the proposal.
Reaching agreement on Capitol Hill will be tough. Congress is mired in dysfunction, and overhauling the federal tax code is among the most politically treacherous maneuvers in Washington. But Foxx remains committed to engaging lawmakers and finding a compromise. "Ultimately, this is going to be a dialogue with Congress and a very difficult but important dance we have to walk," Foxx says. "We have to walk together."
Maybe Foxx is the person to do it. He was, after all, unanimously approved by a Senate that can't agree on anything. In May, Fast Company magazine listed Foxx seventh among its "100 Most Creative People in Business."
Representative Bill Shuster, a Republican from Pennsylvania who chairs the House Transportation and Infrastructure Committee, says he believes Foxx is a partner he can work with. "I'm certain there's going to be issues that we disagree on," Shuster says. "And we've said that, 'Hey, let's agree to disagree, and let's find the subjects we can work on and move forward.' "
The effort will be a slog, with no guarantee of success. But despite the difficulties of the job, Foxx doesn't regret moving away from the place where he grew up. "If the White House had somehow been placed in Anchorage, Alaska during the heart of the winter," Foxx says, "I'd still be there."
Luke Mullins is a senior writer at Washingtonian magazine, in Washington, D.C. He can be reached at @lmullinsdc.