At Gantt Center, 'Welcome to Brookhill' Turns Lens Toward Charlotte and Black Displacement
As South End booms, decades-old black community faces crush of gentrification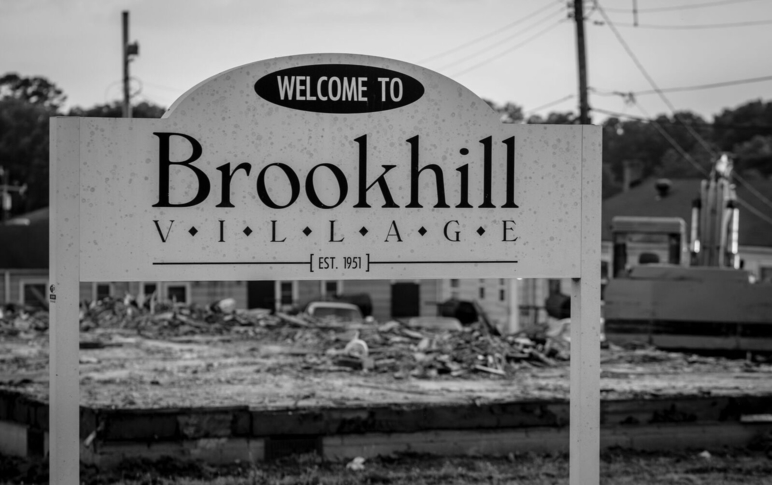 It's midday on a Thursday in early September, hot, muggy, with cicadas abuzz and the rumble of a riding mower echoing among the humble and decaying homes. Alvin C. Jacobs Jr., a 44-year-old photographer—or "image activist," as he prefers—meets me and Loán Lake at the intersection of South Tryon Street and Brookhill Road, the main entrance into Brookhill Village. Lake is the marketing manager at the Harvey B. Gantt Center for African-American Arts+Culture, which last week opened a group of exhibits designed to shine an artistic spotlight on issues of social immobility and economic disparity in Charlotte. One of them, Welcome to Brookhill, consists of a collection of about 30 black-and-white photos Jacobs shot of Brookhill Village residents embracing, playing, caring for their children—just as black families have in this neighborhood since the 1930s, just as people of all races and tax brackets do everywhere.
The three of us walk down Brookhill Road, which slopes down westward from South Tryon. To either side, across 36 acres, sprawl modest single-story bungalows with plywood siding, standing alone or arranged in the U-shaped configurations common to housing complexes for the poor in the immediate post-World War II era; the village was built in 1951. Jacobs, a Rockford, Illinois, native who moved to Charlotte in 2012, says he began spending time here about four months ago, at first walking the streets without a camera. It reminded him of Rockford, a former industrial powerhouse where nearly a quarter of the population lives below the poverty line. "It became so welcoming and so warm," Jacobs says. "It felt like I lived here my whole life."
Jacobs enlisted a couple of other young black men to help him out: educational consultant James Ford, a fellow Rockford native who assisted with data and interviews, and creative consultant Dave Butler, who contributed the exhibition design. He intends for his photos to reveal something that shouldn't really be revelatory: The 500 or so people who rent homes in Brookhill Village are fundamentally just like everyone else. That obvious but often overlooked or denied point matters more because Brookhill Village—and Southside Homes, just across Remount Road to the south—occupies some of the most coveted land in Charlotte, and the village's owners appear to be tearing the neighborhood down, house by house.
I say "appear to be" because no one who lives there knows exactly what's happening—who still lives there, who might lose their home of several decades, who might next see the land sold from under their feet. Brookhill's original developer, Charlotte billionaire C.D. Spangler, is affiliated with a company that owns the land. But a separate company, Brookhill Village Two LLC, controls the buildings through a ground lease that extends through 2049. Spangler's company has sued Brookhill Village Two in Superior Court, alleging that it's violated the terms of its lease by letting the buildings go without maintenance. The suit is still pending—and residents and their advocates, such as Jacobs, can't get answers from either party.
All the while, South End, one of Charlotte's freshly moneyed and rebranded neighborhoods, booms around them. The situation is equal parts galling and inspiring to Jacobs, who sees Brookhill Village as a physical retort to the idea of poor, black people who rent their homes as devaluation agents. As we trudge back up Brookhill Road, we peek through a gap between crumbling, vacant homes in the village to a new apartment complex under construction across South Tryon, just a few hundred yards away.
"Look around," he remarks. "You see how clean it is out here? For people to be doing so bad, right? In theory? You see anybody hanging outside? No. They're at work. Their children are at school." He's not lying. The streets are devoid of trash and as peaceful as their counterparts in Elizabeth. "This is just like any other community in America. It's just like any other community in Charlotte. They just make less money.
"They take care of what little they have. That's amazing to me—to have the ability to go about your day and do everything within your power with less. That's power. And that type of not just struggle but perseverance is attractive to me. It's important to me. It means everything to me. These people are fighting … And to see people not going down without a fight, to have a voice—man, I had to do something."
The exhibits that the Gantt Center launched this weekend are among the most urgent in the organization's 44-year history, says David Taylor, its president and CEO. (The center opened as the Afro-American Cultural Center in a different location in 1974.) Taylor and his staff named the collective "Initiative for Equity + Innovation (IEI)," a partnership with Bank of America and Hugh McColl, the bank's former chairman and CEO, and conceived it as a direct response through art to the infamous 2014 Harvard study that ranked Charlotte 50th of 50 large U.S. cities in social mobility. "We felt the community didn't necessary need more statistical data," Taylor tells me at the Gantt Center, just outside the room that holds Jacobs' exhibit. "We kind of ride by these communities, and … We wanted to kind of connect with that reality."
The accompanying exhibits include a multimedia exploration of implicit bias against black men, a subject that could hardly be more relevant given the shooting death of Botham Shem Jean, a 26-year-old black man, by a white police officer in his home in Dallas last week. There's also another photo exhibit of protest movements throughout the 20th century and, on October 9, a community conversation about the history of redlining and the use of data to justify, at various times throughout Charlotte's and the nation's history, the razing of black neighborhoods to make way for something else—a highway, government centers, or high-priced apartment buildings.
As it happens, the Gantt Center sits on land that once was part of Brooklyn, the neighborhood torn down through urban renewal in the 1960s and 1970s, driving residents to the west side and to places like Brookhill Village. In Charlotte, a city of newcomers who may be blind to that history, it's important to connect past to present, especially when the two look so much alike.
"I was just talking with the staff upstairs about Dorothy Counts, 61 years ago, who integrated CMS with three other students. And today, we're still using words like inequity, segregation—so how much has really changed?" Taylor tells me. "It's extremely important for us to continue to be that voice to remind people about the history but also the moment, and the opportunity to begin to change the moment. Because all of us have that power to change that moment. But we have to take that opportunity. That's what I hope we're doing with these exhibitions. That's the power of the arts, and that's the work we want to do."
Welcome to Brookhill will be on exhibit through September 1, 2019, at the Gantt Center, 551 South Tryon Street. See www.ganttcenter.org for more information.