At Long Last, and After Years of Squabble, I-77 Toll Lanes Are Here
Get ready to pass—and pay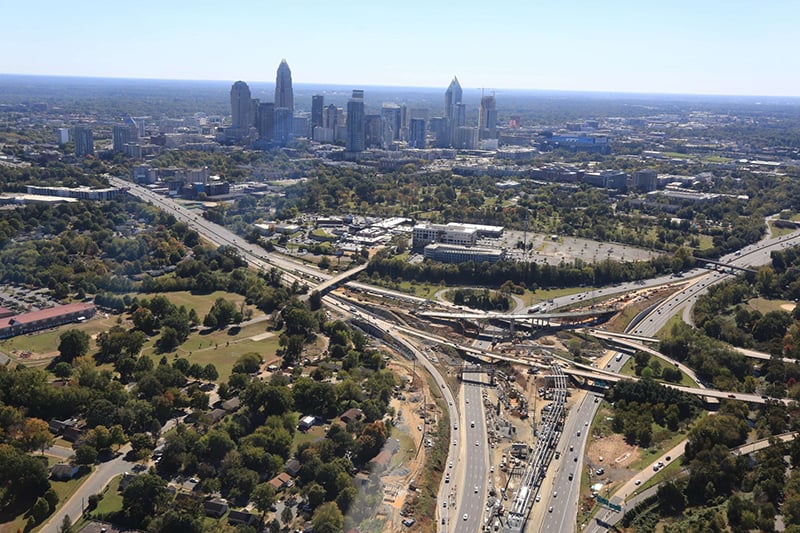 FINALLY, roughly 16 of the northernmost 26 miles of the Interstate 77 toll lanes project north of Charlotte are finished and drivable. I-77 Mobility Partners, the private firm that operates the lanes in partnership with the N.C. Department of Transportation, announced Friday that it would open the northern section of the project—from Hambright Road, just north of I-485, north to exit 36, or N.C. 150, in Mooresville—at 10 a.m. Saturday.
Because the full project isn't finished, for the first 180 days, drivers can use the toll lanes under a discounted promotional rate that amounts to a roughly 25 percent break. (See this schedule for details.) Afterward, and once the full 26-mile stretch is complete, Mobility Partners will institute its "dynamic pricing" system, which will adjust the toll rate every five minutes according to demand.
The lanes' opening represents the end of one of the most contentious and difficult infrastructure projects in the history of the state. Construction began in 2015 over the furious objections of residents in Lake Norman-area towns such as Cornelius, Davidson, and Huntersville, who opposed the N.C. DOT's 50-year contract with Mobility Partners, a subsidiary of the Spanish firm Cintra. Citizens' groups such as Widen I-77, which advocated for traditional "free" lanes, gained ardent support over the years and almost certainly cost longtime Mayor Pat McCrory his 2016 bid for re-election as governor.
But the Cintra contract, signed in 2014, carries steep cancellation penalties, and Democratic Governor Roy Cooper and the Republican-dominated General Assembly haven't been able to agree on who would bear responsibility for the payments. So the project went on, like it or not.
It's the first time in North Carolina's history that the state government has turned over construction, operation, and maintenance of highways to a private entity. But it's been an emerging trend for some years now. At least 10 other states have instituted one or more privately managed stretches of "express lane" toll highways. The appeal to states either strapped for cash or worried about the reaction to tax hikes is obvious. They can turn traditional public functions and their ongoing maintenance and operational costs (and risks) to private companies, which raise their own money through tolls and investors as proceeds from the national gasoline tax, the traditional source of highway funds, dwindle. Those who object to such public-private partnerships, or 3Ps, worry about handing assets in a national transportation system to private firms.
"I don't think there are many reasonable people who think that 3Ps are useful as a way to build a national highway system," says Kevin Pula, a senior policy specialist for the National Conference of State Legislatures' Transportation Program. "It is one option or tool for a state DOT … I do think it'll continue to have its place." In North Carolina, state officials might again exercise that option as traffic worsens around Charlotte and other cities, and we get to see for ourselves whether the long-awaited I-77 toll lanes do anything to relieve it.
A version of this article was published in the January 2019 issue of Charlotte.