BOB Award-Winning Doctor Shares Secret to Smooth Skin Without Surgery
Protege of multiple world-renowned facial plastic surgeons such as Dr. Paul Nassif of "Botched," SouthPark's Dr. Kulbersh exceeds patients' expectations with revolutionary facial solutions.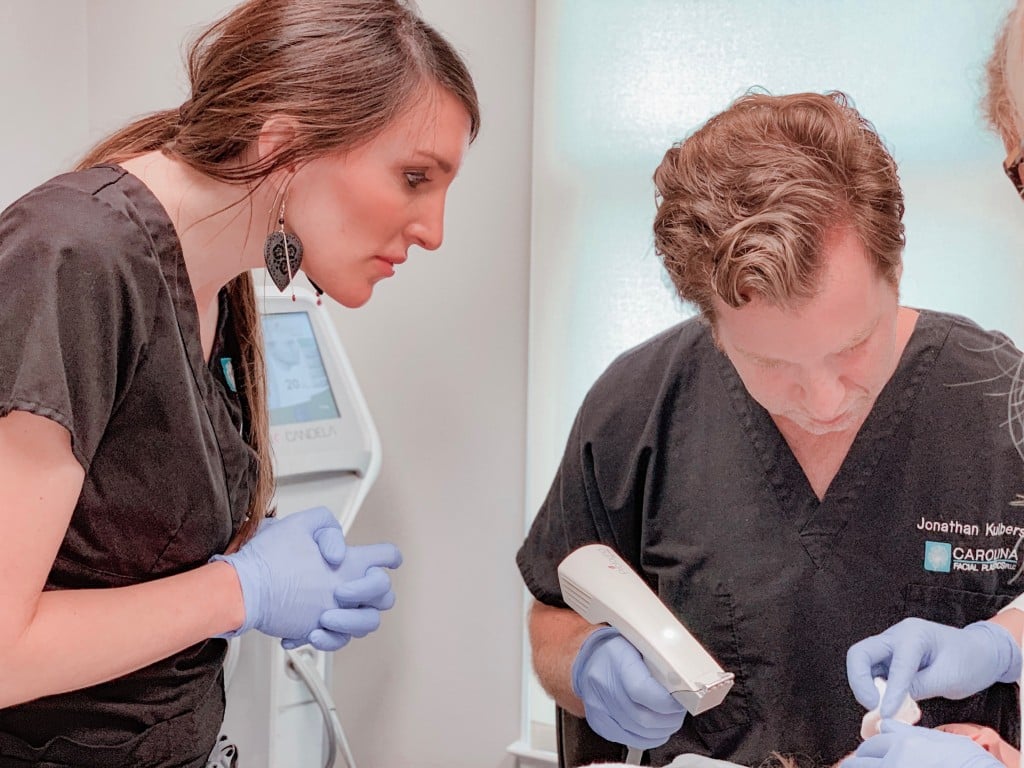 We're all entitled to loving our bodies. Sometimes, as years go on, the way our bodies and skin look can change. How you react to that is completely personal. And when it comes to loving the skin you're in, it is normal to want to keep (or revive) the skin your face and body once had.
When you're not ready or in need of a surgical facelift but ready to tighten, smooth, and contour wrinkled, sagging skin, Dr. Jonathan Kulbersh of Carolina Facial Plastics (CFP) recommends the revolutionary Profound nonsurgical facelift.
As the winner of the 2019 BOB award for Charlotte's Best Facial Plastic Surgeon and named a Top Doctor in Plastic Surgery by his peers, Jonathan Kulbersh, M.D., founded Carolina Facial Plastics in SouthPark to combine the charm of Southern hospitality with the elegance of a top-notch Beverly Hills facial plastic surgery center.
As the son of a South Carolina obstetrician and the protege of multiple world-renowned facial plastic surgeons—such as Dr. Paul Nassif of TV's "Botched"—Dr. Kulbersh learned to establish long-lasting relationships with his patients by exceeding their expectations.
Dr. Kulbersh is accompanied by Courtney Whitley, FNP-C, who is a board-certified nurse practitioner. Nurse Whitley has 10 years of combined nursing and medical aesthetic experience. As well as Heather Bryant MPAS, PA-C, who is a nationally board-certified and state-licensed Physician Assistant with 10 years of experience as an aesthetic injector.
Why try Profound?
According to the skin experts at Carolina Facial Plastics, Profound tightens all areas you and your doctor decide to treat, including the lower face and neck. It is a wonderful treatment for patients that are experiencing early sagging of the jowls and neck, and it only takes seven days maximum to recover.
The combination of RF and microneedling actually strengthens and thickens your skin, too, so your results last. No need for multiple repeat treatments.
Additionally, the doctors say, Profound is the only FDA-cleared microneedling RF treatment for cellulite. You only need one Profound treatment to improve your cellulite by up to 94 percent!
Because Profound stimulates your skin to rejuvenate itself with new proteins, when you treat your cellulite, your skin fills out the pitted dimples, creating smoother, plumper skin again. You can use Profound to improve and thicken skin almost anywhere on your face or body.
How does it work?
Profound by Candela combines the healing powers of microneedling with the stimulation of radiofrequency (RF) energy to completely transform your appearance with just one week of recovery.
FDA-cleared Profound triggers your own body's healing and rejuvenating abilities so that your skin produces almost six times the normal amount of elastin and twice the collagen in just a single treatment.
Profound features single-use microneedling cartridges. During the treatment, hair-thin needles pierce your skin thousands of times, stimulating a wound-healing response. The RF energy travels through the needles to boost the healing response. As your skin repairs itself over the next weeks to months, it grows smoother, tighter, firmer, and more youthful-looking.
The result is skin that's clearer, firmer, and tighter. You'll look like a better version of yourself without having weeks of recovery. You will have spent about an hour in the comfort of the Carolina Facial Plastics office, rejuvenating your skin with one of the most innovative and advanced new treatments available, and only about five to seven days of downtime.
You are a great candidate for a Profound treatment if…
You're in your 30s and 40s and have early sagging of the face and neck skin—the treatment will tighten loose skin and prevent further sagging.

You have sagging skin and you are a candidate for a facelift but not willing to undergo surgery.

You have fine lines and wrinkles on the face and neck, especially if you have horizontal neck lines or wrinkles in the cheek area from repetitive smiling.

You have had a facelift in the past and want additional tightening without additional surgery.

You have excess fat in the neck region—CFP can use Profound to permanently remove fat from this region.

You want to reduce your cellulite or tighten skin on your body.
If you have significant sagging, the CFP team may recommend you to see Dr. Kulbersh directly for a surgical facelift and neck lift rather than a Profound treatment. To find out if you're a candidate for a Profound nonsurgical facelift and neck lift, or cellulite treatment, contact the Carolina Facial Plastics team today.
Contact Carolina Facial Plastics today
Visit Carolina Facial Plastics online | Call: 704-275-3172 | Follow on Instagram | View Facebook