Beer, Biking, and Baked Goods: How to do Fall in Virginia Beach
With mild fall temperatures and beautiful state parks and waterways, Virginia Beach is a picture-perfect fall destination—especially for eaters, drinkers, and adventurers.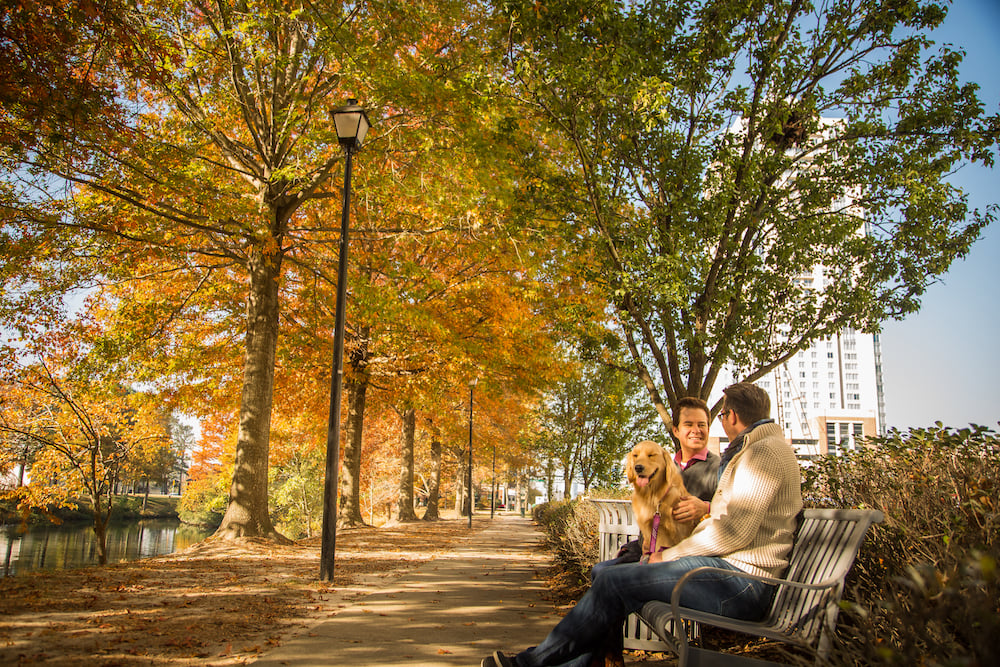 Summer vacation may have come and gone, but that doesn't mean you can't enjoy our region's beautiful waterways in the autumn months. Virginia Beach's coastal location means a mild and manageable November climate—one that begs for you to adventure your way through the town by park and plate.
For foodies and those who enjoy fall activities, you will love Virginia Beach in the "offseason." While your neighbors flock to overcrowded fall destinations, pack up for a sub-six-hour drive northeast to the coast. Your palate and your adventurous side will both be pleasantly surprised.
Explore the beach's unique fall landscape
Some of the area's most beautiful beaches and waterways can be found in popular state parks, so you can enjoy incredible scenery with ease. Choose your method of fun: either hike or bike these wooded wonderlands for stunning fall foliage and a peaceful respite away from city life.
Hiking and biking trails in Virginia Beach for every level:
Mount Trashmore Loop
Stumpy Lake Loop
Bald Cypress TrailLake Lawson/Lake Smith Natural Area
Pleasure House Point Natural Area
Cape Henry Trail
Virginia Beach Boardwalk
Sand Ridge Trail
Read more about the above trails here.
Trek the V.A. Beach Beer Trail
All that adventuring is sure to make you thirsty. After you've hydrated with H20, relax with a locally brewed beer to taste the Virginia Beach lifestyle. From pineapple IPAs to pumpkin porters, Virginia Beach's local brewers pour their passion into every pint, and hopheads of Charlotte would be remiss not to try a new brew or two.
Whether you want to visit just one brewery, embark on a brewery tour, or craft your own adventure through the #VaBeachBeerTrail (map here), this town's got it all for beer-loving visitors.
Click here to view all the breweries in Virginia Beach.
Not into beer? Check out these V.A. Beach happy hours featuring a variety of libations.
Sink your teeth into new foodie finds

Either before or after your outdoor excursions, be sure to satisfy your sweet tooth at one of Virginia Beach's many coffee and pastry shops. Each spot boasts its own sweet specialty you just need to taste—below are our suggestions.
Perked Up! Coffee Cafe: Try the banana Nutella muffin
My Vegan Sweet Tooth: Try the vegan cinnamon rolls
Pour Favor Coffee Shop: Try the homemade waffles with powdered sugar and warm syrup
May's Parlor: Try one of their signature sweet or savory "cruffins"
Prosperity Kitchen & Pantry: Try the chocolate & coconut bread pudding if it's available
Bad Ass Coffee Company: Try their homemade pop tarts—whichever flavor is on special!
Three Ship's Coffee: Try a special biscuit sandwich
There's a lot more to do and taste while you're in Virginia Beach this season, so be sure to check out their full guide for visiting in the fall.