Before + After: Shoe-Loving Mom Wins Closet Makeover
In May 2019, we teamed up with Closets by Design to give one lucky Charlotte mom a closet makeover worth $3,500. Here's the incredible transformation.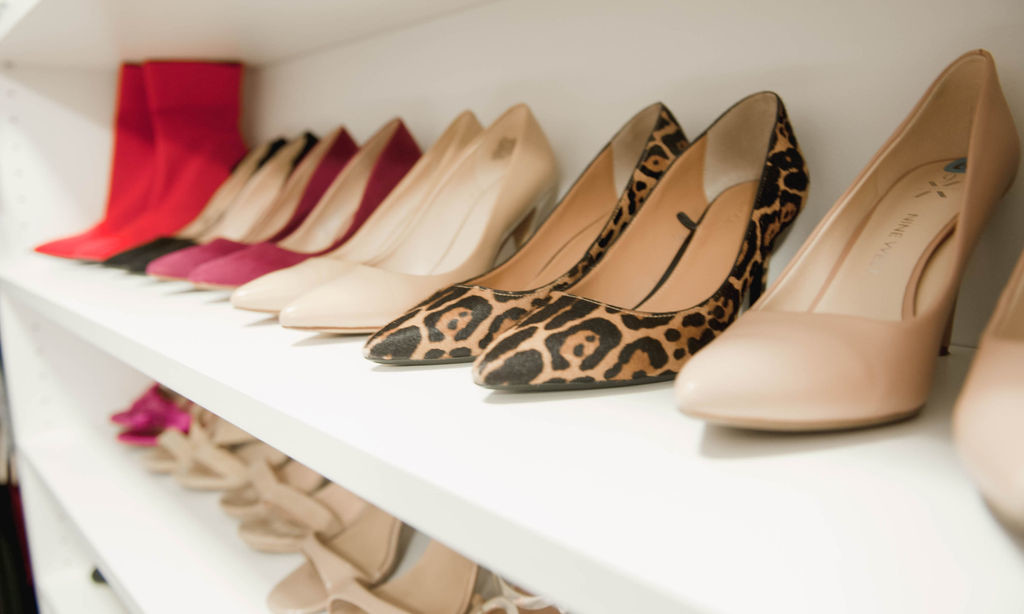 Before she met Cheryl Hobbs, Michelle DiEduardo's closet (pictured below) was drowning in dresses by the dozens, in an array of bright colors and patterns, tangled with animal-print blouses and heaps of clutches, bags, and accessories.
Hobbs is a designer with Closets by Design, a Charlotte family-owned storage design company with a huge showroom on Westinghouse Boulevard, just southwest of Uptown. You can practically see the Carowinds coasters from the windows, and much like the theme park, Closets By Design services both North and South Carolina residents near Charlotte.
As its name suggests, the nationally-known company specializes in custom closets, but its talented designers also work to create storage spaces for any area of a home that's in need of a healthy dose of organization, such as home offices, pantries, garages, and more.
In April 2019, DiEduardo's mother-in-law had entered her in a special Mother's Day contest, a partnership with Charlotte magazine. The goal? To give one hard-working mom the closet of her dreams.
After looking through all of the anonymous entries from people across the metro area, Closets By Design Co-Owner (and Faces of Charlotte recipient) Laura VanSickle picked DiEduardo's closet.
Today, DiEduardo's hats—repping cities from New York to Nashville—are happily stacked in order high above, while dresses hang pristinely with plenty of space surrounding them.
"She was embarrassed and worried when I came in because she said it was 'a mess,'" Hobbs says.
The closet wasn't large, so Hobbs' first step was to maximize the space by more efficiently employing the vertical space in the room. "I took the panels up to 93-inches high and used crown molding to the ceiling," giving the room a taller look, she explains.
"I also convinced her to paint the closet white to brighten the space," Hobbs says, "and suggested getting the matching huggable hangers." Both the white paint and the huggable hangers proved to be smart choices.
Additionally, DiEduardo had a lot of shoes, but no way of organizing them.
"I was able to add in a large section that holds fifty pairs of shoes, so now she can stand back and see everything she has," Hobbs says.
DiEduardo's husband, who uses a section of the closet in the back-right corner, folded a lot of his clothes, leaving the area cramped and disorganized.
"Now he can see what he has and has a way to organize his professional and casual clothes," Hobbs says. "And, since we added a sliding tie rack, he can see his ties."
These days, DiEduardo is no longer embarrassed but elated with her new closet.
"When I showed her the 'before' pictures, she was floored," Hobbs adds.
Not only can she find her clothes and easily select outfits, now whenever DiEduardo enters her closet, she leaves wearing a big smile on her face.
Ready to get your life in order (or at least your closet)? Click here to get 40% off your own closet makeover with Closets By Design.