Brawley's Black & Blue back with record number of breweries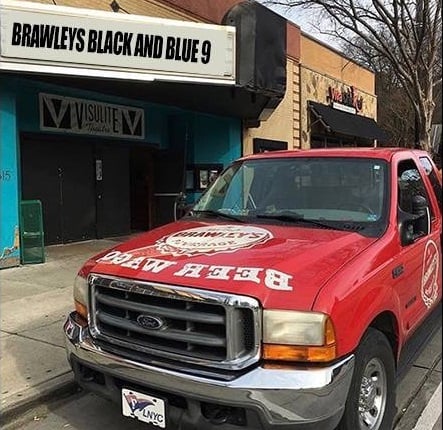 Entering its ninth year as the can't-miss craft beer festival in Charlotte and arguably North Carolina, things are looking up for the fortunate few hundred people who got tickets to Brawley's Black & Blue.
For one, there are a record 42 breweries attending this Saturday's event at the Visulite Theatre. Also, there will once again be additional room to roam at an already-intimate location, as for the second straight year the back lot of the Visulite Theatre will be open and feature both brewers and music.
"One of the few negatives we've ever gotten was that it's a little too crowded and loud in places," says Shane Icenhour, who works diligently every year with Michael Brawley to curate the rare taplist. "So it really worked out last year with the backlot; it opens everything up and creates a good flow through the venue."
Black & Blue features rare beers from both local and regional breweries in a smaller setting compared to most festivals. The idea is to be able to enjoy these special beers while also getting a chance to speak with the brewers who made them.
"There's always that excitement when you get started getting the breweries together because you know they want to put on a good show," Icenhour says. "We always want to make sure we have all our regulars back and we're excited about the new (breweries) this year too."
Included in that group are Charlotte breweries Divine Barrel, Resident Culture and Sugar Creek. This will also be the first time for Monroe's Southern Range, as well as Asheville's Eurisko Beer Co, whose owner and brewmaster, Zac Harris, previously brewed at NoDa and head brewer Zack Mason once worked at Brawley's. Also new to B&B this year is highly-rated Barrel Culture out of Durham, which created two special sour collaboration beers just for this festival.
You can see the full list of breweries and beers here. The music this year is Acoustic Syndicate lead singer Big Daddy, while outside will feature Leisure McCorkle.
For those who missed out on a ticket or are just looking for a pre-party, Brawley's Beverage will once again be hosting the N.C. Brewers Appreciation Party Friday from 5:30 p.m. to 8 p.m.
"Many of the brewers who will be (at Black & Blue) Saturday will be here at the shop Friday," Icenhour says. "It's our way of saying thanks to them, and also give people a chance to talk to some of the brewers."
Reflecting back to when Black & Blue first started with barely 100 people in attendance, Icenhour says it's remarkable how the festival has grown (which can obviously also be said for Charlotte craft beer).
"Really, what I hope is as we've evolved as an event that got started with dark beers and bluegrass into adding other styles and different music … I still hope through the years that one thing has stayed the same," he says. "And that's that everyone, including the brewers, have a blast and walks away saying, 'This is the best event in North Carolina.'"
And when it was brought up that next year would be a milestone 10th year for Black & Blue, Icenhour says he hadn't really thought about it but added, "be ready for a few surprises."