But What About Jim Black?
Did fallout from Black and Easley keep Democrats from the polls in 2010?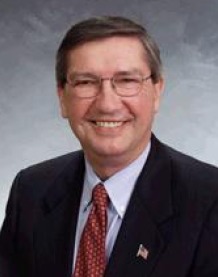 Happy Memorial Day, and eternal thanks to those who gave the last full measure of devotion …
Pete Kaliner, a former reporter and host for WBT-AM in Charlotte who now holds a similar job at WWNC in Asheville, invited me onto his show last Tuesday to discuss my piece on the N.C. Democratic Party that ran in the June issue of Charlotte. WWNC is, like WBT, a conservative talk station. That day, listeners were treated to three hours of Glenn Beck, then three hours of Rush Limbaugh, then … me. It must have been like sliding feet-first through a wormhole.
It went fine. The interview lasted about 15 minutes. One of Pete's first questions concerned a theory of his: One of the reasons why the Democrats collapsed in 2010 was lingering discontentment with the Democratic establishment, represented by Jim Black, the disgraced former House speaker from Mecklenburg County, and similarly disgraced former Gov. Mike Easley. I said I thought those scandals, which broke before 2008, probably didn't help—although, as Pete made sure to point out, they went unaddressed in my story, which concentrated on 2010 as the pivotal year in North Carolina Democrats' fortunes.
After the interview, Pete talked about the piece and the Democrats for a half-hour or so more, expanding on his theory:
Now, he points to 2010 as the pivotal year when everything changed for the Democratic Party in this piece, and I asked him about the Jim Black and Mike Easley era … a lot of people got fed up with the Democratic Party machine … I believe those things played a large role in helping to tamp down the excitement, the motivation for Democratic voters, particularly in 2010 …
He also then talks about Citizens United, the amount of money that has gone into spending from outside groups that have gone into these campaigns, Art Pope, the Koch Brothers. He mentions all of that. I did mention that Greg Lacour is a liberal. So these are things that in his mind and in his estimation, these are very important things, these helped swing the state of North Carolina, they all came together for sort of the perfect storm to get rid of the Democrats. But he also left out Jim Black and Mike Easley. So he left those things out.
OK, then! Well, allow me to retort!
In retrospect, I wish I'd done a better job answering that initial question. Good thing I have a blog.
Jim Black's corruption scandals broke in 2005 and 2006, and he pleaded guilty in federal court in February 2007. Easley's first surfaced in 2006. So voters in 2008 knew plenty was fishy about at least these two foremen within the Democratic machine—but after the 2008 elections, Democrats still held on to both houses of the legislature by wide margins and had their candidate, Bev Perdue, in the governor's office.
I know—2008 was and forever will be the Year of Obama, when Democrats across the nation swept into office on his promise. I don't doubt for a second that under normal circumstances, Pat McCrory would have beaten Perdue in 2008. But would the absence of an Obama "wave" have been enough to reverse the balance of power in the General Assembly that year? That's far trickier to try to figure out—impossible, really. We'll never know. What we do know is that after 2008, the Democrats were still in control of the executive and legislative branches, which is why I didn't think there was much reason to rehash Jim Black and Mike Easley.
On the second part of the theory—that dissatisfaction with establishment Democrats tamped down Democratic voters' enthusiasm in 2010—the voter turnout numbers show something quite different.
Take a look first at the overall figures from the State Board of Elections (click on the second tab to see turnout in midterm years). The turnout rate in 2010 was 44 percent—in line with 1994, 1998 and 2002.
Shortly after the '10 elections, Democracy North Carolina crunched some numbers and found this: "In the 2006 and 2008 elections, registered Democrats and Republicans voted at essentially the same rates; 39% of each party's members voted in the mid-term election of 2006 and 72% voted in the 2008 presidential election. But in 2010, Republicans achieved a 6 point advantage with a turnout rate of 51% statewide, compared to the Democrats' rate of 45%."
What's interesting here is the comparison between 2010 and 2006, the previous midterm year. Going by these numbers, it's apparent that any lingering bad taste from Black and Easley failed to keep Democrats from the polls in '10, when a higher percentage voted than in '06.
The real change happened on the Republican side, where voter turnout jumped from 39 percent to 51. That's what helped the GOP flip both houses of the legislature that year—an energized Republican base, not a depressed Democratic one.
We could spend hours discussing what (and who) compelled Republicans that year to cast ballots in huge numbers. But I have a hard time imagining it was Black-and-Easley backlash. It was very old business by then, another reason why I "left those things out."