Can Charlotte Go From Dealmaker To Planmaker?
Ex-Raleigh planner stresses 'the vision thing' for Charlotte's future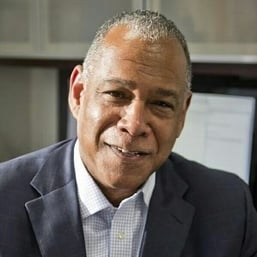 "This has gotten a lot of buzz the last couple of days," said Mitch Silver, addressing a crowd of about 100 in the UNC Charlotte uptown campus' auditorium on a Saturday. Projected on the big screen above him was a PowerPoint slide showing Charlotte's skyline on a cloudless day, the same assembly of skyscrapers and office buildings that the attendees could view from the plate-glass window. Silver had displayed it during public appearances in Charlotte the previous few days. A statement hovers over the towers on the slide: "There are two types of cities: Plan-making cities. Deal-making cities."
When Silver read the words aloud, the crowd responded with a knowing "mm-hmm" of acknowledgment, as if the former Raleigh city planner had crystallized something profound about the Queen City. "Charlotte is a …" Silver said, letting the words hang, and a healthy portion of the group responded enthusiastically: "Deal-making city!"
"I love the honesty of Southerners," Silver responded. "They just say it."
Not that it really needs to be said. The evidence is everywhere you look. One reason why much of Charlotte's growth has seemed so rushed and haphazard is that the city hasn't adopted a comprehensive plan to guide it since 1975, when Charlotte was an entirely different city. For an assortment of reasons, the city didn't have a permanent planning director on staff for more than three years until January, when Charlotte hired Taiwo Jaiyeoba, who's been trying to educate the public—and, often, the City Council—about the need for a coherent vision that planners can codify into a plan by the target date of June 2020.
Silver, who's served as New York City's Parks and Recreation commissioner since 2014, was speaking at UNCC to help articulate that vision. A former president of the American Planning Association, Silver spent nearly 10 years in Raleigh, where he oversaw the process that led to the adoption of that city's comprehensive plan there in 2009. The city, UNCC's Urban Institute, and Charlotte Center City Partners invited him to Charlotte for four days as part of an ongoing speaker series, and Jaiyeoba invited him to deliver the keynote address for the What Can UDO Summit, a public event on Charlotte's new plan, or Unified Development Ordinance (UDO).
That last paragraph may have been a little hard to dig through. That was part of the summit's point, and a message Jaiyeoba's been trying to get across to council members since January. During recent meetings, council members have told Jaiyeoba, in essence, that they don't fully understand what he's trying to do and how. "It's still very muddled to me," council member LaWana Mayfield said during a workshop presentation this month.
"The implications of the UDO for Charlotte are profound. It's huge," council member Ed Driggs said during the same meeting. "I just don't think I know enough to say I'm on board right now."
Jaiyeoba's response, echoed by Silver on Saturday, is this: That's understandable. We're still trying to develop the vision. In the year or so before the Raleigh council adopted its plan, Silver led a series of public hearings, meetings, events—some even tailored to schoolchildren—to get across the basic idea of a comprehensive plan and learn in layman's terms what the people wanted. Those developed into a set of easily understandable principles, including some familiar to Charlotteans: better coordination of decisions on land use and transportation; expansion of housing choices, especially for low-income households; and preserving and improving natural resources.
Silver and his department use those principles as a guide for the complicated, coma-inducing codes they wrote; anyone would be confused or bored to tears by endless discussions of TOD (transit-oriented development) and MUDD-O (mixed use development district, optional) zones. The result was a plan that had a 96 percent public approval rate in Raleigh on passage, a clear idea of what Raleigh wanted its future to look like, and planners messing with the technical stuff planners are trained to swim in. Vision first, then the specifics. Try to do it in reverse, and you'll have a city of people scratching their heads. Get the people to accept the vision first, and they'll make their elected officials hew to the plan instead of the deal.
That's the idea, anyway. A more technical way of saying a city is a deal-maker and not a plan-maker is that it embraces conditional-use zoning. "When you rely on conditional use zoning, that is telling you your code is broken and offering no direction," Silver told the Urban Institute's Mary Newsom last week. "It's case-by-case decision making." It's also the way Charlotte handles most of its zoning requests.
The plan Jaiyeoba's trying to develop would set standards that everyone—developers, council members, and the public—can grasp. But getting there takes some time, effort, and initial confusion. Another slide Silver displayed read, "Smart cities know their sense of urgency 10 years before it's urgent." To the audience, he added, "Why I feel so good is that I know you, Charlotte, are smart." Whatever comes out of the process will tell us whether he's right, and whether Charlotte got smart soon enough.