CMPD Will Buy RNC Gear. When Will the Public Know What It Is?
Local activists raise concerns about police transparency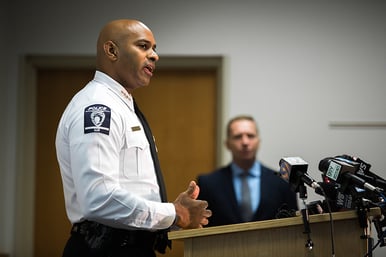 Late last week, the police advocacy organization SAFE Coalition NC tweeted out a concern its members and other Charlotte-area activists have held since the city was awarded the 2020 Republican National Convention: that the Charlotte-Mecklenburg Police Department would use an expected $50 million in federal grant money for convention security to load up on military crowd control and surveillance equipment without the public or even City Council knowing what it had bought.
The city has responded to the concern in a way that prompted the tweet—in short, making the purchases public ahead of the RNC would compromise the department's security plans. This does not sit well with SAFE Coalition. It also doesn't sit well with at least one member of the council. It does appear to be a satisfactory response to other council members and the city administration. And so the millennial-packed City Council—elected to hosannas and perhaps outsized hope that it would conduct its affairs more openly than its predecessors—faces another test of just how authentic those pledges were.
"This issue is much broader than the RNC Convention. It speaks to the lack of control that this council has over the bureaucrats that run our city," Dawkins wrote in a follow-up email. "While CMPD's ability to purchase militarized, crowd control and surveillance equipment for the RNC Convention is the polarizing point, the true issue is that CMPD can buy whatever it wants, whenever it wants to use against the residents of Charlotte without any oversite [sic] by city council or the community at large."
This has been building for a couple of months now, a consequence of Charlotte's pursuit and acceptance of the RNC. The Republican Party awarded the convention bid to Charlotte on July 20. Four days later, Robert Dawkins, SAFE Coalition's state organizer, sent an email to Mayor Vi Lyles, all 11 council members, and assorted reporters, activists, and public officials. In it, Dawkins called on council members to strengthen the Civil Liberties Resolution the council passed in 2015 with SAFE Coalition's input—a document that mainly prohibits police from arbitrarily profiling suspects based on race or immigration status.
The coalition's petition in July went further, asking council members to adopt requirements that CMPD make any RNC-related purchases of surveillance, crowd control, "or military-grade equipment (including but not limited to automatic assault rifles, body armor, mine-resistant armored vehicles, grenades or similar explosives and grenade launchers) shall require prior 30 days' notice to the public, a meaningful opportunity to comment, and the affirmative approval of the City Council."
Lyles responded Thursday—nearly two months later—by calling the 2015 resolution "adequate" and forwarding a memo from CMPD Chief Kerr Putney to his boss, City Manager Marcus Jones. "Prematurely disclosing the plans for the use of grant funds would adversely impact the integrity of the safety plan," Putney wrote. The chief added that the department would release "a comprehensive accounting of grant expenditures" after the convention, as CMPD did after the Democratic convention in 2012, and that the department would spend federal grant money "as deemed appropriate."
CMPD may have good and valid reasons for keeping at least some of its specific purchases private until after the convention. Any law enforcement agency has to balance the demands of public accountability and public safety. Of course, when an agency decides public safety requires keeping secret any information about the tools it intends to acquire and use, the public can't be blamed for suspicion—especially on the two-year anniversary of the Keith Scott demonstrations, a shock that induced city leaders to publicly promise a deeper commitment to transparency and inclusion. Lyles was mayor pro tem then. Her enthusiasm for the council's Letter to the Community was one reason why voters chose her as their next mayor.
But keeping promises is far harder than making them, and making abstract promises—"transparency" and "inclusion" are eye-of-the-beholder qualities that could, given the circumstances, mean anything or nothing—can be worse than making none at all. Under current rules, Jones, the city manager, can approve "discretionary purchases" of up to $100,000 apiece  without council approval. Council members have discussed raising that cap to $500,000 to make the purchasing process more efficient. At least one council member, LaWana Mayfield, is questioning why council members shouldn't have a chance to review any purchase beforehand.
"These answers do not address the 'promise' of transparency made by this Council. A number of you ran on platforms that directly contradict what has been provided," she said in an email last week. "Asking for all items to come before Council to be voted on whether approved or denied is not unreasonable. The issue is making sure the community is aware of how tax dollars are spent, especially when WE will be held responsible if anything goes wrong as CMPD is funded through Charlotte City Council."
"How is there any accountability or transparency when CMPD will simply tell you what they have bought after they've bought it?," Dawkins wrote in another email. "They might as well end their reporting with the phrase, 'Deal with it.'"
Council member Ed Driggs, one of two Republicans on the board, joined in a swelling email thread with a more decorous version of the phrase. "CMPD is charged with keeping our community safe; they can't be held accountable for our safety if we tie their hands when it comes to the equipment they need," he wrote. "It is also unreasonable to expect them to make things easy for potential troublemakers by communicating details of their plans and capabilities to the whole world."
It remains unclear when or whether council members will publicly discuss what to do about all this. Members did not address it during their meeting Monday. There's still plenty of time before the convention. But all of them—including city administration and CMPD—have been performing a delicate dance with the public, especially racial minorities with ample reason to distrust the police, since 2016. It doesn't seem unreasonable for the department to disclose generally what it intends to buy in advance of the RNC, especially given that Cleveland made such details public before it hosted the convention in 2016. The Cleveland convention, thankfully, passed with no serious incidents. Charlotte may not be that lucky. But it certainly seems that its citizens ought to have some idea beforehand of what's being bought and deployed in their name, with their tax dollars, and purportedly for their safety.