CMPD's 'Bridging the Difference': A First Step in RNC 2020 Prep
How does Charlotte get ready for #RNC2020's potential for violence?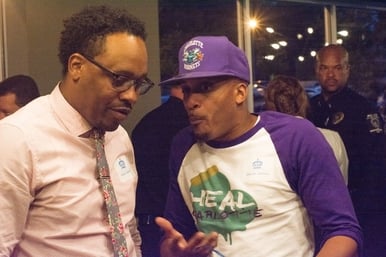 Charlotte was awarded the 2020 Republican National Convention in July. "When we got that announcement," Charlotte-Mecklenburg Police Chief Kerr Putney said Monday, "we knew it was game on." He was referring not only to the logistical difficulties and heightened public safety risks of a large convention but to this one in particular, and its capacity for violence. The RNC likely will attract groups from the extreme right to celebrate their champion in his nomination for a second term as president and from the anarchist left to protest the same. Both will be willing, even eager, to fight each other. In late August 2020, they'll descend on Charlotte like flies to a carcass.
Putney met with me and other members of the media Monday to outline his plan for a series of public conversations and events called "Bridging the Difference," which he hopes can strengthen Charlotteans' sense of community before then. The RNC, he said, represents an opportunity to shore up Charlotteans' sense of themselves as members of a community with common goals and concerns, a community we're all going to have to live in long after the RNC packs up and leaves.
But the chief's sense of the need to do that—and that he sees CMPD as the lead agency in that effort—reflects how seriously he and the department take the convention as the nexus of a large-scale threat to public safety. In the months since the RNC announcement, he's had even more reason to worry. When we spoke Monday, we were coming off a weekend of attempted pipe bombings of prominent national Democrats. A few weeks ago, members of the far-right group Proud Boys and left-wing "antifa" protesters resulted in a violent brawl on the Upper East Side of Manhattan. It's silly to assume the 2020 convention won't carry a severe, maybe unprecedented, risk of violence.
In approving the RNC over the summer, a majority of the City Council placed a bet that CMPD could contain or defuse similar violence from the neo-Nazis and anarchists all but guaranteed to show up in Charlotte, eager to throw punches or worse. Putney's new project is, in part, a concession that he can't guarantee police alone can keep the wolves at bay.
The chief envisions "Bridging the Difference," at least initially, as a logical continuation of community conversations he's been leading since before the 2016 police shooting death of Keith Lamont Scott. But he's under no illusion that the Republican convention won't raise the stakes considerably. "We understand what's going on all over this country, and we've asked to bring that here to our doorstep," he said. "We're gonna get ourselves ready for what could descend upon our city."
The particulars: The first conversation in the series will be from 6 to 8 p.m. on Thursday, Nov. 15, at the Grimes Lounge at Johnson C. Smith University. The topic: police-community relations, in particular the polarization between people who reflexively defend or excuse police conduct and those who reflexively condemn it. More discussions will follow.
The department hosted a kickoff event on Oct.16 and invited influential Charlotteans from across the ideological spectrum, including council members and community activists such as Greg Jackson of Heal Charlotte, who's been criticizing and working with police since the Scott demonstrations. Putney said he's grown frustrated at talking about policing issues at, for instance, a black church and getting one uniform reaction, then at a Rotary luncheon and getting another uniform reaction.
What if the two crowds mixed, talked it out, and saw what kind of common ground they could find? "It's almost like you've got to choose one side or the other," Putney said. "So you want to support police, or do you want to hold them accountable? I vote for both." Ultimately, he hopes participants can recruit a team of volunteers that can serve as a version of a Neighborhood Watch program throughout the city during the RNC—calling in tips about people with suspicious-looking bags, monitoring group activity that looks like it's leading toward a fight. (CMPD's main spokesman, Rob Tufano, has a snappy phrase for it: "Hardening the target while softening the rhetoric.")
"I know how we are sometimes when all the cameras from around the globe are spotlighting Charlotte and we tend to try to put on our pretty face," Putney said. "This time, I want us to be ready for that spotlight. I want us to have these conversations here, look at what we have in common, and also get volunteers help us maintain the safety of our city."
As we all know, Charlotte is a city that loves its panel discussions and guided conversations. Many lead to nothing. It's easy to view "Bridging the Difference" with some skepticism. What might a team of volunteers be able to do when faced with, potentially, a repeat of Charlottesville, or something worse? No one knows, and there's nearly two years for the local and national dynamics to metastasize before the RNC. "We know it's going to be a heavy lift," Putney said. "But the more people we have engaged in keeping the city safe and positive, the better off we're going to be."