Editor's Note (February 2020): Well, Well, Wellness
Some of us may balk at the term, but all of us need it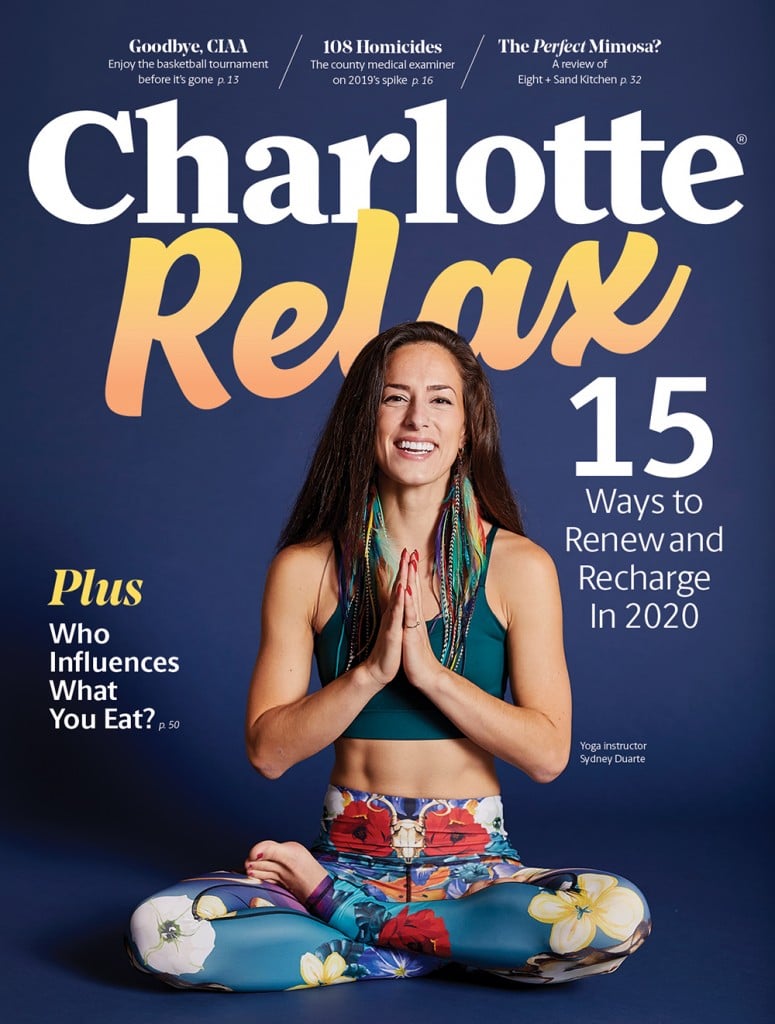 HERE'S SOMETHING that's both frustrating and wonderful about kids: They don't care about your work life. On many mornings, a Shakespearean drama has played out before I even set foot in the offices of Charlotte magazine. It may be a fierce bout over a nonseasonal dress or a sudden aversion to hash browns. My daughters, at 2 and 5, don't know what "deadline week" means, or why it's important for me to start those last days of production each month with some peace.
Still, my wife and I attempt some relaxation in the morning, when we can. They say your wellness depends on doing that. Who's they? The experts (or the tan, many-abbed individuals that populate your Instagram account's "Explore" feed). They tell us that mindfulness, meditation, and discipline aren't just abstract words for motivational posters. They're essential to your survival.
I believe them, and what I love about our "Wellness" issue is that it actually makes me excited to enact a bit of self-care. I had always felt immediately convicted for my inactivity when the term is thrown around, and before this issue, I had never in my 33 years used the phrase "Himalayan Salt Room." Here, Emma Way and Taylor Bowler traverse infrared therapy, aerial fitness, intermittent fasting, bone broth, float therapy, and even the airport spa. What I've learned from these pages is that "wellness" can mean something different to each of us. Some of us need to sweat it out; others center their efforts on nourishment or a day at the spa. Or maybe you need a combination of all three.
I could use a bit more of that relaxation stuff these days, as my gig at this magazine has changed. In January, I became executive editor at Charlotte magazine. It's not my first role here; I've moved between contributing editor roles in the arts to directing digital content for this magazine, Charlotte Parent, Carolina Parent, and others. As executive editor, I plan to reinforce what Charlotte's done for nearly 52 years: recognizing that every story—ours, yours, your neighbor's—is a part of the larger story of the city. We do that in the stories you'll read in this issue and many, many more ahead.
Now, if you'll excuse me, it's time for our nightly pajama debate.