Fracking & Friends
The energy industry that employed him for so long has no more ardent advocate in Raleigh than Pat McCrory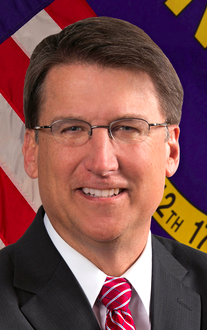 Gov. Pat was in the cozy embrace of "Fox & Friends" Tuesday morning to talk about energy, specifically his zeal to resume offshore oil and gas exploration off the North Carolina coast. He'd spoken with President Obama about it Monday in Washington and received "a political speech," he said. (Odd objection for one politician to make about another politician regarding a political issue, but never mind.) What he really meant was that Obama wouldn't commit to the offshore drilling McCrory and fellow Republican Govs. Nikki Haley and Bob McDonnell want as an economic development tool. Unacceptable, apparently.
What transpired between McCrory and Brian Kilmeade was an impressive display of "bullshit tennis" in which Gov. Pat tried to draw a connection between Obama's inaction on offshore drilling and the upcoming sequester, as if harvesting petroleum off Cape Hatteras was a key to helping the Carolinas and Virginia stave off the awful effects of the sequester's budget cuts (which are the work of McCrory's and Kilmeade's party, but again, never mind).
"At a time when the governors of Virginia and North Carolina and South Carolina are trying to grow the economy and become more energy-independent," McCrory said, "there was absolutely no sense of urgency to give us the permitting process, or at least begin that process for offshore exploration."
Talk about a "political speech." This is nonsense, and McCrory has to know it:
But even if the Atlantic Ocean is opened to energy companies, oil and gas production would likely not get underway for at least a decade. The energy exploration cycle is heavily regulated and requires seismic testing, environmental assessments, oceanographic mapping, military reviews and other regulatory hurdles before any oil and gas can start flowing.
"There's no way to speed this up," said Athan Manuel, director of the Sierra Club's lands protection program.
The latest federal estimates from the U.S. Bureau of Ocean Energy Management for the entire Atlantic coast is between 11 trillion cubic feet and 54 trillion cubic feet of natural gas — well below the 84.2 trillion cubic feet found in the Marcellus Shale that spans New York and Pennsylvania. The amount of oil is likely between 1.3 billion barrels and 5.58 billion barrels, less than a year's supply.
With the market price of gas hovering near all-time lows, the Energy Information Administration, a division within the U.S. Department of Energy, has estimated that no oil or gas will be produced in the Atlantic or outer continental shelf before 2035.
So we'd have to wait a generation or so before any relief at the pump from a non-renewable energy source that, as the nonprofit Surfrider Foundation's Outer Banks chapter has pointed out, would jeopardize the coasts' environmental health and tourism industries, with little to no economic benefit to coastal populations and high risk of disaster from shipwreck, storms and treacherous ocean currents.
So who gets the payoff? Oh … right.
This is a critical moment for North Carolina's energy future, as a packed public hearing held in Raleigh this week showed — and there are growing concerns that the politician who might get to make key decisions about it has significant conflicts of interest.
On Monday, Feb. 11, about 180 people attended a N.C. Utilities Commission (NCUC) hearing on Duke Energy's plan for meeting its customers' power needs over the next two decades. Dozens of citizens testified against Duke's proposed Integrated Resource Plan, which calls for generating most of its energy from polluting sources: dirty coal plants (24 percent), natural gas plants (29 percent), and risky nuclear plants (29 percent). Efficiency would account for only 4.5 percent of Duke's generation mix, while wind and solar would make up only 2.25 percent. The plan would cost Duke's customers dearly, as the company — which supplies electricity to over 95 percent of North Carolina customers since its merger with Progress Energy — would quadruple rates within a decade …
In addition to having received generous campaign contributions from Duke Energy (the company, its political action committee, employees, and their families donated over $240,000 to McCrory's 2008 and 2012 gubernatorial campaigns and to the state Republican Party since he became the party's nominee, according to a recent report by the liberal advocacy group Progress NC), McCrory worked for the company for 28 years, starting out digging ditches and eventually making his way to a position as senior adviser with Duke's Business and Economic Development Group before retiring in 2007 to run for governor.
Pat McCrory is someone who, remember, campaigned on a "balanced, 'all-of-the-above' energy plan" that included development of biofuels and wind and solar sources of energy. To date, we've seen no grand plan for these alternate sources on the level of the pursuit of oil and gas exploration, which received another huge boost Tuesday when the Republican-dominated state Senate gave preliminary approval to the permitting of underground natural gas exploration, or "fracking." There's your sense of urgency.