Frayed Pride and Fried Pickles: The Story of The Penguin Drive-In
One family built a little restaurant in Plaza Midwood called The Penguin. Three friends reinvented it. A neighborhood adopted it, then a city claimed it. They all thought they owned it. Then, one day last fall, all hell broke loose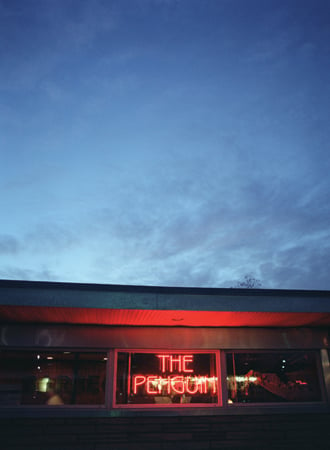 B
rian Rowe smokes. He hasn't gone to get a new tattoo in six years, but there are already more than enough to cover his arms. He dresses like a greaser because he likes it—the wallet chain, the cuffed jeans, the rolled-up sleeves, everything. He calls himself a jarhead. He drove a tank during Desert Storm, then spent years working as a roofer. He was a bouncer at old Charlotte nightclubs like the Milestone and Mythos. He wrecked his motorcycle in 1996. He can show you where the bones came poking through the skin on his leg.
Want to make Brian Rowe cry? Ask him about the letter he got a couple years ago, when he was still running The Penguin. This kid, he says, moved here to go to UNC-Charlotte. Real shy guy, this kid. Just socially awkward. And then, he made a friend. They would meet at The Penguin once a week to talk about school and girls and whatever was bothering them. And slowly, the kid realized that he wasn't so alone after all. He became, he said, the man he is today. With the letter, he included a ten-dollar bill. If you ever see another young college student in The Penguin, he wrote, buy him a beer. On me.
"That fucked me up, man," Rowe says. His eyes tear up. He rocks back and forth on his chair. He takes a drag off his Camel. He needs a moment.
The space above the Diamond Restaurant, where Rowe is sitting and rocking and talking, is a big, open room full of all sorts of junk. The brick walls are painted green. The syrup canisters for the soft drinks are in the corner, napkins are on a shelf, and a few computers sit along the wall that holds up the red neon sign, the one you can see from Independence Boulevard. You can hear the music thumping from the jukebox downstairs, the same jukebox that used to be in The Penguin.
This is a bit of déjà vu for Rowe. The renovating. The painting. The loans. The long hours. The test runs. The new menu. Everything seems the same. Ten years ago, he was here in Plaza Midwood, putting his heart and soul and sweat into an old restaurant at 1921 Commonwealth Avenue called The Penguin. Now he's doing it at 1901 Commonwealth at a place called the Diamond. Same street. Different old restaurant.
Ten years ago, Brian Rowe and his friend Jimmy King just wanted their own neighborhood joint at the corner of Thomas and Commonwealth, the kind where you could stop in for a beer and a bite and a conversation. But the rest of the world eventually found out about it, and the rest of the world decided it wanted one of its own. Why shouldn't there be more Penguins in other neighborhoods in other cities? It became obvious that the place was worth something. In the cigarette-fueled haze between the Pabst Blue Ribbons and the Big Block Burgers, people started to realize there was money to be made. Big money.
What came next was a mishmash of lawyers, trademarks, Facebook rage, frayed pride, and fried pickles. What came next was a debate between corporate and cool—a debate over the ownership of a name and the ownership of the things it stood for.
Brian Rowe thought The Penguin was his. He was right. And he was wrong.
***
Plaza Midwood is throbbing with barbershops and salons, tattoo parlors and pawnshops, and a record store selling vinyl. Bungalows sit on the streets behind Central Avenue, and in front, spread out over two square blocks, there are a dozen places to get a drink and a meal. There's a Jamaican joint next to the art gallery that serves beer under Soul Gastrolounge, which is down the block from John's Country Kitchen, across the street from Dish, which is across from Zada Jane's. Thomas Street Tavern is in the old post office. There's probably a band playing at Snug Harbor. In the outcropping at the end of the aisles of groceries and novelties at the Common Market, a guy in a powder-blue argyle sweater stands next to a skinny guy with enough tattoos to frighten a grandmother to death.
What came next was a debate between corporate and cool—
a debate over the ownership of a name and the ownership of the things it stood for.
The word for this, the word your parents would probably use, is "trendy." Or "young." Or "hip." Plaza Midwood doesn't want you to get dressed up. It wants you to put on your Carhartt jacket, your ratty button-down shirt, your stocking cap, your fishnet stockings, and your hot-pink extensions. It wants you to get out of your car and amble down the sidewalk. It wants you to roll up your sleeves to show off the art on your arms. It wants to make you proud to be dirty. It is where you go if you need to loosen up. If you need to prove you're not stiff. It is where Charlotte goes to prove that it's not Charlotte.
Plaza Midwood used to be grittier, full of addicts and criminals and lost jobs and 1950s glory faded into a dull 1970s taupe. That's the neighborhood The Penguin Drive-In inhabited for most of its life. The long and narrow gray stone-and-brick building has been in the Ballentine family for fifty-seven years. Jim Ballentine was there for forty-seven of them, working seven days a week from 10 in the morning until the bleary hours of the night.
He came home from World War II with a Purple Heart, a Soldier's Medal, and two Bronze Stars. He started working at the Nance Drug Store on Caswell, and met his future wife, Jean, on her first day working as a nurse at Mercy Hospital up the street. He said when he and Jean got married, they should open a restaurant. He said that on their first date: when we get married.
In 1954, at age twenty-eight, Ballentine borrowed money from his dad and bought an ice cream shop named The Penguin. He turned the white stucco building into a drive-in, complete with hot dogs and carhops and a soda fountain. Later he started serving beer. Jim and Jean lived in a house they'd bought next to Jim's parents on East Fifth Street. Jean quit the hospital to work at the restaurant, and within two years Jim had worked hard enough to pay back his father. Five daughters came, and they became The Penguin's family wait staff.
Jim Ballentine never advertised. He didn't need to. He kept the beer cold. He kept the food cheap. People kept coming in. They kept coming back. They kept spreading the word.
At first, the place was clean, shiny, and new. But as the neighborhood started to get dirtier, so did The Penguin. In the seventies and eighties the drive-in became more dangerous. People broke in to steal beer and smokes. Jim made a rule: his daughters could still work there, but they had to be out by the time the sun went down.
One night, Jim shot a guy. This was in 1990, when he was locking up and some hoodlum came at him and Jim pulled out a pistol and fired and hit the guy in the shoulder. And later at the hospital, the guy confessed to breaking into The Penguin fifteen times in fifteen weeks. Ballentine was never charged with a crime. But he still had to keep replacing broken windows. People would break them to get in to steal smokes. Or beer. Or money. Some people would break them just to break them. Before he left every night, Jim would call Jean and leave the phone at The Penguin off the hook. Once he got back home, he would keep his phone nearby and listen for the glass to break.
Drug deals went down at the pay phone in the parking lot. A regular was found dead out back, surrounded by needles. Police said if you were looking for a guy who broke into a house or a store, you'd start by looking at the guys who showed up at The Penguin.
The place itself began to fall apart. There was a gaping hole in the roof above the men's room. Regulars called it the skylight.
Everything changed. Jim Ballentine never did. At least not until the end, when he started to get sick. His daughters looked at him at work. Something wasn't right. It was the beginning of Alzheimer's disease. It was the beginning of the end.
By the time Ballentine retired, the once-cute little drive-in was rotting away. Four of the five daughters were married with kids. Nobody had the time or money to keep the place going. Nobody could work the seven-day-a-week schedule their dad had endured to keep the place open.
In 1999, Hope Nicholls had just opened Boris & Natasha, a high-priced hipster hangout of a clothing store that sits in the old library across the street from The Penguin. She saw the place close. She saw it sitting empty. Then she saw a sign go up in the window. The Penguin was up for rent. She called a couple guys she knew. "If you respect their dad's vision of that restaurant," she told them, "you guys will get it."
Brian Rowe's wife, Chrissy, had just opened Bang Bang, a hair salon up the street on Central. A guy named Jimmy King was dating a girl who worked there. Rowe had been a Marine. King had been in the Air Force and played in a surf band. They became friends. And then, Rowe says, they both got the big idea. "We were sitting around a crappy above-ground pool in the backyard and said, 'Wouldn't it be neat to have your own bar or something?' "
Then they got the call from Nicholls.
In August of 2000, Rowe and King agreed to lease the building and the name from the Ballentine family. Then they went to work to make it theirs.
***
King and Rowe didn't want to run a restaurant. They just wanted to open a bar. They quickly found out that for them to serve beer, zoning rules said they also had to serve food. Rowe called Greg Auten, the guy who catered his wedding, to make the menu and work the kitchen. Over eight months, the guys borrowed money and put it into a new roof and a red-and-black checkerboard floor. They sanded down the old pine walls. They brought in new equipment for the kitchen.
They brought in something else. Call it Americana with an edge. "We wanted to make it authentic," King says. "We didn't want to make it like Happy Days. We didn't want the Marilyn Monroe and the Elvis Presley vibe. 'Cause in the fifties they were current. That's like putting, you know, Miley Cyrus in there nowadays. It would be cheesy."
King worked during the day. He updated the logo, turning it from cartoony and quaint to sleek and modern. He did the payroll. He crunched the numbers. The big Fourth of July celebration? The one with the bands and all the people? That was him.
Rowe worked nights and had to create what he and King really wanted: a dive bar that wasn't threatening. Sure, some troublemakers would still come in. But they'd clean up their act when Brian Rowe was around, both in the restaurant and out on the streets. Car break-ins dropped after he started patrolling the parking lots. He became a one-man neighborhood watch.
At first, people in bands would come. They'd tell their friends. They came back. Music was a big part of it, King says. People would sit around and pop some money into the jukebox to listen to doo-wop, country, or punk. The Penguin became the island of misfit Charlotteans, welcoming everybody, no matter what they looked like. "What we wanted to do," King says, "was make it so the people who didn't like uptown and didn't like Ballantyne had a place to go."
It took three years of seven-day workweeks to pay off the loans. It took five years before the place got consistently busy. Nicholls saw it all happen from the window of her store across her street. The food and beer weren't bad. But that wasn't the biggest draw. "People just wanted to hang there," she says.
Take Courtney Thomas, for example. In 2005, she and her boyfriend, Mike, moved into a place off Commonwealth and started showing up at The Penguin. They went every Friday night. They wouldn't even discuss it after a while. They would just come home from work, change clothes, and go.
Courtney and Mike got hitched at the courthouse last April. Right afterward, they all went down to The Penguin. Somebody dropped off champagne (the Bird didn't sell it), and both families—who had never met—sat in the big back corner booth for two or three hours and got to know each other. Later that night on the dry-erase board, above the fish special, a handwritten message congratulated Mike and Courtney's new life together. "Yay!" she said. "We made it above the fish!"
Waitresses started inviting Courtney to their baby showers. She and Mike would go on road trips and before they'd go home, they'd stop in for a drink at The Penguin. At first, you could just walk into the place and get a table. Later on, when it started getting really busy and most people had to wait, Courtney and Mike always seemed to end up at the front of the line. They kept showing up every Friday night. "We worked hard to get cred in that bar," she says.
They both always liked the good food and cheap beer, but they came back for the people. They met friends there. They were always treated well by the waiters and bartenders. It became home. "I always felt more myself there than anywhere else," she says. "I have a bunch of tattoos and a 'Go fuck yourself' attitude, and it's nice to go somewhere where they appreciate that."
And this was how, slowly but surely, with people like Courtney and Mike Thomas, The Penguin sprouted a soul. Every day more people came in, and every night more people kept coming back and hanging around.
The people who came by in March 2007 ruined any chance that The Penguin would remain Charlotte's little secret.
"It was a blank canvas," King says. "And over the years as we won awards, we'd put them up. That place became ours. It wasn't ours when we got it, obviously. But every day, every week, every month, every year, it grew. It was its own thing after a while. It was bigger than me and Brian."
People from Plaza Midwood were always there. Then folks from Ballantyne started coming up more often. Same thing with folks from up north near Lake Norman and University City. The waits got longer.
The people who came by in March 2007 ruined any chance that The Penguin would remain Charlotte's little secret. A production company from Minnesota showed up with Guy Fieri in tow, and the bleached-blond spiky-haired host proceeded to rant and rave about Greg Auten and his fried pickles and pimento cheese. On May 7, Diners, Drive-Ins and Dives aired at 10 p.m. on the Food Network, featuring a sunglassed Fieri rolling up to The Penguin in a convertible and eating everything inside.
Fieri and his crew got a lot of footage, enough for a seven-minute segment. They showed a guy eating a Full Blown Hemi, the biggest burger on the menu. They showed Fieri shoving black bean hummus and corn dogs into his mouth. Fieri would chew for a while, the wheels turning in his head. Then he'd say, "Oh. That's good."
For the first time, the food became the star. People started driving in from other states just to get a meal. Ned Brownlow, a bartender, remembers talking to Rowe one night in Liar's Corner, the spot behind the front counter near the bathrooms. They gawked at the crowds. The show, Ned told him, was the best thing that could have happened to the restaurant. It was also the worst thing that could have happened to the bar.
The Penguin became a tourist attraction. One of Brownlow's friends started calling it Penguinland. The regulars came less often, and they competed for space with folks from other towns and other states. There used to be a lull between lunch and dinner. After Fieri's visit, there was a line out the door seven days a week.
The Penguin and its spinning, glowing sign on the corner turned into a brand, and more and more people wanted a piece of this thing that King and Rowe had created. "I'm sure they would look back on it as being naive now," says Brownlow. "But neither one of them ever expected it to be something that would be a franchisable entity." But it was. And Martin Sprock knew it.
***
The concept of a franchise has been around since the nineteenth century, but it really got going in the 1950s and 1960, when places like 7-Eleven, McDonald's, and Dunkin' Donuts popped up. Franchises are consistent. The same. The brand is important. The logo is crucial. "The public demands uniformity," reads one industry website, "and, through franchising, gets it."
Martin Sprock is wearing a blue 
sweater and a white Penguin baseball cap with blond hair poking out of the sides. He's easily excitable. When he talks shop, he talks with his hands. "People look at franchising all the time," Sprock says. "It's a way to expand your business without having to borrow so much money from the bank. That's all it is."
Sprock grew up in Greensboro, graduated from UNC-Chapel Hill in 1987, and moved out to Aspen, Colorado, where he bused tables and washed dishes. Later, he moved to Atlanta to get into the restaurant business. He got into bars for a while, he says. Then he started opening Planet Smoothies. Then he took over brands like Moe's and the Flying Biscuit. He tried to keep things fun and exciting, putting stuff on the menu that was, in his words, "braggable but also healthy."
The company Sprock founded, Raving Brands, expanded quickly, sucking up new brands and restaurants and franchising them out by the hundreds. He made Raving Brands into one of the biggest franchisers in the nation before selling most of the pieces. Now he's started over with Big Game Brands. It owns the Flying Biscuit Café and Monkey Joe's brands. (The Charlotte stores are owned and operated by a separate local company with which Sprock is not involved.) An Italian-themed restaurant is coming soon.
In short, he knows what sells. If you don't like it, that's OK. A lot of other people will.
Five years ago, while he was still living in Atlanta, Sprock came up to Charlotte and fell in love with a little Plaza Midwood drive-in. He liked the name. He liked the brand. He pictured The Penguin in big cities and trendy neighborhoods across the country. He walked in one day, like several franchisers had done before, and started talking. This time, King and Rowe listened.
"I made a deal with 'em," Sprock says. "It took four, five, or six meetings and six months, but we put a deal together. They were the first ones to embrace franchising The Penguin and expanding The Penguin. Sell it out if you will. I didn't try to buy this particular little restaurant right here. I was buying the name and the marks and the rights to expand The Penguin, all over into fifty states possibly."
Sprock's lawyers e-mailed a letter of intent to Rowe on July 21, 2008. In it, Sprock offered Rowe, King, and Auten $750,000 to split among themselves. In return, the three of them would get a stake in the new franchising company. They would turn over all sorts of know-how. They would turn over the logo. And they could keep on running The Penguin on Thomas and Commonwealth.
The lawyers went to work. And then, Sprock says, they discovered that King and Rowe didn't own the property. Then they dug a little deeper and found out that they didn't own The Penguin name, either. The Ballentines did. The Ballentines were never mentioned in the letter.
***
Lisa Ballentine is Jim's youngest daughter. She's forty now, but looks younger, the product of her thirteen years as a certified personal trainer. She runs several Gold's Gyms up around Lake Norman. She opened her first around the time her father retired.
Ballentine walks around inside the reopened Penguin in a black T-shirt and studded leather jacket, joking with the young new employees and showing off pictures of family that now hang from the pine-paneled walls. There's a niece. There's a nephew. There's a guy who used to come in there in the nineties. There's a copy of the original menu over there in the corner, above the big round booth. A Coke cost 10 cents. Beer went for 30.
Her eyes light up when she sees the pictures of her father. There's Jim behind the counter. There's Jim holding a pistol. There's Jim wearing his World War II Army helmet and hanging out with his drinking buddies.
It's her father's restaurant again. To her, it's always been her father's restaurant.
Lisa worked there as a kid. She peeled potatoes and made coleslaw in the back. She worked the register. This is where she got to know her father. "This was very much home to me," she says. "This is where my dad was."
Lisa speaks for the family now. She says King and Rowe tried to sell her father's restaurant out from under them. "And I'll never forget my mother crying, calling me one day and saying, 'I lost it all.' " No, Lisa said. That won't happen.
Jean had been in charge since Jim Ballentine died in January 2007 at age eighty (his obituary listed Greg Auten, Jimmy King, and Brian Rowe as "extended family"). Three weeks after Jim's death, Lisa says, the guys came to Jean and asked her if they could use the Penguin name for something called The Penguin Grill, an ill-fated kitchen at the now-former Alley Cat nightclub uptown. "She said as long as you're running The Penguin," Rowe says, "you can use the name." There's a document to prove it. Both sides agree on that. But Lisa says the guys took advantage of Jean's grief.
Rowe felt that the relationship he, King, and Auten had with the Ballentines was simple. The guys were tenants. Jean Ballentine was the landlord. The family owned the building and, yes, the name, but the guys owned the business. And the business was the thing that was going to be franchised, and to Rowe and King, that was theirs. They felt, at first, that they had permission to use the name. But after the lawyers got involved, Jean was the one who ended up owning the trademark.
Both sides racked up thousands of dollars in legal bills. Sprock backed out. The deal didn't happen. Each side said the other wanted too much control. Rowe said a franchised Penguin would be watered down, and that's why he and King backed out. The Ballentines began to think Rowe and King couldn't be trusted. Everyone alludes to misrepresentations and lawyers and documents that would prove their case if you really wanted to read them.
The guys started branching out in ways that didn't include the now-pesky Penguin name. They planned on making a restaurant out of the old Triple G Automotive garage with the red, white, and blue Volkswagen on the roof at the corner of Freedom and Morehead on the west side, near where Auten grew up. It would be called Pinky's. They quickly realized that with five owners (King, Rowe and Auten, plus two Penguin employees), nobody would be able to make money on it. Auten offered to sell his share of The Penguin if King and Rowe sold their share of Pinky's. And in January 2010, Greg Auten left.
On May 7, 2010, three years to the day after the TV show that changed The Penguin from a bar into a tourist attraction, Rowe and King got together with Andy Kastanas. Andy runs Soul Gastrolounge on Pecan and Central. He also used to run Alley Cat during The Penguin Grill days, and was Rowe's boss at Mythos way back when. All three signed a lease to take over the Diamond Restaurant, another Plaza Midwood landmark that sat in a brick building down the street. Rowe says they thought it would be cool to run two historic restaurants not just in the same neighborhood, but on the same block.
The Ballentines decided not to renew. The guys were finished. "They know why. They know why," says Lisa. "For a million reasons, they know why."
After that, Lisa says she sat down with Rowe and King over dinner to talk about what would happen to The Penguin. She wanted to make them owners in her father's restaurant. She said she wanted it to be a partnership. You don't own it now, she said. You're just paying rent. She asked for some upgrades, like a better accounting system. Lisa Ballentine was also suspicious of the restaurant down the block. "I'm not going to let it be that napkins are flying out the back door 'cause the Diamond's out of napkins. Or beers. Or liquor. Or mayonnaise."
Rowe says the Ballentines wanted 51 percent of the business. He said no way. It was their business. The family just owned the building and the name. They had never owned the business part. And now they wanted to take more than half? The family had two big bargaining chips: the name and the building. Without a new lease, Rowe and King would leave with nothing except for the kitchen equipment and the jukebox. They would leave with none of the equity they felt they had built in The Penguin name—a name they did not own.
Sometime in 2010, the Ballentine family got back in touch with Sprock to come in and run the place, in part because Sprock said he would keep The Penguin just like it was. "I think we're the best guys at buying old brands and inching them along and making them a little better without completely ruining them," he says.
King and Rowe's ten-year lease would run out on November 1. With the building and logo firmly in the family name, the Ballentines decided not to renew. The guys were finished. "They know why. They know why," says Lisa. "For a million reasons, they know why."
Brownlow remembers the night when he found out. "Jimmy called me back in the office one night in late September and just said, 'We lost it.' "
On a Monday morning in late September, the news hit Facebook. Hard. Somebody named Charlotte Absorber, with a profile picture of a town crier, posted a picture of the grotesque, grinning Danny DeVito version of the villainous Penguin from Batman Returns, saying the Penguin, as we know it, was over. "Boycott at all costs!" the Absorber wrote. The news spread like a virus. Commenters screamed about it on blogs. Twitterers quickly started organizing their angst with a hashtag called #Penguingate. The Ballentines were called thieves and corporate sellouts. King and Rowe were called martyrs.
Rowe and Ballentine have something in common: neither of them is on Facebook. Rowe was stunned by the online push to boycott the new Penguin. Lisa is bewildered by the new reality of social media, where sarcastic insults and conspiracy theories can become fact when they're repeated and retweeted often enough. Is there a dress code at The Penguin? No, says Lisa. Yes, says Facebook.
Rowe and King said the last day for them and their staff would be October 24. On that night, people showed up by the hundreds. Guys tore off their shirts and jumped on cars. People smoked inside. They drank outside. Both were against the law. Cops looked on. Enforcement was more trouble than it was worth.
A waiter came out with the last basket of fried pickles and started handing them out.
Courtney remembers touching a door handle. She realized it would be the last time she'd hold it in her hand at The Penguin. Tears welled up in her eyes.
In 1955, a year after Jim Ballentine bought The Penguin, a quarter of all the money spent on food in America went to restaurants. Today it's almost half. If you want to go out for a drink or a meal in North Carolina, you have roughly 16,000 places to choose from. The competition is fierce. An Ohio State University study shows one in four fail in their first year. Within three years, about 60 percent either close or change ownership.
The ones that last don't last forever. Their owners get old. They get tired of it. Or forced out. Bought out. Bulldozed. The Athens Restaurant is gone, replaced by a Central Piedmont Community College parking garage. Anderson's and its pecan pie was replaced by a Starbucks, which closed. Fat City Deli, the place that gets the credit for turning NoDa into a destination, has been flattened. Condominiums are there now.
In Charlotte, historic is being replaced with corporate. The Coffee Cup, Charlotte's first integrated restaurant, was torn down in 2009 to make way for a Beazer housing development that never materialized. The only thing that remains is the sign. You can go visit it at the Gantt Center if you want.
Amid the shiny skyscrapers and strip malls, Charlotte is coming to grips with the fact that it's losing the places where you can feel its history with your bare hands. You cannot build something new and call it historic. You cannot transplant a soul. After the original was razed, the Coffee Cup reopened in two new locations. They both failed.
The city was losing the restaurants that kept it from feeling like any other town. The Penguin belonged to Charlotte. And when it changed, Charlotte felt like, as an owner, it had to speak up.
The Penguin didn't go away, of course, at least not forever. But it has a split personality now: historic and corporate. Most nearby businesses are independent. Most of the people who own them say they hope The Penguin does well. It brings people into the neighborhood, they say. And they leave it at that.
The closing was like a bad breakup. A few weeks after Rowe and King left, someone threw a landscaping brick through the glass in the front door, and for the first time in years a Ballentine had to change out a broken window at the Penguin. Lisa said people started to threaten her. They would scream at her. They'd flip the bird at the Bird. One guy said she'd better not find herself alone.
Lisa walks out at night sometimes and wishes her dad were still there to protect her. She says she's going to keep working hard. She and Sprock are co-owners now. She wants to make the business better and more efficient. "I just don't want anybody to hurt me in the process," she says. She wishes all the attention on her would go away. Ballentine family photos cover the walls of The Penguin. Not one of them is of Lisa.
***
The Penguin reopened on a Saturday in mid-January. Police sat out front, just in case somebody returned with another brick.
Inside, the place was packed, even during the nebulous midafternoon time slot between lunch and dinner. A waitress remarked that she's still learning how to get around inside. The tables and chairs and layout were all new to her.
The red and black checkerboard floor is the same, definitely. The place got a new coat of paint. The metal "barbecue" sign is still up. The stickers on the hood in the kitchen look sort of the same. The food is sort of the same. Some of it is healthier. The fried pickles are now the Famous Penguin Fried Pickles™.
The jukebox looks about the same, too. "I don't think people can really tell the difference," Sprock says.
The first few days are busy. Very busy. Bruton Smith, the billionaire Charlotte Motor Speedway owner, has already stopped in. Sat right there in the corner booth. He's been coming for years. "He's a freak on fried pickles," Sprock says.
It'll be six months or a year before Martin Sprock will know whether The Penguin can be a franchise, but it's clear that the place is a restaurant now, and not a nighttime hangout. At 9:30 on the Monday after the opening, the place is deserted.
Sprock doesn't talk about one of The Penguin's many new menu items. It's called the Diamond Dog. The description: "Comes with nothin'."
"You've got to have thick skin to get involved in someone else's creation," Sprock says. He has a PR guy and a marketing guy to fight back against the forces of Facebook. He hopes people will put the past behind them and judge the place on its food. "It's business," he says. "We sell hamburgers. Don't make it any more than it really is. We're still a hamburger joint."
He says he wishes the Diamond well. He doesn't talk about one of The Penguin's many new menu items. It's called the Diamond Dog. The description: "Comes with nothin'."
***
A few weeks later at the Diamond, hipsters, guys in ties, and little old ladies are lined up outside on a warm and sunny February morning. King unlocks the front door to the public for the first time. He sticks his head out. He smiles. "Hey, guys, how you doin'?" he says. "Come on in."
Soon, there's a wait. The kitchen gets backed up. It takes about an hour to bring out a Big Block Burger. This is more intense than the test runs that Rowe and King held for family and friends. It took years for The Penguin to build a big following. At the Diamond, their following is there on the first day, waiting in line, looking in the windows, sitting on the benches.
The lunch crowd on Day One is a mix of the old Diamond regulars and the old Penguin regulars and the people who just wanted to stop in and see what all the Facebook and Twitter hype was about. A lot of the staff came with the guys. The menu is largely what the old Diamond's was: Southern cooking with a bit of Greek influence, a tip of the cap to Jerry Pistolis, the old owner. There are some old favorites from the old Penguin, like the Winky Dinky Dog and Full Blown Hemi. The Ballentines didn't put up a fight about it.
There's also a Diamond Dog on the menu, a foot-long chili dog with mustard and onions. "Comes with a history," it says.
People come in and look around. They look at the new wallpaper and the retro light fixtures and the shiny blue booths. They look to see if they recognize their waitress or the bartender. They check the menu to see if their favorite thing is still on it. They instantly start comparing this place to the old Diamond. Or the old Penguin.
But after a while, they settle back in to their routine. They talk about the food. About their day. About the weather. About business. About whatever it is people talk about over a table in a restaurant.
That night, more people keep showing up. A hair stylist looks on from across the street. The Penguin. The Diamond. That's all he ever hears about anymore, he says.
You would figure, then, that the people in charge would know exactly what made The Penguin what it was. They'd know why so many regulars came back. Why it merited so many news stories and gossip when it closed and reopened. Everybody can point to the food, the service, and the atmosphere. But plenty of places have that.
There has to be something else. Right? Lisa Ballentine thinks it has to do with a sense of belonging. She thinks it's the mix of people who came into her father's restaurant; the doctors who sat next to the bikers and, maybe, could imagine what it was like to live that other life. "There's that part of us," she says, "that wants to belong to that other side."
Hope Nicholls doesn't eat fried food. She never ate at The Penguin. But she loved it. The place felt alive. Customers can always see that. "If they have soul," she says, "they know a business has soul." To her, Rowe and King owned the place. To her, Plaza Midwood owned the place.
A few years ago, Brian Rowe heard something that shocked him. "People were moving to this neighborhood," he says, "because The Penguin was in this neighborhood." Think about that. They moved here. For a restaurant. He knows he and Jimmy King created something. He can't quite put his finger on it.
It has to be the people, he says. It has to be the customers. The staff. The regulars. Rowe used to be terrible with names. Now he never forgets them. He remembers Courtney and Mike. He hasn't seen them come in to the Diamond yet. Maybe they'll stop by over the weekend. Maybe she and Mike will make a date out of it.
If you see Courtney there, ask her to sweep back her red hair. There, behind her ear, is a tattoo of The Penguin. She's thinking of getting a new one right under it. She already knows what it's going to say:
R.I.P. 10-24-10.
Jeremy Markovich is a writer in Charlotte and a frequent contributor to this magazine.