Getting Antsy At the Government Center
Pat Cotham's probing ways aren't what MeckCo staffers are used to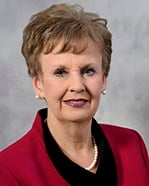 I always thought of Jennifer Roberts as a near-perfect example of the academic-turned-public official, the ruminative type who loses him- or herself in the fine points of ordinance drafts, has trouble making firm decisions, and, above all, values consensus among peers — almost to the point where it becomes an end in itself instead of a vehicle for getting things done. (See Obama, Barack, first term.)
As chair of the Mecklenburg County Board of Commissioners from 2006-11, Roberts was the kind of leader who approaches tough issues by first insisting that "every voice is heard." Consensus is nice, of course, but as board chair you sometimes have to crack the whip, and that just wasn't Roberts' style. A few years back, longtime commissioner Parks Helms, her immediate predecessor as chair, publicly criticized her for, in essence, being too damn nice. The commissioners are an unruly bunch. Too often, Roberts seemed like a substitute teacher getting steamrolled by the delinquents.
Well, there's a new chair, Pat Cotham, a prominent Charlotte Democrat with a business and nonprofit background instead of academic. Turns out she's a bit of a nut-buster — and some county staff, accustomed to free rein, aren't taking kindly to the sudden change in management style:
That approach seems to be angering county leadership, at least on one topic. Cotham called a special meeting for this afternoon for commissioners and staff to talk about what went wrong with MeckLINK. Last week, the state stripped the county from overseeing about $200 million in Medicaid money for mental illness, substance abuse and other services. Commissioners and staff have exchanged a flurry of emails on the topic.
The most surprising comes this morning from Michelle Lancaster-Sandlin, the county's general manager. In an email to Cotham and cc'd to others, Lancaster gives some background about the MeckLINK situation. She closes her email to Cotham this way:
"Perhaps, if you would take the time to talk to staff and ask questions instead of leaping to inaccurate conclusions we could have a productive and useful dialogue about what is right for the community and Mecklenburg County.
"I will note that I emailed you twice this weekend, telephoned you and sent a text offering to meet with you to answer questions and provide information — you declined to respond. I can only assume that means you are not interested in understanding the facts."
County Manager Harry Jones, whom Roberts consistently defended during her five-year tenure as chairman, stood behind his employee. Cotham hasn't made any public remarks about the dustup with county staff, but I wouldn't expect anything approaching an apology. County administrators haven't exactly shown themselves to be a crackerjack bunch when left unsupervised. As incredible as it may seem to suggest county government might benefit from more dissension rather than less … well, that's exactly what I'm suggesting. Commissioners have rubber-stamped too many staff proposals for too long.
"More than 250,000 people voted for me because I told them I was going to ask the tough questions," Cotham told the Observer last month. "Well, I'm asking them, and they're (county leaders) not used to that, I think. If people are squirming … that's good." That government is best which governs while squirming.