Happy Gun Appreciation Day To You and You and You
Sometimes, freedom goes off accidentally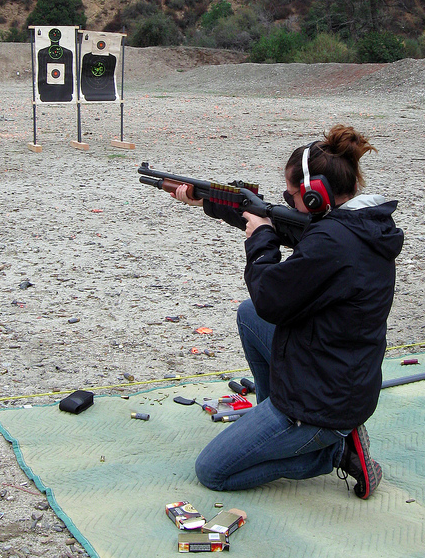 And the hoooooooome of the braaaaaaaaaave …
Three people were wounded in an accidental shooting Saturday afternoon at a gun show inside the Jim Graham Building at the N.C. State Fairgrounds.
A 12-gauge shotgun discharged shortly after 1 p.m. as its owner unzipped its case on a table for a security officer to check it at a security entrance at the Dixie Gun & Knife Show, according to Joel Keith, police chief of the state Agriculture Department..
Keith said birdshot pellets hit Janet Hoover, 54, of Benson, in the right torso; Linwood Hester, 50, of Durham, in the right hand; and Jake Alderman, a retired Wake County sheriff's deputy from Wake Forest, in the left hand. Hoover and Hester were taken to WakeMed, but officials said their injuries did not appear to be life-threatening.
Alderman was treated and released at WakeMed North Healthplex.
Gary Lynn Wilson, 36, of Wilmington, who brought the shotgun, is being questioned by the Wake Sheriff's Office, which is handling the investigation.
"Right now, what we see is an accident," said Wake County Sheriff Donnie Harrison. "If there's something he may be charged with, we'll find that out."
I don't want to make light of any of this. I'm glad the victims here — yes, victims — are apparently going to be OK.
Let me just point out that one of the oft-repeated criticisms of President Obama's gun control platform from this week is that none of the provisions would make anyone safer. A debatable point, but in this case, it's spot on: This appears to have been a reasonably responsible, law-abiding gun owner (although bad move not, you know, making sure there wasn't one in the chamber). This was a shotgun, not an assault weapon. He had the weapon in a case. He submitted to a security check. There's no reason to believe he intended anyone any harm or has a mental or emotional problem.
And on Saturday, on Gun Appreciation Day, he took a gun to a gun show in Raleigh, and three people were shot.
Discuss.
And in honor of GAD, I'll leave you with these thoughts — if that's the right term for them — from one of the gun appreciators:
Gun Appreciation Day is January 19th, and I predict it will be a bang up success (pun very much intended).
I love guns and the fact that we live in a country founded on rugged individualism.  Because of that, many citizens are very pro-gun.  Contrary to what you may hear from the anti-gun crowd, this doesn't make these citizens a bunch of crazies bent on turning every corner of America into the Wild West.  It's just the opposite.  These patriots respect our Second Amendment right to bear arms as the chief means we have of ultimately protecting our individual liberties, including the First Amendment.
I particularly resent the way the anti-gun crowd portray people committed to protecting the Second Amendment.  If you know anything about guns, you know they're sexy (because they represent power and power is sexy) and they're safe.  True proponents of keeping our Second Amendment rights alive know how important it is to respect the power of a gun and keep and maintain it in a safe manner.
These gun rights advocates are the good guys and the good guys aren't the problem.  It's the whack jobs. Nothing gun haters want to do would prevent all the recent tragedies we've seen from happening.  Unfortunately, by focusing so much on curtailing the rights of the good guys, it's ultimately only the whack jobs who'll have guns if the gun haters get their way.
"If you know anything about guns, you know they're sexy (because they represent power and power is sexy) and they're safe." Roll that sentence around in your mouth for a while and see if you enjoy the aftertaste.