Heist Barrel Arts now open for brewing – and to the public soon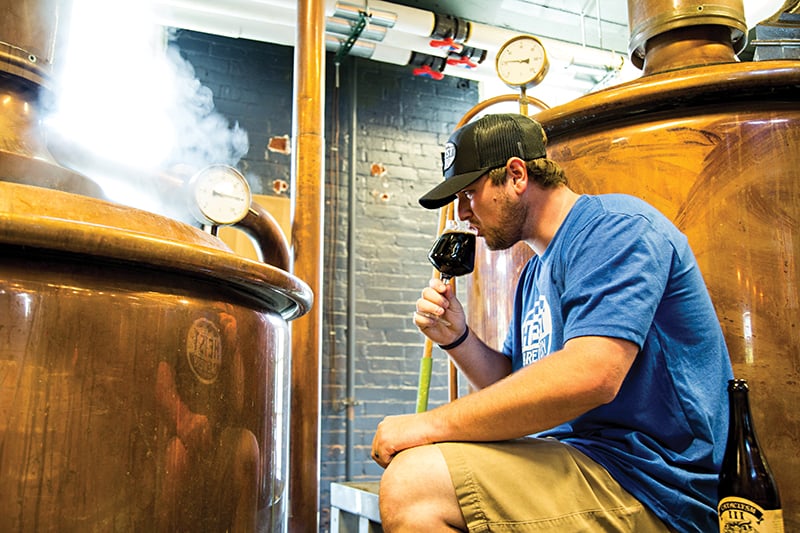 It was something Charlotte's craft beer drinkers had been anticipating for some time.
Out of nowhere, an Instagram post from Heist Brewery went up February 17, announcing the can release of Heist's highly-popular Citraquench'l (which landed at No. 1 on Charlotte Magazine's 50 Best Craft Beers last year), Blurred Is the Word (13th) and Hive Fives.
And if that wasn't enough to get people excited, five more cans have since followed over the last three weeks – including this past Saturday's release of Thirst.
It had been more than a year since Heist had canned any of its beers, so in a way you could say the brewery is making up for lost time. But now that the brewhouse at Heist Brewing and Barrel Arts is up and running, expect a lot of beer to come over the next year and beyond.
The Barrel Arts facility, located at 1022 Woodward Avenue in North End, has completed Phase 1 of construction, which some would say is the most important part. Heist's new equipment, which includes a 30-barrel brewhouse, an in-house canning line, a "stout room" with large barrel capacity and three foeders for sour production, had been in place for several months but permitting issues delayed the process for head brewer Eric Mitchell and staff.
"This equipment sat here for far too long," Mitchell says. "It was certainly frustrating; you understand it but we were all anxious to get over here."
Once Mitchell got the green light in early January, he and the brewing team quickly got to work. Early on brought some challenges though, as they went from a much smaller 8.5-barrel system to the 30-barrel one.
"There were days where I felt like we were never going to get there," Mitchell says. "It felt like we were starting from scratch – you're changing every single variable that you could possibly imagine.
"I use the analogy of, 'I know how to make my made-from-scratch pancakes and I know how to make 10 of them. But if I want to make 50 of them, I can't just multiply the ingredients by five – it doesn't work that way. I have to make five batches of 10 pancakes.' Is there a formula out there to get to 50 pancakes off this one recipe? Sure, but it's going to take you a while to get there."
Those growing pains saw a few batches having to be dumped due to factors such as extra bitterness, higher temperature than expected in the whirlpool process and overall thinness in beers.
After a few attempts, Mitchell felt dialed in and ready to start up the canning line. From there, it has been like clockwork almost every weekend, with people flocking to Heist's original brewpub in NoDa to pick up cans – sometimes by the case.
"We feel as good as we can at this point," Mitchell says. "Our ultimate plan is to get to an every-Thursday can release, with one to three beers a week."
Mitchell adds Heist is probably two or three weeks away from that plan coming to fruition; until then, expect weekend releases. The beers that have already been released (with Citraquench'l and Blurred Is the Word most frequently) will be in a constant rotation, along with new beers as well (think two recurring cans and one new one, if everything goes to plan).
Heist's in-house canning line readies for a run of Thirst cans, which were released last Saturday (Photo by Matt McKenzie)
And while haze is all the craze right now, expect Heist to venture into other styles for its canned offerings.
"We don't want to be, and we're not, a one-trick pony, and are really excited about the varieties coming up," says Mitchell, who mentioned fruited Berliner Weisses along with stouts as cans in the future.
Speaking of stouts, Barrel Arts will also see the arrival of new bottles coming soon. Mitchell says they are looking at either Ka'Kau,' a stout brewed with cocoa nibs, cinnamon, vanilla and ancho and pasilla peppers; or Imp, a porter brewed with local coffee and maple syrup, to be the first bottle coming out of the new facility. The goal eventually is to offer one bottled stout a month.
As for Heist's famed Cataclysm series, Mitchell says it likely won't be until spring 2019 for a Cataclysm IV release in order to give the beer the proper time in barrels.
Upstairs in the facility will house Barrel Arts' sour room, which has Mitchell excited. Look for Heist's first sour bottle as soon as six months, with others will be a while longer for fermentation reasons.
"I've always wanted to get a good sour program going," he says. "The barrel-aged sours we've put out have been few and far between but I'm excited to focus on these now."
Through open doors of the Barrel Arts' brewhouse lies what will eventually be Barrel Arts' taproom, which will also include a giant beer garden right now. Construction is still ongoing on all aspects there, but the hope is for a late May/early June opening (this is Phase 2; Phase 3 is the bakery and butcher shop, which is still a year away).
While Mitchell is excited to be brewing on a more consistent basis (and larger base as well), he'll be just as happy when Barrel Arts is open to the public – for a number of reasons.
"I'm so tired of taking 250 cases of beer to the original spot," he says, laughing. "I'm ready to sell them here."