Houston Flood Lessons For Charlotte
Is Charlotte prepared for a Houston-caliber flood?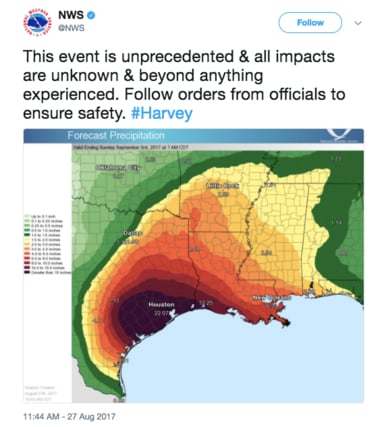 Last spring, ProPublica and The Texas Tribune published a series detailing how Houston's overdevelopment made the nation's fourth-largest city "a sitting duck for the next big hurricane" by inhibiting drainage and paving over vacant land that would otherwise soak up stormwater and mitigate flooding.
To people like me, born and raised on the Gulf Coast, this information carries some awful echoes. In June 2002, The Times-Picayune in New Orleans published a five-part series on how vulnerable that city was to a major hurricane. Among the reasons was wetlands erosion that weakened southern Louisiana's natural buffer against storm surge. Hurricane Katrina inundated the city a little more than three years later. Hurricane Harvey's comeuppance curve was even shorter: 17 months. It's nowhere near done yet, and what awaits southeast Texas next week is unimaginable. The National Weather Service, which tweeted its alarm late Sunday morning (above), is not usually given to apocalyptic pronouncements.
In Charlotte, you may be thinking along these lines: Oh, boy. Overdevelopment, you say? Can we look forward to a swimming Queen City if a tropical storm spins its way northwest from Charleston and squats over us? There's no way to know without a repeat of Hurricane Hugo, but with massive amounts of rain like the storms that swamped South Carolina in 2015.
But in the last 20 years, Charlotte and Mecklenburg County have actually gone beyond what's required in trying to prevent widespread flooding. This year, FEMA recognized the city for achieving a high level of flood risk management shared by only 11 cities, including Charleston. That's largely because of the county's expansion of greenways, buyout of properties that repeatedly flooded, and beefing up building codes. The land preserved along creeks and lakes and left vacant after buyouts has created natural buffers and spaces that can absorb stormwater, reducing the risk of catastrophic flooding. An added benefit: premium discounts for flood insurance policyholders.
And yet, given the city's monumental growth, it's impossible to gauge how effective those improvements are until put to the test—and a rain event like the one that threatens to drown Houston would likely flood Charlotte, or any other city. There are lessons to be learned, always, from the effects of natural disasters, and from the enrichment of real estate developers who put their short-term financial gain ahead of the long-term risks to the cities they build up.