How HackathonCLT Hopes To Boost Charlotte's Tech Rep
And work Charlotte's social mobility problem while they're at it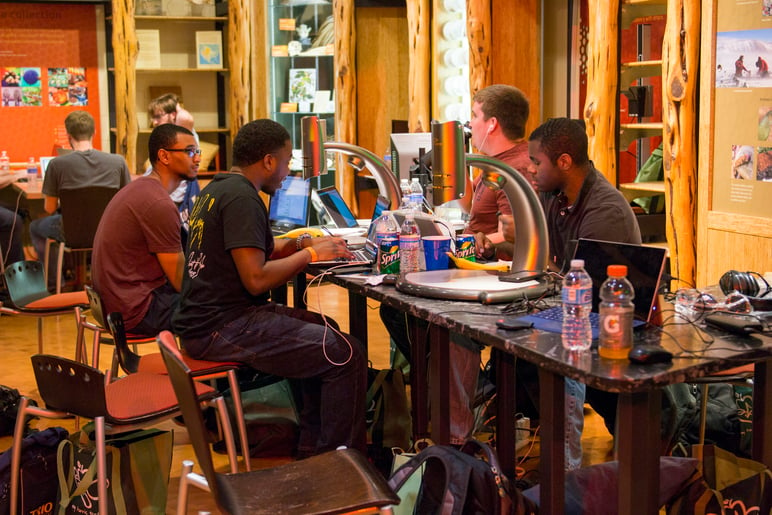 Abhishek Mehta, a 40-year-old immigrant, tech entrepreneur, and founder of the Charlotte software development firm Tresata, is known for proselytizing for big data and urging his adopted city to hurry up and embrace it, too. So Amazon's decision in January not to locate its eastern headquarters in Charlotte rankled him on several levels. "Being an entrepreneur myself, I was quite disappointed at what we were willing to offer Amazon," Mehta said Tuesday from Chicago, where he'd traveled for business. "I sent a tweet to the mayor and governor saying, 'Whatever billions of incentives you were willing to offer Amazon to come to Charlotte, don't let go of the incentives. Reinvest them in building a tech ecosystem and entrepreneurial ecosystem in Charlotte.' Entrepreneurs build cities. Large companies don't."
Mehta would surely meet with some argument among the bankers and financial services workers who have driven Charlotte's economy for the last generation. But he continues to preach the gospel of data and entrepreneurship, and next week will preside over his industry's equivalent of an annual tent revival: HackathonCLT, scheduled for 5 p.m. Friday, March 23, to 5 p.m. Saturday, March 24 at Discovery Place.
Hackathons have exploded in popularity in tech and other cities over the last 15 years or so. They're gatherings of coders, programmers, and tech entrepreneurs divided into teams that, over the course of 24 hours and with the help of Red Bull, put their big brains to work on a specific problem. (A 2015 article in The Atlantic referred to one as "a regatta for nerds.") The winning teams for this year's HackathonCLT will win cash prizes from a pool of at least $25,000, according to the company, which declines to release exact amounts beforehand. The specific problem they'll be tackling is something else Mehta's company doesn't want to divulge—can't have the contestants competing before the starting gun—but the general topic is perhaps Charlotte's biggest: social mobility, the metric against which Charlotte was famously ranked 50th of 50 among large American cities in a 2015 Harvard report.
"Our intention is not to solve the problem but to foster a lateral conversation. Why not take a data view to it and see what people come up with?" Mehta said. "Hackers are really good at coming up with creative solutions, non-obvious solutions to obvious problems. We would like to see how putting 1,000 smart people in a room with good data and smart algorithms can allow us to start finding different answers to a well-known problem. That's the big idea behind it." Mehta expects more than 1,000 contestants from all over the country to participate, by far the most in HackathonCLT's six-year history. (And if you're wondering, given all the Russia news, he's using "hacker" in its original sense: someone who uses computer and data skills to solve problems.)
Hackathons usually focus on developing software or other business tools. That was Mehta's initial idea, too. But two years ago, after a few events with underwhelming participation, Mehta said he began wondering how HackathonCLT could increase its visibility. He and his team hit on the idea of supporting local nonprofits. The 2015 edition, held at UNC Charlotte, had hackers develop innovative ways to deliver groceries to customers—useful, but not that inspiring. The 2016 HackathonCLT produced a program that helped Second Harvest Food Bank of Metrolina grow its donations and improve efficiency after its expansion. Last year, the winner developed a similar program for Big Brothers Big Sisters of Central Carolinas that matched mentors and students more quickly and easily.
Social mobility is a tougher nut. But this year's HackathonCLT will be the first with formal support from the City of Charlotte and Charlotte Housing Authority, although the format will be the same: Present teams with relevant data sets, in this case socioeconomic, growth, population, and other numbers. Then have contestants use the data as the basis of something usable—software or a mobile or desktop application—to nonprofits trying to solve the overall problem. Mehta emphasized that the result will only be a potential starting point, and one piece of a large puzzle. "We will not be able to solve the problem in 24 hours," he said, laughing.
That's the short-term, specific goal, anyway. The larger one is to help boost Charlotte's profile as a city that nurtures tech talent and a vibrant tech community—an image that, civic leaders were forced to concede after Amazon bypassed the Queen City in January, Charlotte doesn't really have. "When the city pitched for HQ2, it didn't even mention Hackathon," Mehta said. "We as a city are not very good at recognizing our entrepreneurs."
He wants HackathonCLT to plant a seed that can help turn the shortcoming into a strength. "I hope we can send a message to the government and to our civic leaders of, 'Let's try to find ways to support our local entrepreneurs rather than give incentives to large companies that don't need incentives,'" Mehta said. "Data is a great leveler. We can all have our opinions, but when someone shows up with facts, we either shut up or listen."