How This Charlotte Entrepreneur is Pivoting Her Company to Save Employee Jobs
"Amazon has its place," Closets By Design Co-Owner Laura Vansickle says, "but if I have a choice, I will always make the effort to buy local." Closets By Design has been providing jobs to Charlotteans for more than 15 years.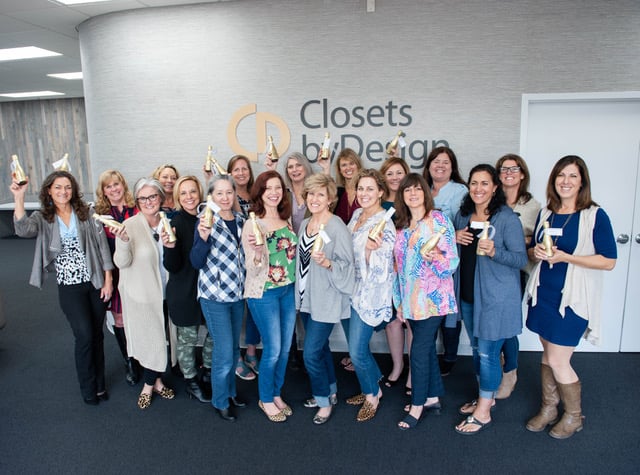 "Pivot, pivotttt!"
What was once just a funny line from a Friends episode is now most local business owners' main mantra.
As the coronavirus pandemic has forced many Charlotte restaurants and shops to close their doors due to the "stay-at-home" mandate, our neighbors are faced with a huge challenge: either pivot or face unemployment.
For small business owners such as Laura VanSickle of Closets By Design, being able to provide jobs to her community is one of the biggest rewards of entrepreneurship.
"Like most small businesses in our community," she says, "we are trying to learn how to adapt to our new restrictions while keeping our doors 'open' and our employees working."
VanSickle and her business partner, Eric, opened Closets By Design in Charlotte 16 years ago. They currently employ 25 local designers and operate a 36,000-square-foot showroom off of Westinghouse Boulevard in North Charlotte (1108 Continental Blvd., Suite A). Every custom cabinet, closet, and storage solution created by the designers is produced in this facility, giving Charlotteans a truly homegrown product.
"All of the little shops, restaurants, and relationships we have in our community are what makes Charlotte such a special place," VanSickle says. She moved here more than 20 years ago from Boston.
"I'm a big believer in supporting other small businesses in our community," she says.
VanSickle chooses her local coffee spot—Central Coffee on Camden Road—over the chains and says she will go out of her way to purchase items from a nearby store instead of online.
"Amazon has its place," she admits, "but if I have a choice, I will always make the effort to buy local."
Closets By Design is one of the many Charlotte companies that are impacted by this pandemic. Typically, VanSickle's designers would go to clients' homes to conduct free consultations. This helps them understand the space, the challenges, and ultimately, the solutions. In a social-distancing world, though, this in-person interaction is not possible.
So, VanSickle's going virtual.
"We know we have customers who still need our services," she says.
Their services—ranging from closet installation to garage storage to mudroom and pantry solutions—speak to a lot of Charlotteans who might all of a sudden be spending more time staring at the cluttered, disorganized spaces that have been driving them nuts for months. Or, maybe you're mid-build on your new home and need to keep the process moving.
Either way, the need for storage that makes sense is still important to homeowners, and being stuck in your home for weeks can bring organization issues to the forefront. Why not check off a to-do while you have the time?
VanSickle recently rolled out virtual appointments that are just as painless as her company's regular in-person appointments. From the feedback she's getting, some customers think they're even more fun!
How Do Virtual Appointments Work?
"With virtual appointments, we can still 'meet' with our customers in their homes to help solve their organizational needs," she says. "Our goal with our virtual appointments is to give our customers the same personal and specialized attention they have come to expect from Closets By Design."
It's easy to book. Simply call Closets By Design at 704-588-7272 or click here to schedule an appointment online.
From there, you will receive an email with all the instructions to help you prepare for your virtual in-person appointment. You will have the choice to "meet" either via FaceTime or Zoom. The email will include:
Zoom account setup instructions (if needed)
Online catalog link
Zoom link to connect to your appointment
When you're ready to connect, make sure you have a tape measure handy! Your designer will guide you as you virtually walk them through your space. Once the consultation is over, your designer will draw up a solution within the same day for the two of you to go over—this is where you can ask more questions and begin to visualize your future clutter-free life.
After the pricing details are worked out and your design is finalized, every piece will be cut at Closet By Design's local facility, with all work completed by the company's employees.
Closets By Design offers organizational solutions for just about any space in your home. Whether you want to construct a craft room, need a bigger entertainment center, or even a fold-away murphy bed for intermittent guests (when we are legally allowed to visit our families again), you can book a free virtual appointment to discuss any of your storage needs.
Click here to book an appointment now or call 704-588-7272 to learn more.