'I Think We Invented Crazy'
In supporting his sister for Congress, Stephen Colbert sheds the façade and cuts to the quick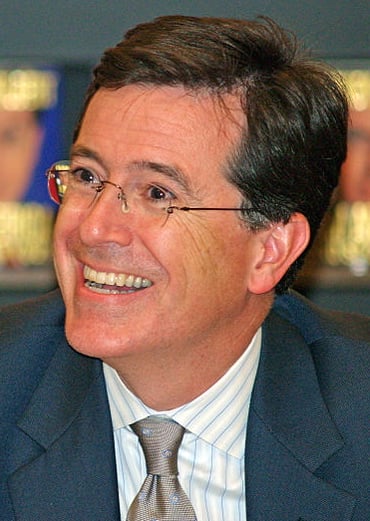 This video is getting a lot of attention because it represents a rarity, Stephen Colbert dropping his "Stephen Colbert" schtick and appearing in public as merely Stephen Colbert. He was stumping this weekend for his sister, Elizabeth Colbert Busch, during a campaign appearance at The Alley in Charleston; she's running for the First Congressional District seat Tim Scott vacated when Gov. Nikki Haley appointed Scott to the Senate seat Jim DeMint left last month.
The general election is May 7. Busch is one of two Democrats running. Sixteen people, including former Gov. Mark Sanford, are competing in the Republican primary. Busch will almost certainly win the Democratic primary and lose in the general, quite possibly to the man whom state legislators formally censured for bringing "ridicule, dishonor, disgrace and shame" on South Carolina a little more than three years ago. She will almost certainly lose because South Carolina is crazy, and Stephen Colbert, a son of the Palmetto State, understands this, and the fever that's making our nation delirious.
He mentions this project, which Busch helped lead. It's the kind of collaboration among public, private and educational interests that actually does create jobs and paves the way for energy independence, which in a saner country and age would be a real electoral advantage. In 2013, in South Carolina, it's a hindrance. Sounds too much like Solyndra. The Energy Department's involved.
In reality, the project means "bringing disparate groups together to do something for the mutual benefit of everyone involved, which may not seem that extraordinary, but these days, it is like splitting the atom," Colbert said to chuckles. "One of the things I thought when Lulu said she was going to be running for Congress is how lucky it would be for the Low Country and for South Carolina to have her, not just because she is hard-working and talented and intelligent and dedicated — because she's sane." Laughter and applause. "And I love South Carolina, but we're a crazy state. I think we invented crazy."
Maybe not, but it certainly took crazy national, and it's been a standard-bearer ever since. All of which the candidate's brother seems to understand, which is one reason why he and Jon Stewart have earned an inviable level of integrity and trust with their viewers while the likes of CNN continue, daily, to humiliate themselves.