'It's Just Common-Sense Stuff'
Obama's jobs ideas are pretty basic, obvious, even — and to North Carolina's ruling party, therefore, straight from the collectivist pits of Hell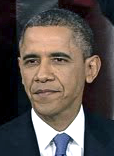 Just finished watching President Obama's speech on jobs at the Linamar Corp. plant in south Asheville. Such radical ideas this guy has.
An emphasis on early education instead of open contempt for it. (Lightfoot withdrew herself from consideration, but still.)
Upgrading high-tech training at the high school, not university, level.
Working to make college more affordable for all students, not just those in state government-favored degree programs.
Investment in new energy.
Praise for community college, not university, programs customized for locally available manufacturing jobs.
"There's no magic bullet here," the President said. "It's just common-sense stuff."
Sadly, it's the kind of stuff that's not holding water at present with the party holding power in Raleigh.
In a state where the overall population is still deep purple, one would hope that'll change with two years of a GOP that, speaking of manufacturing, seems to have built its current model without brakes.
UPDATE: Like I said. I know Broun's in Georgia, but this nonsense works in any state's holler.