It's Time For Charlotte To Prioritize Low-Income Housing
Bigger Housing Trust Fund needs plan to match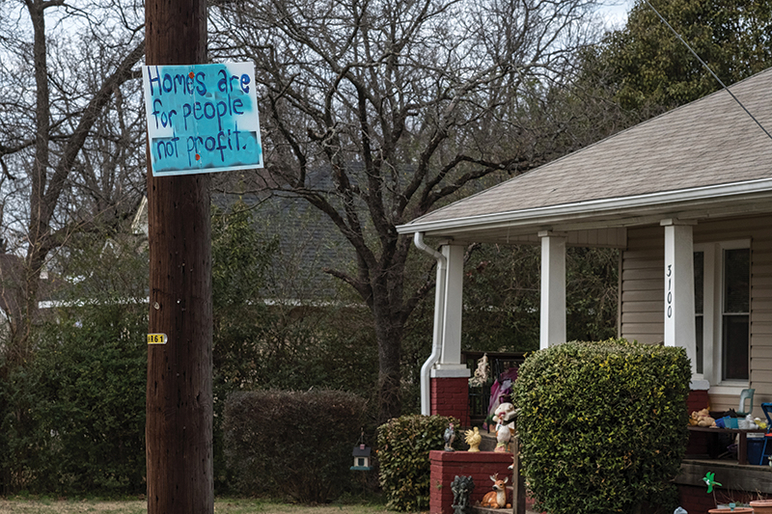 "I used to love my city once upon a time," a homeless woman named Joerica Rhodes told the Charlotte City Council last week during a public forum. "As I see more and more people who do not have a home, it deters me from that love I once had … A lot of Charlotte has grown, but you have more people building apartments and houses that we cannot afford. And my idea of housing, it's not over $1,000 a month. I don't feel that I need to make a six-figure income just to be able to have a home for me and my children."
Rhodes was followed by another Charlotte woman, Kanjella Orr, who stays at a homeless shelter with her children. She's been here for about two years, she said, and she's trying to juggle school, work, child-rearing, and the struggle of securing a lease on an apartment, any apartment, with a low credit score. "People who are just starting out," Orr said, "they don't have 600, 700 credit scores."
The council plans to adopt its 2018-19 budget next week. The proposed budget more than triples the allocation for the city's Housing Trust Fund, from $15 million over the next two years to $50 million, provided voters approve it in November. The increase has broad support on the City Council and an emphatic endorsement from Mayor Vi Lyles, who responded to the two women who'd come from the streets to plead with their city government.
"Ms. Orr, Ms. Rhodes, I want to thank you for speaking from the heart," Lyles said. "Sometimes, we can get too many numbers in our heads, and we can start talking about how many units we need and where they're going to be and all of that. But when we see people like you willing to come out and tell your story, it makes a real difference.
"This council is committed to working on the issue of affordable housing, housing that we can have for people who work every day, just trying to feed their families … I hope this community will stand with you."
Public officials are often guilty of missing the people for the numbers. But the numbers matter, too. Here are a few, from a city-commissioned housing report presented in draft form Monday to the council's Housing and Neighborhood Development Committee: The city has a shortage of about 24,000 units for its poorest citizens, those living at or below 50 percent of the area median income, $70,700 for a family of four. Mecklenburg County is projected to add as many 500,000 residents, many of them elderly, by 2030. More than a third of Charlotte households are "cost-burdened," which means they pay more than 30 percent of their income on housing. And since 1990, home values here have risen by 36 percent and rents by 24 percent, while the median household income has risen by only four percent.
No one who's focused on Charlotte's affordable housing problem over the last few years can be surprised by any of this. As welcome (and overdue) as the expansion of the Housing Trust Fund is, it's universally understood that the increase will only make the dent in the problem a little bigger. The Housing Trust Fund alone won't solve it.
One immediate step council members need to take as soon as they're finished adopting the budget is to lay out a specific plan for how they would spend the $50 million—and make sure the roster of projects leans heavily toward developing housing for the lower half of the economic spectrum.
The draft housing report outlines a series of potential tools the city can use to boost affordable housing stock, such as creation of an equity fund, establishment of a community land trust, and working with businesses to expand employer-assisted housing programs. But if the plans don't include specific, prioritized projects that allow low-wage service industry employees to rent apartments, something's going to have to give. Either the low-end workers that employers depend on for inexpensive labor will have to vacate Mecklenburg County, or businesses are going to have to relocate to where the labor can afford to live. Without a fully realized regional transit system—which may never happen, as the outlook for future federal and state funding looks bleak—there's no way for many employees to live near their employers.
And that would threaten to bring the economy of the Carolinas' largest city to a grinding halt. For humanitarian and economic reasons, the city needs to move quickly to start plugging that 24,000-unit gap. The clock's been ticking for some time now. We're getting dangerously close to the alarm.