Know Before You Go: Gyu-Kaku Japanese BBQ on Stonewall
How does cooking your own meats on a grill sunken into the center of the table sound? Here's everything you need to know about this Japanese style of eating, and how to do it with finesse your first time at Gyu-Kaku.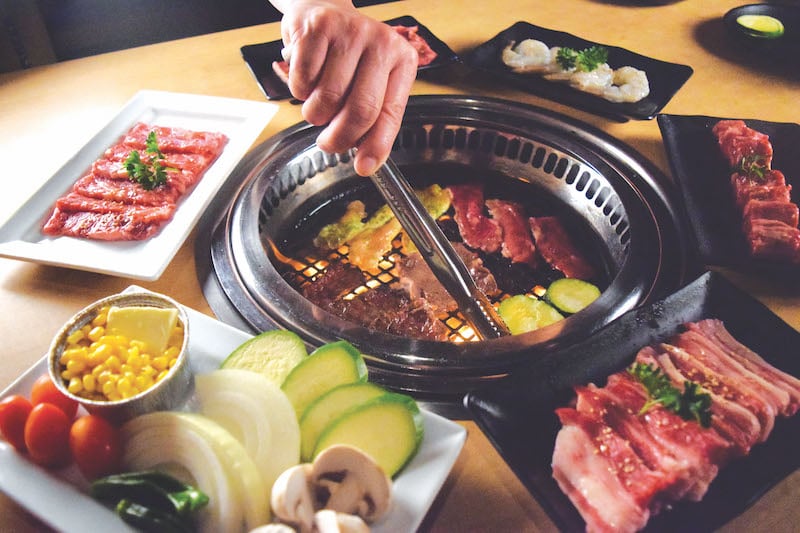 Between the pop-up events and the experimental concepts hitting Charlotte's food scene lately, there's no doubting diners' broadened palates and culinary curiosity. Sometimes, though, it can be tough to distinguish shiny-and-new establishments from those that are time-tested.
Upon your first visit to Gyu-Kaku Japanese BBQ on Stonewall Street, you may wonder if you're witnessing a new food trend unfold. In the center of each table, there is a circular grill sunken into it. Groups gather around it as they flip their various cuts of meat sizzling in front of them. A server brings by another Frozen Sangria, sake, or frosty Asahi on draft (imported from Japan).
Is it Gyu-Kaku another food trend?
Quite the contrary—Gyu-Kaku, which means "Horn of the Bull" in Japanese, brings the authentic Japanese yakiniku (grilled barbecue) dining experience to cities all over the U.S., including Charlotte. More than 70 years old, this style of eating allows you to choose your cuts of premium meats and cook them over a flaming charcoal grill.
Gyu-Kaku's first and only North Carolina location at the moment recently opened in Charlotte at 650 E. Stonewall Street, Unit A.
If you haven't been to Gyu-Kaku yet, here are a few things to keep in mind when dining here.
4 Things to Know Before Dining at Gyu-Kaku Japanese Barbecue
1. How to order at Gyu-Kaku
At Gyu-Kaku, you have the option to either order from a set of pre-fixe courses or to build your own meal by ordering items a la carte.
2. What to order
Kick-off your meal with a bottle of sparkling sake and say, "Kanpai!" ("Cheers!").
When your food starts coming, be sure to pair it with your favorite Japanese beverage, from frosty Asahi and Kirin beer to Japanese whisky and shochu. There are even sodas, juices, and smoothies for the kids!
For your food order, side-step the anxiety and go with the popular, no-fail signature Gyu-Kaku Course on your first visit. This course features a medley of nothing but the hits.
When ordering by item, be sure to get the restaurant's best-selling 21-day aged Harami Skirt Steak in Miso marinade. For a more marbled cut, go with the USDA-certified Prime Kalbi Short Rib in Sweet Soy Tare marinade. Besides the extensive range of beef options, Gyu-Kaku's menu also features other proteins like Garlic Shrimp, Pork Belly, and Basil Chicken.
For an extra authentic yakiniku experience, try some Japanese delicacies such as the thin-sliced beef tongue with a squeeze of lemon and horumon (large beef intestine) in Miso marinade.
If you're price-conscious, check out Gyu-Kaku's weekday Lunch Combos and weekend Brunch Specials—for $15.95, you can get two barbecue items (7 total ounces of meat) plus miso soup, a half Gyu-Kaku Salad, and white rice on the side. Plus, Gyu-Kaku celebrates Happy Hour seven days a week with discount on a variety of menu items.
Remember to save room for dessert, too! No Gyu-Kaku meal is complete without roasting your own marshmallow at your in-table grill and enjoying a fresh, gooey S'more.
Gyu-Kaku is a modernized concept that honors traditional flavors. For more info, check out their menus:
3. How to cook Japanese barbecue
Generally, grill like you do at home.
Keep an eye on it, though—yakiniku meat is typically cut quite thin; some cuts take only a few minutes to cook. Especially if you want your thin slices of rib and sirloin to have a light sear, don't get too distracted by the sake and conversation to tend to the grill.
Here are a few other pointers from Gyu-Kaku:
Use the metal tongs to place raw meat on the grill. Use your chopsticks to remove cooked meat from the grill.
Do not load the grill up with too many meats at the same time; this increases the risk of a fire.
Cook meats that are higher in fat content (such as Toro Beef, Pork, and Horumon) around the edges of the grill.
Your server will be well-equipped to answer questions about what to order or how to best grill your meat. Just ask!
4. How to eat Japenese barbecue
Three words: Know. Your. Sauces.
Japanese BBQ is paired with an array of dipping sauces, allowing you to dress each bite with a new spice. But be patient—putting sauce on the meat while it cooks on the grill is a big no-no. Table sauces stay in the table tray.
Once you're satisfied with the cook on your meat, use your chopsticks to remove it from the grill. Then, dip it directly into the sauce of your choosing.
All gluten-free, here is a list of the sauces you'll see at Gyu-Kaku:
Miso: Rich Miso flavor and Soy Sauce Sweet Soy Tare: Soy Sauce, Pear Juice, Ginger
Shio: Garlic, Salt, Soy Sauce, Sesame Oil
Garlic: Garlic Paste with Sesame Oil and Shio White Soy
Basil: Italian Pesto (contains pine nuts) with Sesame Oil
Teriyaki: Rich Soy Sauce Flavor, Sweet Glaze
Don't be afraid to venture out of your comfort zone and try multiple sauces—that is part of the fun!
Is your mouth watering yet? Call Gyu-Kaku in Charlotte at 980-585-3012, pop in for weekend brunch between 11:30 a.m. and 3 p.m., or visit them online for more information.