NoDa releasing its first sour bottle Saturday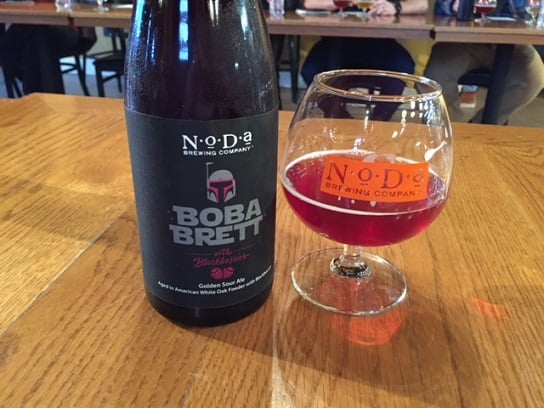 When the first bottle of NoDa Brewing's first sour is sold Saturday around noon, no one will be happier than Bart Roberts.
While NoDa's North End taproom sees an influx of people daily, Roberts has been manning the "O.G." location mostly on a solo basis for almost two years as that site has been turned into a sour and barrel-aging facility.
Roberts and NoDa are finally ready to roll out its first bottle, Boba Brett with Blackberries – and the best part is the original location will be open for this release.
"It's extremely satisfying for this first bottle to come out," says Roberts, also known dubbed as the brewery's "Funkmaster." "All of us have put a ton of effort into this project … and I'm excited for people to finally try it."
This bottle is an offspring of NoDa's Boba Brett Sour Project, which was unveiled last May. The base beer is a pale sour ale that derives its name from Brettanomyces, the beer yeast that creates funkiness in sour beer (of course, there's the Star Wars bounty hunter Boba Fett reference as well, and Roberts says that comes from fellow brewer Matt Virgil's deep love for the storied movie franchise).
For this bottle release, one pound of pureed blackberries sourced from Oregon was used per gallon, and Roberts was pleased with the results when it was all said and done.
"We've had the Boba Brett tank in use for a while and for the bottle, blackberries just screamed sour to me – I've always wanted to use them in sours," he says. "I think it's really nice to get the tropical fruit with the blackberries. It's not something you would normally throw together but I think it works really well here. And honestly, I hope people get the oakiness in here too and of course, the funky notes."
Bottles of Boba Brett with Blackberries will be available at NoDa's original location Saturday beginning at noon. There are only 500 bottles being sold, with a limit of four per person until 1:30 p.m. After that, if you are still around and there are bottles left, there will be no limit. Each bottle is $18 plus tax.
You can also expect more to come from NoDa's sour program and Boba Brett, including dry-hopping different versions. Roberts added he's looking forward to working with more fruits and colors, with hopes of additional bottles to be released in time.
—
In other NoDa news, the brewery is also releasing cans of True Grit for the first time this coming Tuesday. This is what NoDa is calling a "Southeastern Style" IPA, with a bit of a play and wink to the popular Northeastern IPAs. What makes this beer unique is in the name, as NoDa used grits in the brew process to balance with several hops, including Centennial, Chinook, Citra, Mosaic and Simcoe.
True Grit cans will be available Tuesday at the North End taproom beginning at 4 p.m., with a limit of two four-packs per person. (You can also try the beer on tap as well).