On Deaf Ears
At a hip west side bar, a sobering reminder of a disengaged electorate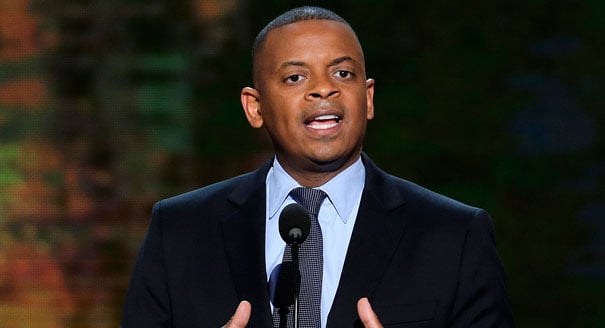 My idea Tuesday evening was to find a place in West Charlotte, the largely downtrodden side of town where Anthony Foxx famously grew up, where people might be gathered to watch the mayor's address to the DNC. Long shot, OK, but surely there's a gathering somewhere, I thought.
There may have been. In fact, there probably was. I did not find it. Earlier, I had called Foxx's mother, Laura, and asked her if she knew about any communal viewings of Her Son, the Mayor, and his prime-time moment. "That's a good question," she said. "I don't know." In retrospect, I should've rolled up I-77 to Davidson, where surely students, faculty and administrators would have gathered 'round the student union TVs for the Class of '93 graduate's address. But I ran out of time. So I drove, pitifully, around West Charlotte in the rain.
Finally, I landed at Pinky's Westside Grill, which I thought might be a good spot conceptually: at the intersection of Morehead Street, which leads right to the edge of Uptown, Myers Park and the DNC; and Freedom Drive, which slices through the slowly healing decay of the west side. Charlotte's humble past tied to Charlotte's glittering future, Foxx as the bridge, etc. Nice idea.
No one there seemed too keen on the mayor's speech. At 6:55, I told the bartender Foxx was about to speak to the convention. "Oh," she said, as if I'd told her I just bought a new fly-fishing lure. "Cool." When 7 p.m. rolled around, Pinky's management kept the Motown and Delta blues cranked up as before. The mayor was on one TV with the sound muted, addressing the few at the bar via closed-captioning with a well-rehearsed tale of personal struggle and triumph set just up the street, practically: "I was born to a single mom and raised by her and my grandparents. They taught me to take pride in hard work, to take responsibility for my actions, and to understand that education could expand my mind and transform my life."
Next to me at the bar, a young guy in a UNC cap, one of maybe three people watching, snickered. "Not a Foxx fan, are you?" I asked.
"Nah, I'm not really a fan of the Democrats," he said. "Of course, I'm not much of a fan of the Republicans, either." Just about then, Foxx wrapped up, after roughly four minutes: "We will knock on doors and register voters. We will stand up for a leader who will move this country forward. And together, we will re-elect President Barack Obama!"