One Week, Three Glimpses of Charlotte's Future
New Panthers owner, city budget stresses—the complications of a growing city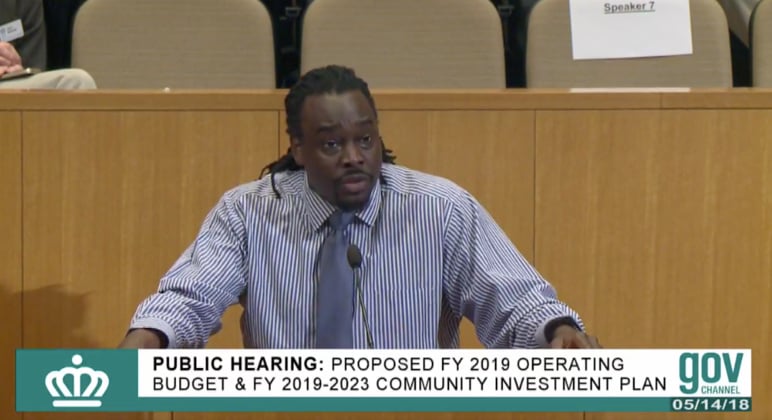 No shortage of things to discuss this week. For the sake of concision and sanity, let's narrow it down to three.
The Carolina Panthers' apparent new owner, David Tepper—a Pittsburgh native, minority owner of the Steelers, and billionaire hedge fund manager—will at some point request or demand taxpayer money to further improve Bank of America Stadium. This will be a problem.
The Charlotte City Council met for nearly six hours Monday. A public hearing on the proposed 2019 city budget took up most of that time. Speaker after speaker, roughly 50 in all, stepped to the lectern to ask for their own fundamental needs: higher pay for police officers and firefighters, post-retirement health benefits for same, city investment in infrastructure for bicyclists, and of course support for City Manager Marcus Jones' proposal to more than triple the size of the Housing Trust Fund to help ease—the $50 million allocation is not enough to solve it—the city's affordable housing crisis.
Many of the speakers had edges of urgency, even desperation, in their voices, reflecting what's shaping up in a city that keeps growing and growing and growing: too many needs, not enough money to pay for them. Jones proposes a one-cent increase in the city's property tax rate, a modest and justifiable request that nonetheless will put a little more pressure on homeowners and the people who already pay too much to rent from them. And homeowners throughout the city are bracing for the shock of next year's tax revaluation, which will send property tax bills into the ionosphere.
Those are the circumstances under which a hedge fund manager prepared to pay the largest price ever for an NFL franchise—in cash—will be expecting taxpayers to shoulder the bill for Panthers-related projects as yet unidentified. "We have a rough road ahead of us with the ask that's gonna be coming," District 6 Council member Tariq Scott Bokhari said just after the meeting, during the podcast he co-hosts with District 1 Councilman Larken Egleston. "With all these priorities today that we have yet to figure out, we are going to have a big challenge deciding what the role of government for that one's going to be, what constitutes a good versus bad deal for taxpayers, and how it falls within these other priorities." Would any public outlay right now be a good deal for taxpayers?
A year ago, Charlotteans were talking with alarm about another issue: a murder rate that in the first few months of 2017 threatened to crest above 100 by year's end. That ended up not happening. But Charlotte still closed the year with 87 homicides, the most in 22 years, and Charlotte-Mecklenburg Police had a hard time pinpointing the cause.
There's likely no one reason, but one factor seems to be a generalized lack of confidence in authority, reflected in the tendency of some citizens—especially among racial minorities—to solve disputes themselves rather than turning to a police department they don't trust. It makes sense that what researchers have called "legal cynicism" would be a factor in 2017 Charlotte, coming after the Keith Scott demonstrations. It also makes sense that the murder rate would wane a year later. A man found dead in a motel room off Interstate 85 on Monday morning was Charlotte's 22nd of 2018. CMPD had reported 30 murders at this time in 2017.
Yet the drop shouldn't breed complacency. Four people were killed in Charlotte over the extended Mother's Day weekend. It's not like the storm has passed. "This weekend was a hot weekend. It was probably the first weekend when we were over the 90s. It was a very violent weekend as well," Braxton Winston, who converted his role in the Scott demonstrations into an at-large seat on the City Council, said during the meeting Monday. "I don't know if there's any official correlation, but where I come from, when you know that summer's coming, you know some bad things happen, and this weekend was no different.
"I know that this time last year, we might have had more discussions about the homicide rate … but we've got to keep our eyes on the prize and know that our communities are hurting. Our neighborhoods are hurting. This is why we're having these discussions, trying to get this money to projects like affordable housing and neighborhood building, and getting jobs—it's because our neighborhoods are in pain."
I want to close with James Ford, seldom a bad idea. He's the former N.C. Teacher of the Year, this magazine's first Charlottean of the Year in 2014, and co-chair of the Leading On Opportunity Task Force created after the Scott demonstrations. The proposed city budget is, in part, a response to the task force's recommendations on baseline civic issues such as affordable housing, which is the subject Ford addressed before the council Monday—not as a community leader, he emphasized, but as a private citizen.
During the public hearing on the budget, he talked about moving in 2010 from his native Illinois to Charlotte, under orders from his wife to find a place to live that a teacher and social worker could afford. He found a three-bedroom apartment in University City renting for $850 per month. It was the springboard for Ford and his family to make a life and buy a home in Charlotte. He told the council that he recently drove by his old place, now under new management. It now rents for $1,300.
What Ford told the council Monday sums up the reality and challenge of living in this city, at this moment, as eloquently as anything I've heard:
"I say this because for many in this city, it's been happening for far too long. Families are being priced out of the city that they dearly love, placed in motels, piling on top of each other in home rentals, and moving to neighboring counties. We sit on the ruins of the old Brooklyn neighborhood that stands as testament. The $50 million in housing bonds is a significant down payment, but ultimately it depends on our morals. Budgets are moral documents, and as the phrase goes, 'You show me your budget, I'll show you your priorities.'
"So we have to ask the question, 'Who are we?' What is in our heart? Are we a Queen City, a feudal system where monarchs and lords rule over serfs and peasants condemned to a life of poverty and servitude, or are we the Queen City—a community with an embarrassment of riches, where opportunity abounds and demographics don't equal destiny and a place where everyone is a part of the royal family? My sincere hope is that this queen has heart."