Opinion: A Belligerent ICE's Show of Force
Federal immigration agency blames 287(g) drop for aggressive raids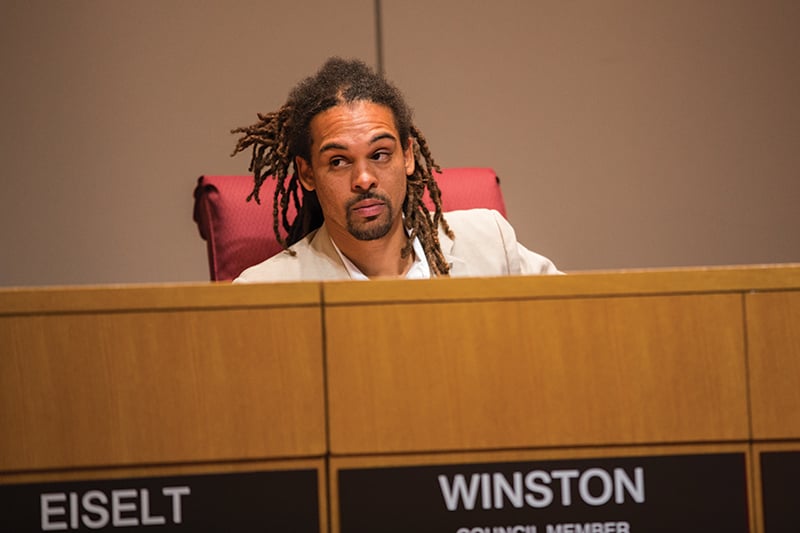 A FEW MINUTES before the director of U.S. Immigration and Customs Enforcement's Atlanta office concluded a belligerent news conference Friday, an astonished reporter asked him to explain his belligerence. "I've never seen a federal law enforcement agency act so beleaguered," the reporter asked. "If you're doing the right thing, why are you mad at everybody?"
The ICE director, Sean Gallagher, responded that he wasn't mad. He wasn't there to fight with Mecklenburg County Sheriff Garry McFadden or with the assembled media, even though he had devoted most of the half-hour session to criticizing both. To his questioner, Gallagher asked how he'd like to live next door to violent criminals. "My officers are out there enforcing the law," he said. "Period."
This week, ICE has arrested about 200 people statewide, a dozen or so in Charlotte, whom the agency identifies as undocumented immigrants. Of that group, about 60 were arrested who didn't have criminal convictions or pending criminal charges, Gallagher said, but whom ICE agents took into custody during their operations. That number represents "a small bump" in the number of people arrested under those circumstances, an increase Gallagher attributed to a single development: " … some of the policies that have been enacted within the state with regard to Mecklenburg County, Durham, Wake County, as well as Orange County."
He meant 287(g), a federal program under which local law enforcement agencies can refer undocumented immigrants to ICE for processing and potential deportation. What Gallagher referred to as "some of the policies that have been enacted" are, in fact, their absence; McFadden ended Mecklenburg County's 12-year participation in the program when he took office in December. He didn't have to "enact" anything. He just directed his department not to serve as adjunct ICE agents, as have his counterparts in Raleigh, Durham, and Chapel Hill.
And this, judging from both the actions of the last week and the behavior of ICE's Southeastern man in charge Friday, hacked off the federal agency something fierce. Gallagher referred more than once to "those who don't support our mission," as if immigration law was a matter of fandom, and drove home his perception of the intransigent local officials he holds responsible for a dire threat to public safety: "The uptick that you've seen is again a direct result of some of the dangerous policies that some of our county sheriffs have put into place, and it really forces my officers to go out on the street to conduct more enforcement operations out in the community, at courthouses, at residents, doing traffic stops. This is a direct correlation between the sheriff's dangerous policies of not cooperating with ICE and the fact that we have to still continue to execute our important law enforcement mission."
One of the glaring ironies here is that local law enforcement, in the form of the Charlotte-Mecklenburg Police Department, has for years declined to assist ICE in enforcing immigration law in part because it actually hinders police work. Members of immigrant communities naturally hesitate to come forward as witnesses in criminal cases if they're afraid that doing so will lead to their arrest and deportation. Gallagher kept returning during the conference to the idea that a majority of those arrested have either been convicted of crimes or charged with them, including a vague account of a "known gang member" released from the Mecklenburg jail who then "shot a member of the community with an AK-47." Is that true? Who knows? As a matter of policy, ICE doesn't release the names of people it arrests, which makes the statement virtually impossible to confirm. "This is politics over public safety at its worst," Gallagher added, referring to the sheriffs. He might have better directed his opprobrium toward his own agency.
Because we all know, in basic terms, what's going on here. ICE is the rough edge of the current president's dominant obsession, The Wall and all it represents, and his characteristic sadism toward the refuge-seeking, brown-skinned, Spanish-speaking Other. "Do you understand the fear that's reverberating throughout the Hispanic community in Charlotte?," asked another reporter at the news conference. "People are afraid to leave their houses. They're afraid to go to the store because they're worried they're going to be in the wrong place at the wrong time."
Gallagher responded, "I would say that if the general person who was here illegally in this country is associating with criminals, then they probably should have something to worry about." They understand.
To paraphrase one of the most insightful essays produced during the Trump era, the belligerence is the point, as well as the fear. After the news conference at the ICE field office on Tyvola Road, Charlotte City Council member Braxton Winston, a dreadlocked black man, was threatened with arrest for asking to set up a meeting with ICE officials. Winston eventually got an apology and a meeting, which yielded a chilling message from an assistant director: "This is the new normal." Normalcy, in Charlotte and elsewhere, is looking increasingly like a tyrant.