Outdoorsy Charlotte Couples Will Adore This Spring Getaway Spot
Couples can kayak, hike, bike, and more in this active vacation destination just three hours away from Charlotte.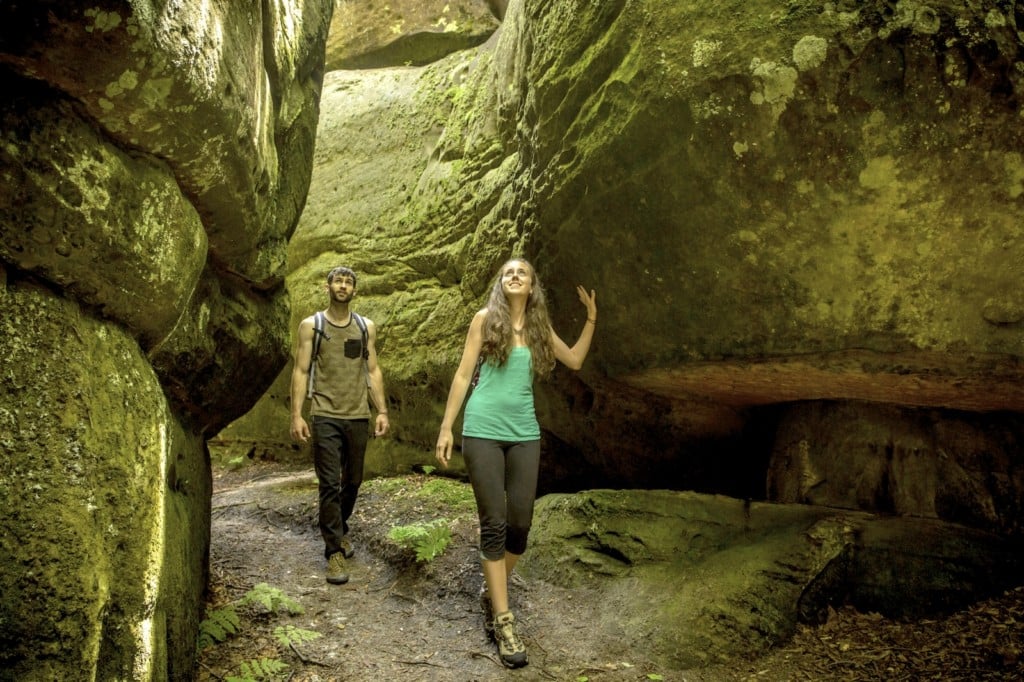 This spring, explore beyond your usual date night destinations and try something a little wilder.
While hiking is a lovely springtime date for Charlotteans, there's no doubting that some of the closest hiking spots get crowded. Instead of sharing a date day or weekend getaway with hundreds of strangers who had the same idea, reconnect with your partner in a lesser-known location. Abingdon, Virginia, has an abundance of outdoor fun waiting for you this spring, and it's only three hours away.
This Blue Ridge Mountain town features a beautiful backdrop for an outdoorsy weekend away with your favorite adventure partner. The best part? When you're done exploring for the day, there's plenty of dining and entertainment in town when the sun goes down.
Fun Outdoor Activities for Couples in Abingdon
Amateur and expert outdoor enthusiasts alike will come alive in Abingdon. Here, in southwest Virginia, in the Appalachian Mountains, there are plenty of outdoor activities for couples. In fact, you would have to visit for multiple weekends just to do all the outdoor activities available to you in Abingdon, which is great for Charlotte couples looking for new experiences.
Kayaking & Swimming
For a spring day spent in splashing in the sunshine, South Holston Lake has it all. This pristine mountain lake is a prime location for swimming, kayaking, paddling, boating, and more. Jacob's Creek Recreation Area spreads over a secluded peninsula on the eastern side of the lake in the Cherokee National Forest, which features a swimming area. Rent kayaks from The Sportsman's Marina.

Hiking
There is no shortage of interesting and challenging terrain in and around Abingdon, and the Great Channels will provide hike-happy couples with both. Once off-limits for even the most skilled hikers, today, the Great Channels are accessible thanks to two different approach routes.
One of Virginia's best-kept secrets, this natural wonder is located in the heart of the state forest in the designated 721-acre Channels Natural Area Preserve. The Great Channels are a 20-acre labyrinth of sandstone formed during the last ice age, feeling almost otherworldly. This hiking adventure is only an hour-long drive from Abingdon, and it is a six-mile round-trip hike. Pick up a map at the Abingdon Visitor Center.
Biking
Cruise through the blooming foliage on bikes with your love—Virginia Creeper Trail offers "the most scenic bike ride you will ever encounter." The two of you can rent bikes from the Virginia Creeper Trail Bike Shop, take a shuttle to the highest point of the trail at Whitetop Station, then cruise downhill for almost 17 miles until you reach the tiny trail town of Damascus, VA. (Damascus is touted as the "friendliest town on the trail" and hosts an annual Trail Days celebration every May.)
From there, you can either request a shuttle pickup or continue your ride another 17 miles back to Abingdon through tranquil farmlands and over original trestle bridges. Make time on your ride for a stop at Abingdon Vineyard & Winery, where you can toast to an active, fun day together.
Bouldering & Rock Climbing
Care to share your rock climbing experience with wild ponies in a meadow? Southwest Virginia boasts enough rock and route diversity to attract climbers of all styles and abilities. In A Climber's Guide to Southwest Virginia, a few top rock climbing and bouldering spots in the Abingdon area are as follows:
Not enough to satiate your appetite for adventure? Within an hour-and-a-half from Abingdon, you can explore even more heart-soaring views, waterfalls, rushing waters, and rugged terrain on day trips.
The Best "Base Camp" You Could Want
Abingdon is a walkable and bike-friendly town, making it easy to love. When the two of you are tuckered out from your outdoor activities, you can return back to "base camp" in Abingdon. On Main Street in downtown Abingdon, you'll find the food, shopping, and entertainment a welcome respite from the rugged adventuring you did earlier in the day.
The nationally-designated Historic District is filled with one-of-a-kind shops and restaurants. Boasting 34 independently-owned, chef-led restaurants serving locally sourced ingredients, Abingdon's culinary scene will delight foodies with local fare. Sip on craft beer at Wolf Hills Brewing Co., or grab a green smoothie at White Birch Food & Juice. Click here to see all the dining options in Abingdon.
Depending on the type of getaway you want, you can choose from a variety of lodging experiences—cabins and cottages on the Virginia Creeper Trail, bed-and-breakfasts, or the AAA Four-Diamond Martha Washington Inn & Spa. Click here to view all lodging options.
As for entertainment, expect to see live music at various venues, including the Abingdon Farmers Market and Heartwood: Southwest Virginia's Artisan Gateway. You may also be able to catch a comedy at the 1930s-era Barter Theatre for a double-dose of humor and history.
There's so much to do in Abingdon, you'll wonder why you never visited southwest Virginia sooner! For more information about the outdoor fun, lodging, and dining options for Charlotteans, go to VisitAbingdonVirginia.com.