Parks Helms Is Not Giving In
After an infamous steak dinner and the county's fiscal crisis, Parks Helms is battling to preserve what he once thought was a sure thing—his legacy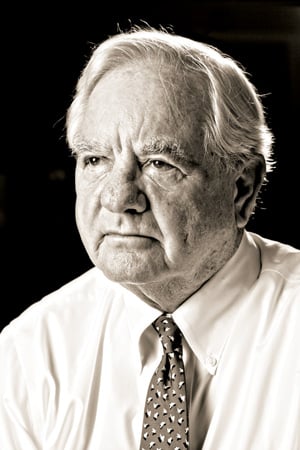 The man was angry, recalls Charlotte Democratic Party strategist Dan McCorkle. It was a few years ago at the Mallard Creek Barbecue, with politicians and potential voters jostling near the big tents where the tongfuls of pork and hush puppies were being served, but the guy, whoever he was, wasn't there just to sample the barbecue. He wanted to give someone a piece of his mind about the burden of living in the Great State of Mecklenburg. He had picked the right place. The barbecue is an eighty-one-year Mecklenburg County tradition held every October at Mallard Creek Presbyterian Church, and it's known as much for politics as pulled pork. If you're running for public office anywhere near Charlotte, you collect your fliers and buttons, stake out a spot near the tents and tables, and press as much flesh as you can.
The man, McCorkle said, finally found a suitable target for his wrath: Mecklenburg Board of County Commissioners Chairman Parks Helms.
Helms was a fixture in local Democratic Party politics, an attorney who had spent ten years in the N.C. General Assembly and about as much time on the county board. In an era when the conservative gospel of tax cuts and slashing of government services seemed ascendant, Helms had remained an old-style liberal, willing to openly support and defend property tax increases when he thought they were needed. He'd done so recently, in fact. That was what the man wanted to tell him.
"If you keep raising my taxes," the man told Helms, "I'm gonna leave Mecklenburg County." McCorkle chuckles at the memory. "And he looked at the guy and without missing a beat said, 'Well, then, leave.' "
Helms, seventy-four, whose days of holding public office are probably over, says he doesn't remember the exchange. "I don't typically say that, I can tell you," Helms says. "But I don't deny that I said it."
No one who knows Parks Helms would be surprised. Friends and foes alike harbor the same impression of the man: he's an old-school Southern gentleman, courtly and mannered, but a blunt instrument when someone pushes him. He came from working-class roots in Charlotte, forged his political identity in the days of the Great Society. He's an unapologetic old-time liberal Democrat. What he thinks, he thinks. He's not shy about saying so.
Until recently, it worked for him. In more than thirty years in local government, he helped preside over the rise of his hometown to a modern city of skyscrapers, banks, museums, and professional sports. He was perhaps the county's most prominent Democrat, one of the fathers of a county party that once couldn't get elected and now dominates both the county commission and Charlotte City Council.
When he chose in 2008 not to run again for county commission, colleagues from both parties praised his years of commitment to public life. So did The Charlotte Observer, which ran an editorial headlined, "Thank you, Parks Helms, for your dedicated service." He appeared ready to settle into a semiretirement of estate cases, workouts at the Dowd YMCA—across the street from his law office on East Morehead Street—and Sunday mornings at Park Road Baptist Church, where he's a deacon emeritus.
Then, of course, he ran into trouble.
Last year, as chairman of the county Alcoholic Beverage Control Board, Helms attended a dinner for the agency's staff at a high-end SouthPark steakhouse. A liquor company, Diageo Americas Inc., paid the $12,700 bill. Local media got hold of the story and played it up big. State ABC officials, citing state ethics rules, began pressuring Helms to resign. He resisted at first, then quit, lashing out at the "tabloid media" and state officials overseeing a "troubled" ABC system, "which those in power have condoned for generations."
True to form, Helms doesn't apologize for the dinner or the sharply worded resignation. "I have spent my entire life in service to others, both as a lawyer, as an elected official, as a deacon in the Baptist Church, as a husband and father, and I know who I am," Helms says. "All I have at this point is my reputation, and I value that reputation, and I think it is legitimately earned."
Surely it is. But his legacy is more complicated than he, his allies, or his enemies would have you believe. It took a strong will to ascend from working-class roots through law school, into public life, and to victory in election after election. But the same stubbornness that made him an effective politician—that led him to level with a voter at the Mallard Creek Barbecue—contributed to his embarrassing exit from public service. And to this day, he's paying for it.
"I think it was a great tragedy," says county Commissioner Dumont Clarke, a fellow attorney and Democrat who's known Helms since the 1970s. "It's a tragedy that for someone who's given so much, that'll be part of what people remember him for."
During the fallout over the dinner, state ABC Commission Chairman Jon Williams said publicly that Helms represented a "culture of entitlement" in the state ABC system. That rankled more than anything. Helms stressed in his resignation letter, "I have never felt 'entitled' to anything." The idea belies his roots.
He grew up in a duplex at 1513 North Allen Street in Charlotte's Belmont neighborhood, on a lot now occupied by a Habitat for Humanity home. His mother was a worker at a hosiery mill off North Brevard Street, his father a glass- and woodworker at a sash-and-door installer.
At the time, in the 1940s and fifties, Charlotte was still an industrial town, and kids who grew up in neighborhoods like Belmont readied themselves for vocational careers. So Helms attended Charlotte Technical High School on Louise Avenue (which closed long ago), a school that offered woodworking and shop for working-class kids with no thought of going to college. He played football, baseball, basketball; he presided over his senior class. Helms didn't consider college until an English teacher suggested he apply for scholarships at Duke and UNC-Chapel Hill.
"All of a sudden, the light came on," Helms says. "I was going to have to do something." He didn't get the four-year Morehead Scholarship at UNC-Chapel Hill, but he received a tuition subsidy, and he enrolled in the fall of 1954. Helms was the first person in his immediate family to attend college.
He married his wife, Eleanor, a fellow Charlottean, in 1959 and fast-tracked his way through law school at UNC, earning his degree in 1961 and moving back to Charlotte. He says he never thought about building a law career anywhere else. But he didn't think about running for office until 1972, when Myles Haynes, a fellow attorney and chairman of the county Democratic Party, suggested Helms run for an N.C. House seat.
Helms lost. But he ran again two years later and won in the post-Watergate Republican purge. He won reelection four times. Then, after a failed run for lieutenant governor in 1988, he took the advice of his longtime friend, attorney and judge Sydnor Thompson, and ran for Mecklenburg County commissioner in 1992. He'd always polled better in the county than outside it, and the absence of constant back-and-forth trips to Raleigh made Eleanor happier. He remained on the board for sixteen years.
"Being a liberal was not the way to get elected to broader office in this part of the state," says Lee Teague, a Republican activist who until recently chaired the county GOP. "I think Parks Helms was a very partisan figure on the board. I think he always tried to do what he thought was best for the county as he saw it. But you always knew what side of the fence he was on."
As an undergraduate at UNC, he studied economics, which introduced him to the concept of progressive taxation, the idea that the rich should bear a higher tax burden than the poor. As a young lawyer, he stepped into a political climate shaped by the Kennedys, Lyndon Johnson, and the civil rights movement, the golden age of American liberalism.
"He has a drive to help in public ways and also a generous quality to him, which makes him a good Democrat," says Thompson, who chaired the county Democratic Party when Helms served in the legislature. "He wants to give to the public and people who need help, and he doesn't care so much about how it might affect his own budget. He could never be a Republican."
The deeper Helms went into his political career, the more fixed his political identity became—even as the state and country around him seemed to bend in the opposite direction, toward the gospel of tax cuts, unfettered markets, and government-is-the-problem. Ask Helms about his guiding principle in government, and he gives you an answer straight out of 1965.
"I believe the role of government is to provide for the welfare and protection and preservation of the quality of life of the people you serve," he says. "I believe it's more than keeping taxes low. It's more than arguing for smaller government. It's all about measuring the value of good government against the cost of providing it, and it's a balancing act."
Helms became, almost by default, the face of the Democratic Party in Mecklenburg County. It helped that he looked the part of political patriarch, especially as he hit his seventies, with his dapper dress, sculpted white hair, and horned-owl eyebrows; he looks like a more compact version of another liberal N.C. political icon, the late U.S. Sen. Sam Ervin of Morganton, best known for presiding over the Senate
Watergate Committee.
But his positions on contentious issues flew in the face of old and Southern. In 1997, he supported the Arts & Science Council's funding of the production of Tony Kushner's Angels in America, about HIV/AIDS in the gay community; a bloc of conservative commissioners blocked his reelection as chair. He came out in favor of domestic benefits for same-sex partners long before the board adopted them.
But he's also been shrewd enough to understand the value of having the uptown business community on his side, too, says Dan McCorkle. Helms has ardently supported such large-scale uptown development projects as the light rail, a baseball stadium, and the Levine Center for the Arts, all detested by increasingly vocal conservatives and libertarians.
"Parks was not ashamed to say, 'I am proud to be a Democrat,' " McCorkle says. "Every election from '92 to '06, he won, even in years when Democrats weren't winning. One thing about Parks, he wasn't wishy-washy. If he believed something, he believed it, and I do think people respected that strength of conviction."
What looks like strength of conviction to Democrats comes across as sheer stubbornness to conservatives. Look at where we are now, they argue: $70 million in cuts to the county budget, a massive debt load, half-filled schools, layoffs for workers at the new Park and Recreation centers paid for by bonds. All that public money that went to the new uptown museums and the NASCAR Hall of Fame—what good is that in a recession, when people are saving pennies just to pay the taxes for which Helms led the charge to keep raising?
Helms and other Democrats in power "are responsible for putting county government in great jeopardy by very aggressively pushing to spend money on frivolous and nonessential things that really served concentrated power in uptown interests and were not of great value to the citizens at large," says former county Commissioner Dan Bishop, a staunch Republican. "We are no longer a community that has a choice to be a low-tax community or in fiscally sound shape … and you really couldn't count three people in the county who are more responsible for that than Parks."
That explains the opposition but not the fervor that, increasingly in the 2000s, came to accompany it. The local and state right wings came to see Helms as the embodiment of a career liberal ensconced in power and screwing the taxpayer every chance he got; a few years ago, when he suggested that a proposed tax increase would cost the average county taxpayer no more than a chicken sandwich and large coleslaw at Chick-Fil-A, it came across as a glib dismissal of taxpayer concerns. The rhetoric, cranked up by a growing conservative talk-radio presence and blogosphere, turned nasty. A local libertarian blogger fantasized about putting Helms in the stocks uptown and encouraging the taxpayers to pelt him with coleslaw.
Now, with the county having cut services and staff across the board because of sharp reductions in tax revenue, conservative objections to Helms's support of tax increases and other liberal stances seem more valid than ever. Ask Lee Teague what he thinks Helms's legacy is, and he answers, "A lot of debt."
A more sensitive politician, or former politician, might consider the climate and concede: yes, in retrospect, we could have been a little more judicious about spending taxpayers' money.
Not Parks Helms.
"I guess maybe I have a reputation, but I have never hesitated, when asked a question about the upcoming budget, to say, 'I do not intend to make a commitment not to raise taxes.' I believe people elected to governing boards should govern," he says. "I believe if you're going to have a strong and vibrant community … you have to pay for it. It does not come free.
"For those who are not willing to pay the price, they all have the option to go somewhere where taxes are low but resources and amenities and schools are not nearly as good."
He won't budge. It's a view of government in keeping with his background and beliefs, and it reinforces a fact that's been lost these days in political discourse: you can't get something for nothing. But what comes across as steadfastness in boom years takes on a more callous tone in a time of recession, when the people you tax are having trouble paying the bills they already have.
Helms, though, can't bring himself to tailor his views to hard times. "I'm in the position of not producing the revenue I did at one time," he demurs, "so I'm in the midst of all that, too."
Still, blaming the county's current fiscal crisis on Helms's free-spending mindset is disingenuous at best. After all, he's not in office to help fix the situation (if he were, Helms says he'd consider raising the property tax rate "by a couple of pennies" to help cover the shortfall). So while his legacy is compromised by today's bottom line, that's not why it's under attack. The attack came after Helms, in his own words, "went to dinner."
On November 18, 2009, Helms and his wife, Eleanor, descended to table 351 at Del Frisco's Double Eagle Steakhouse, a private banquet table in a wine cellar with a private bar. About thirty people, most of them ABC Board staff, ringed the table and heard Diageo's North Carolina marketing director, Andy Iredale, tell them to order off the menu; Diageo is the London-based liquor company that sells such prominent brands as Tanqueray gin and Johnnie Walker Scotch.
The food came: rib-eye steaks, lobster, crab cakes, salmon, halibut. Helms had a rib eye with baked potato and salad. Drinks flowed from Diageo and non-Diageo sources. The bill for four bottles of 1998 Dom Pérignon Brut champagne came to $1,000; nine bottles of 2005 Beaulieu BV Reserve Tapestry wine cost $1,080.
Helms and his wife were among the last to leave. The next evening, Helms says, he got a call from Jon Williams, chairman of the state ABC Commission. "He said, 'Parks, you know, you can't do that,' " Helms says.
North Carolina's ABC system is tricky. The state commission technically oversees the 167 local ABC boards but does little besides set and, when necessary, enforce rules. Local boards set their own policies according to state guidelines and sell liquor in their local ABC stores. If anyone breaks state law or violates a commission rule, another state agency, Alcohol Law Enforcement (ALE), investigates.
On December 21, ALE charged Diageo and Iredale with violations of state law and the state administrative code, and the Mecklenburg ABC Board with violations of ethics rules prohibiting retail employees from accepting "any thing of value," including parties, from the liquor industry.
Helms had sent a check for $9,334 to Iredale to cover the ABC Board's share of the dinner. But state officials, including Gov. Bev Perdue, were pushing for reform of a chaotic system of regulations governing local ABC boards. Pressure mounted on Helms to step down from the ABC Board. In January, he did.
Not that he meant the resignation as an admission of guilt. "Over my life in politics, I've been to literally hundreds of dinners like this in terms of who paid," he says. "It never occurred to me that there was anything illegal or unethical. There was nothing said about, 'Buy our products.' "
He still won't budge.
Even political opponents like Dan Bishop believe Helms when he says he never intended to violate any laws or rules at the dinner. But Bishop thinks the incident illustrates something more profound about the man.
"Parks's role over the years rendered him tone-deaf to something I'd hope I'd recognize as ridiculously objectionable," Bishop says. "There's no way you couldn't take note of that if your instinct for public excess hadn't been expunged by years of doing things a certain way."
In his office, Helms gestures toward a framed photograph on his bookshelf that, in a sense, reflects those long years of "doing things a certain way," as well as one of the friendships he's made over his career in politics. There they are, side by side and smiling: Parks Helms and Jim Black.
The photo was taken before Black's own troubles, which make Helms's seem miniscule. The longtime N.C. House speaker and optometrist from Matthews pleaded guilty in 2007 to accepting $29,000 from three chiropractors in exchange for pushing legislation lowering insurance copayments for chiropractors in 2005. He's serving a five-year sentence in a federal penitentiary. The plea followed a series of criminal investigations into Black's role in video poker lobbying and the creation of the state lottery; Black was never indicted for those, but several associates were convicted of breaking state lobbying and other laws.
In his office, Helms talks about the aftermath of the Del Frisco's dinner, when he sensed his support among fellow public officials dissolving. He says he had Democratic county commissioners Clarke and Dan Murrey in this very office when all that was going on; they wanted to hear his explanation of what had happened. "I just wanted somebody to stand up who had the ability to change the course of this terrible personal attack on me," Helms says. "I wanted them to do what I did for Jim Black. Stand up for the guy."
Come again?
Jim Black? The guy who accepted bags of money from chiropractors in a men's room? The living symbol of corruption in North Carolina politics? That Jim Black?
Helms, once again, offers no apologies.
But he hesitates a bit, as if realizing on some level that doing things a certain way, sticking by your beliefs and allies no matter what, resembles the government services and programs he so often champions. They come at a cost.
"Jim Black has been a friend for many, many years," Helms says. "He made a serious ethical and moral misjudgment. But I have many friends who have made ethical and moral misjudgments who have not been charged with a felony."
He pauses. "I want to be very careful how I say this."
Finally: "I have many friends who are imperfect. We're all imperfect."
Freelance writer Greg Lacour, a former reporter for The Charlotte Observer, profiled NoDa activist Hollis Nixon for the April 2010 issue of this magazine.