Pat McCrory, Paul LePage, and Truthiness In Maine
The antics of Mr. LePage, our governor's 'good friend'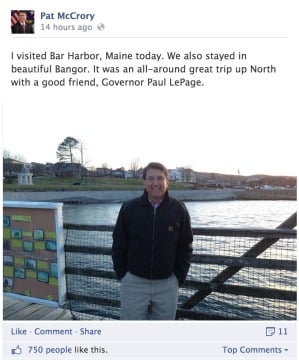 Gov. McCrory spent the weekend in Maine, where that state's Republican Party held its convention in Bangor. He posted the shot at left to his Facebook page, referring to "a good friend, Governor Paul LePage."
You may not have heard of Gov. Paul LePage. He's basically Chris Christie minus the tact.
From a January Politico Magazine profile by Colin Woodard, a prominent journalist in the Pine Tree State:
What better way to start a governorship than to refuse to attend a Martin Luther King, Jr. Day breakfast and, when the NAACP complains, tell them, on camera, to "kiss my butt"?           
That's how Maine's governor, Paul LePage, introduced himself to the nation three years ago, and the Republican Tea Party favorite quickly followed up with a series of intemperate remarks and questionable actions that arguably garnered him more negative national media attention than any Maine politician since Sen. James G. Blaine, the so-called "continental liar from the State of Maine" whose 1884 presidential run was derailed by graft and corruption charges.
LePage's first major initiatives as governor—to roll back all state environmental laws to weaker federal standards and stop a ban on bisphenol A (BPA), an endocrine disruptor, in baby bottles—were drafted by his special adviser, a registered lobbyist for many of the affected industries. LePage defended the restoration of BPA in bottles by saying, with a smirk, that the worst that could happen was that "some women may have little beards." Even as that effort collapsed, crowds of protesters were on the steps of the statehouse condemning LePage's removal of a mural illustrating the history of Maine's labor movement from the Department of Labor because an anonymous letter writer had likened it to North Korean efforts to "brainwash the masses."
And that was just his first 100 days. LePage has since threatened to move his office out of the statehouse (over a dispute involving a television used to promote his policies in a public space), refused for months to allow his commissioners to testify before legislative committees and ordered state employees not to speak to the state's largest newspaper chain (a move that earned national attention but went unimplemented).
He is skeptical of wind power—and sabotaged a $120 million offshore wind investment by Norwegian energy giant Statoil last year—perhaps in part because of a declared belief that some turbines "have a little electric motor that turns the blades [when the wind isn't blowing] … so that they can show people wind power works." A champion of charter schools and voucher initiatives, he has advised students: "If you want a good education, go to private schools. If you can't afford it, tough luck. You can go to the public school."
As for President Barack Obama, LePage said on the campaign trail that the president could "go to hell" and reportedly told supporters at a private fundraiser that Obama "hates white people," a remark LePage later apologized for, even as—in a feat of gymnastic oratory—he declined to confirm or deny having said it.
In June, LePage denounced a Democratic state senator for always wanting to "give it to the people without Vaseline." He has likened the Internal Revenue Service to the Gestapo and, when criticized for the remark, claimed the agency's enforcement of Obamacare would cause a slaughter comparable to the Holocaust. He told schoolchildren that Maine's newspapers are full of lies and joked about bombing the largest of them, the Portland Press Herald, where I work and have been covering LePage's antics.
OK, so maybe he's just a shoot-from-the-hip kind of fellow.
Nah, scratch that. He's full of it on things like labor statistics, too (via PolitiFact):
On Oct. 22, 2013, a blogger for the Bangor Daily News posted an audio clip from a speech LePage made in Falmouth, Maine. Here's what the blogger wrote:
"Informed that the event was wrapping up, LePage said he had two more points to make. The first was just one word: "energy." The second was, he said, in reference to 'workforce development.'
"'About 47 percent of able-bodied people in the state of Maine don't work,' said LePage.
"On the recording you can hear a member of the audience ask, 'What?' LePage repeats himself. 'About 47 percent. It's really bad.'"
The blog post inspired a flurry of media attention, in part because LePage's comment echoed the one from the 2012 presidential campaign in which Republican nominee Mitt Romney said that 47 percent of the American people are "dependent upon government." Romney's comment was widely considered a blunder that hampered his bid for the White House.
But what about the substance of LePage's remark? Was he correct that "about 47 percent of able-bodied people in the state of Maine don't work"? The strength or weakness of Maine's labor market isn't out of the mainstream; the unemployment rate in August 2013 was 7.0 percent, putting it in a six-way tie for 22nd place nationally.
We contacted LePage's press office for supporting evidence, but no one responded.
McCrory hasn't stepped in the doo-doo that badly on unemployment—his claims have tended to be baseless rather than outright false—but you can see the parallel. "That's what people are looking for in a politician: Say what needs to be said and be truthful to the people," McCrory told the convention crowd, referring to LePage. Yeah.
(One other curious thing about Gov. LePage: He rose to prominence as the general manager of Marden's, a discount retail chain—like another prominent figure in North Carolina government. That's how you earn your stripes—make a mint selling cheap goods to poor people and paying your workers next to nothing, then run for office on your business experience.)