Pat McCrory, Sun God
It's a start: the governor tips hat to solar energy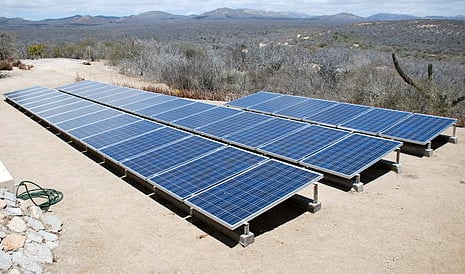 You wouldn't automatically assume it — and, honestly, I didn't know until recently — but North Carolina's solar industry has been flourishing in recent years.
"North Carolina developers installed 134 megawatts of solar capacity in 2012 — the fifth-largest amount in the nation," the Biz Journal's John Downey wrote a couple of weeks ago in a story assessing the possibility of more and larger solar projects around the state. "The state ranks sixth for total capacity now operating, behind only New Jersey on the East Coast." The Tar Heel State ranked ninth in the nation in solar capacity installed in 2011, according to the Interstate Renewable Energy Council.
So it's more than just a symbolic gesture for Gov. Pat to proclaim June as Solar Energy Month in the state. It's an indication that the administration understands that the solar industry is real, growing and a genuine incubator for jobs (or at least is giving lip service to the idea).
I know — I'm about to grant grudging praise to the governor. Weird. Trust me, it feels like a left shoe on a right foot. But after a pro-fracking push early in the year, McCrory at least seems to be trying to honor his campaign pledge of an "all of the above" energy policy that includes alternate sources such as solar and wind.
There's no need to go overboard here. Gubernatorial proclamations are easy. Offshore oil and gas exploration is still unnecessarily risky for the Outer Banks, with little real payoff. But given the state's growing solar capacity, it's good to see McCrory remind people of his own pledge to explore other energy sources. He needs to be held to it.