Pat McCrory's Unemployment Fable, Vol. II
Another dubious benefits claim from our governor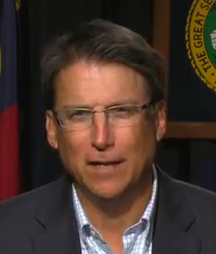 Our governor, quoted yesterday in a New York Times story about nationwide cuts to unemployment benefits:
"Employers were telling me they had vacant jobs, but people would say, 'Hold that job until my unemployment benefits end,'" said Gov. Pat McCrory, a Republican who is the prime mover behind the policy. "I heard that time and time again. Now, employers are telling us that people are coming in and filling out applications to accept jobs, not to meet the requirements of unemployment."
Y'know, maybe that's actually happening. Maybe unemployed people actually were asking employers swamped with applications to keep jobs open for weeks, months, until their milk-and-honey $535 weekly payments ran out.
Maybe these unnamed "employers," whoever they are, and whatever jobs they may be offering, really are witnessing this. Maybe they really are saying to themselves upon witnessing this, "I must tell Pat McCrory!"
That's one of the perks of governing by anecdote. You can tell a pleasing tale that can't be vetted and fits a widespread prejudice, and before long it becomes conventional wisdom, a self-evident truth. (See Queen, Welfare.)
But I'd really like to see some of these employers come forward publicly with some details — about how often this has happened, what kinds of jobs they were offering and how many positions he or she is trying to fill but can't because people weakened and spoiled by the cycle of dependency would rather collect unemployment benefits. (Must be some wonderful jobs.)
Otherwise, I'll just make what's becoming a safer assumption with each day: that Gov. Pat is, once again, talking out of his ass.