Pedaling Health Care
The real value of Freewheelin is its free sittin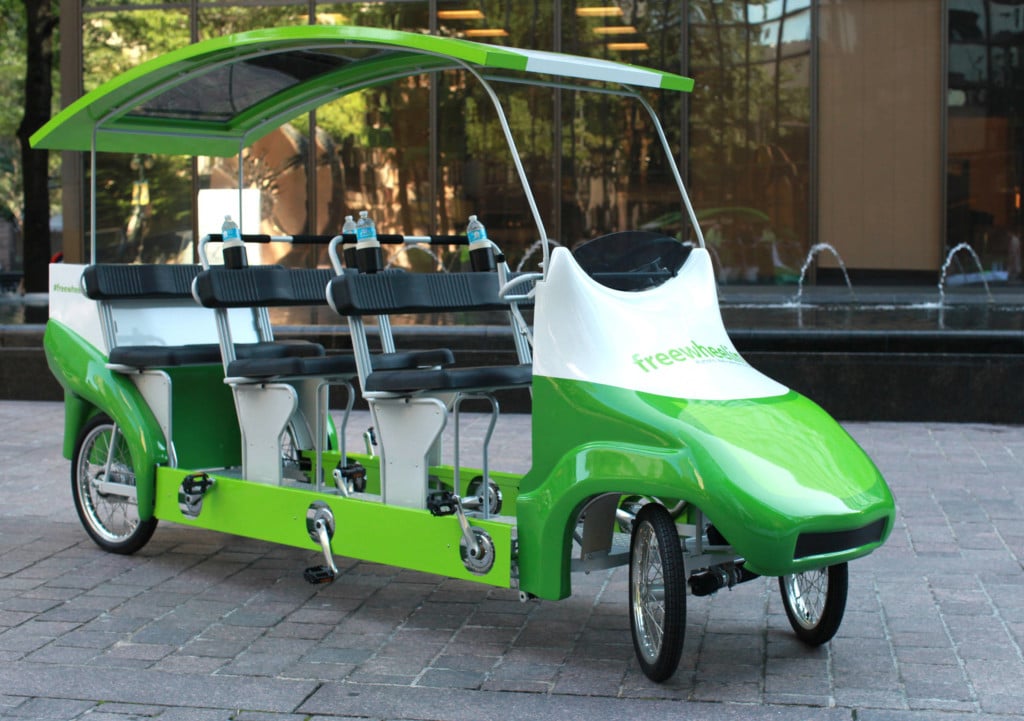 Has Charlotte ever been this bike-friendly? You could argue it's from necessity during the DNC — try making it up College tonight in your Suburban; we'll see you next week sometime — but there's no denying the abundance of pedalers, two- and three-wheeled, thigh-pumping their way through Center City: cops, delivery people, regular citizens. The most visible advocates of people-powered wheeled transport are the folks of Freewheelin, a wellness program run through the managed health care giant Humana that's operating a fleet of free "pedal buses" Uptown throughout the convention.
Freewheelin made something of a splash in Tampa for the GOP convention and is drawing plenty of attention here, too. You can see why. The pedal buses are striking things, hybrids of cable cars and rickshaws that carry up to nine people, up to six of whom power the vehicle by pedaling. In case you miss the point that Freewheelin is environmentally friendly — the 542 miles ridden in Tampa reduced the RNC convention's carbon footprint by 596 metric tons, the organization says — everything from its vehicles to booths to swag is a brilliant Kermit-green.
The organization has set up two stations, one at West Martin Luther King Jr. Boulevard and South Mint Street, the other at Legacy Village at Stonewall and College streets. They're good marketers, the Freewheelin people. They hand out neat bright green stuff: a little insulated pouch for promotional buttons and business cards, flash drives with media kit info loaded on them, even drawstringed nylon gym-type bags if you submit to the bioscreening and Body Mass Index evaluation which, not to put too fine a point on it, tells you how fat you are.
Which, of course, is the real value of Freewheelin, 'cause very few of us want to know that. These folks know how to make the horror of finding out just what a corpulent slug you are kind of … fun. They're also smart enough to lay out little oases of relief from the steam room that is Charlotte this week; coolers filled with bottled water in ice, chilled fresh fruit and a Cool Draft Misting Fan, praise Jesus, that more than one visitor on a sweltering Tuesday afternoon planted themselves in front of, slack-jawed with pleasure.
They started Freewheelin as a bike-sharing program at Humana's main campus in Louisville, Ky., in 2007, then took it national by pairing with a non-profit to put 1,000 sharable bikes in the streets of Denver and Minneapolis during their conventions. It's grown from there. The pedal buses are a new thing, though, based on a unique design by the delightfully named International Surrey Company of Galveston, Texas. Freewheelin has 20 roaming Uptown and has made plans to donate five of them to Mecklenburg County once the DNC is done.
It's a smart way to get attention, get people talking and draw attention to both wellness and environmental stewardship issues without being partisan or strident about it, which is nice. But while the surface intent is fun, the idea behind it is deadly serious and relates directly to health care costs, one of the great political concerns of our age.
"We know that roughly 60 percent of health care costs in this country are driven by lifestyle choices," says Jeff Blunt, the Humana communications manager who's running the Freewheelin show here this week. "If we can get people thinking about those choices — an orange is just as easy to grab as that bag of fries — we maybe can get people thinking about making better decisions, and that's what it's all about. That's how we're going to win the health care battle in this country."