Q&A: Your Landscape & Hardscape Questions Answered by SiteOne
SiteOne specializes in the products you'd use to build outdoor living areas, sidewalks, driveways, pool decks, fire pits and fireplaces, water features and more.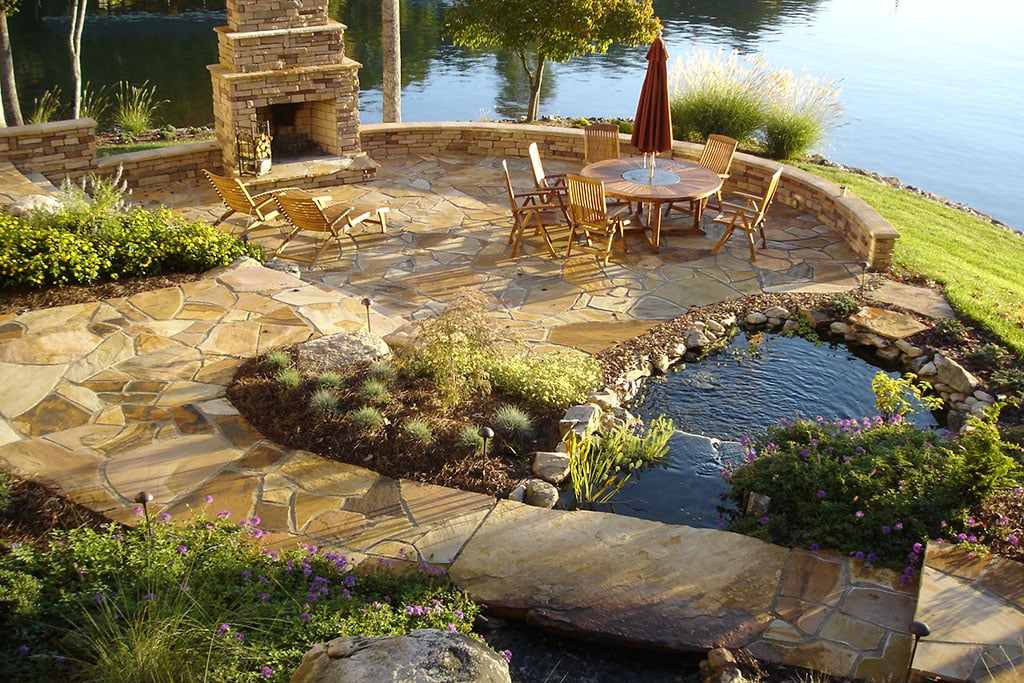 Tell me about SiteOne – what kind of company is it?
SiteOne is the nation's largest provider of products to landscape contractors. We have products spanning from natural and manufactured hardscapes, landscape and drainage supplies, irrigation, agronomics, nursery, pest control, and outdoor lighting. We pride ourselves on being the best and the biggest. Our 500+ locations in the US are backed with the most knowledgeable staff in the industry and the product breadth to get you what you need regardless of the size of your project. Despite our size, we still offer a local feel. We take the time to get to know our customers.
What are "Hardscapes"?
Hardscapes is a general term referring to outdoor products used to beautify the exterior (most of the time) of your home. We specialize in the products you'd use to build outdoor living areas, sidewalks, driveways, pool decks, fire pits and fireplaces, water features…. Pretty much anything you can imagine. We also sell natural stone and masonry products used to veneer residential and commercial buildings. Often times the natural stone veneer products we sell are used in interior applications as well. If you're dressing up the outside of your home, redoing a fireplace inside, or building a home or commercial building, you're no doubt going to need something from SiteOne.
What is a SiteOne Stone Center?
A SiteOne Stone Center is a SiteOne location that specializes in stone and hardscapes. You'll find natural and manufactured stone products, concrete pavers, segmental walls, landscape and construction aggregates, mulches and soils, lighting, artificial turf, and all of the accessories you need to complete your job. Our extensive product selection is backed up with expert staff – our associates know how to get your project completed.
Can anyone purchase from SiteOne?
Absolutely! Our business, while contractor driven, is ultimately geared toward the end user. We encourage anyone with an outdoor project in mind to visit one of our stone centers to speak with our staff. At our locations you can get expert advice, view displays for inspiration or product selection, or connect with a reputable contractor to complete your project. If you're a DIY'er and a contractor isn't needed, we'll be glad to assist even the bravest "weekend warrior" in their next landscape or hardscape project. Whether It's a scoop of mulch or a complete outdoor living area – we're here to assist everyone.
Does SiteOne do the installation work?
We do not…. However, we have extensive relationships with the industry professionals in your area that do! If you're all set with an installation pro, we'll gladly help you identify what products are best for your job that will give you the results you're after. If you don't have a contractor, visit our stores and tell us that. We'll still help with ideas, products, and inspiration – once we've got an idea what you're trying to do, we can partner you with a qualified reputable contractor to complete your job – we'll make sure the contractors we send your way to bid your project are specialists in installing the products you've chosen.
What brands of products does SiteOne sell?
That's largely driven by geography. We pride ourselves on having the most popular products by region. In the Charlotte Metro area, we sell products manufactured by a number of sources including Belgard, Techo-Bloc, Alliance, Techni-Seal, Bull Outdoor Appliances, FX Luminaire, Pro-Trade, etc… We also have an extensive selection of natural stone products including SlateScapes, Castle collection, Bob Timberlake Natural Stone Veneers and many more. We undoubtedly have the largest selection in the area.
How do I get my products from SiteOne to my house?
SiteOne delivers. Our delivery experts are the best in the industry at getting your products from our yards to your home – SAFELY, efficiently, and on time for you (or your contractor) to start work.
Do you have any current promotions running right now?
Yes! We are currently running a $50 OFF your first order with SiteOne at select locations. The promotion will run through Sept. 30, 2021. Use coupon code SBEH. More info.