Rayquan Borum Trial Begins: Did He Kill Justin Carr?
2016 Keith Lamont Scott protests culminated in lethal violence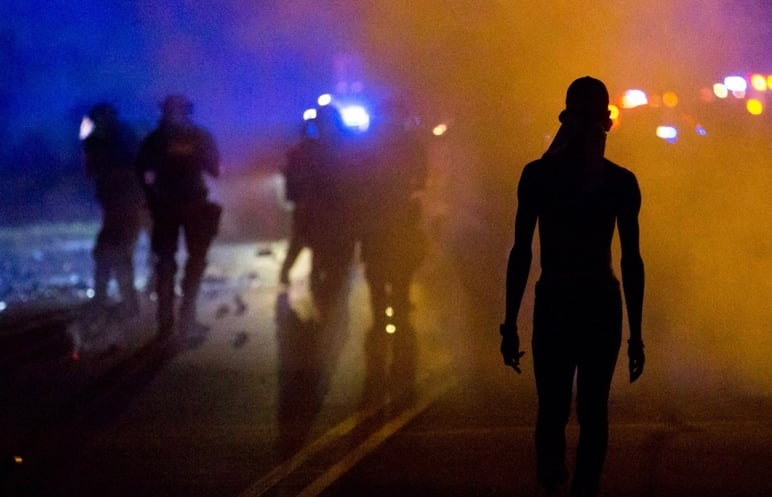 Here's what I remember about the evening of September 21, 2016: While it was still light, a column of demonstrators still angry and energized from the police shooting death of Keith Lamont Scott the previous afternoon marched from their staging area at Marshall Park toward Little Rock AME Zion Church on East Seventh Street. The organizers seemed unsure what they wanted to do. Rally there? Go back to the park? March? Hundreds congregated at the intersection and chanted. Word spread that the group would be gathering in the church for … something. A vigil?
A few dozen peeled off the larger group and went inside. The rest were in no mood to pray in pews. "I didn't come out here tonight to sit in a church," said Blanche Penn, a longtime Charlotte activist, to no one in particular. "I came to march." We'd spoken back at Marshall Park. "I was out last night," she told me, referring to the demonstration on September 20, which started outside the apartment complex where Scott was killed and spread to Interstate 85, where protesters stopped tractor-trailers and set their contents ablaze on the concrete. "I'm tired of people, especially police officers, killing our black males. How many white folks have they killed by just stopping them?
"Charlotte has always been quiet," Penn said. "But now it's time to be loud." The bulk of the group gathered outside the church that night chose to leave the sanctuary and take to the streets of uptown Charlotte, where Justin Carr was shot and killed.
A trial begins today in Superior Court to determine whether 24-year-old Rayquan Borum, jailed since that night and accused of first-degree murder, fired the fatal shot. Prosecutors have said in court that Borum admitted he did. Borum's attorneys have said he carried a gun to the September 21 protest uptown and pulled the trigger, although they say he wasn't the one who fired the shot that killed Carr, 26, outside the Omni Hotel.
If it wasn't Borum, who? The activist group Charlotte Uprising, which coalesced around the Scott shooting and has organized demonstrations since, has maintained since Carr's death that he was killed by a Charlotte-Mecklenburg Police officer's rubber bullet. "So turnt and ready to support Rayquan Borum in court on Monday," Uprising leader Ash Williams tweeted Thursday. "CMPD killed Justin Carr." The group has been consistent in its message, if nothing else.
Yet there's every reason to treat its claims with, at least, healthy skepticism. They group has produced no video or photographic evidence to support them. A Daily Beast reporter who filed a first-person account of the shooting that night identified the shooter as a black male civilian. Two forensic experts have told The Charlotte Observer that the damage to Carr's head was too severe to have been caused by a rubber bullet.
Footage from a CMPD traffic camera at the Epicentre, across South College Street from the Omni, provides the best view of the chaos in front of the Omni. At exactly 8:30 p.m., in the center of a melee outside the hotel doors, a gold dot appears for a fraction of a second. The crowd fans out, running away from the hotel; among those on foot, starting from very near the gold dot, is a young black man wearing a white t-shirt, dark trousers, and white sneakers. He's running toward the camera. He steps off the curb on College and keeps running, and it appears from the video that he's holding something in his left hand, perhaps trying to secure it in the waistband of his pants as he runs. The figure then disappears off the left side of the screen. That's Borum fleeing the scene after he shot Carr, prosecutors are expected to argue this week.
The video alone doesn't necessarily prove Borum's or anyone else's guilt. It's impossible to make out clearly who's holding the gun when the shot is fired. But one thing that's missing from the video is any indication that the shooter was a cop. If any footage shows that, it hasn't materialized.
Another factor to consider: It was chaos out there, and flat claims that "CMPD killed Justin Carr" reflect a certitude no one there that night could reasonably possess.
When Carr was shot and the crowd ran, I was on the opposite side of Trade Street from the Omni, walking back toward College from Tryon Street. A circle of protesters surrounded something or someone in front of the hotel, but I couldn't tell what, even after getting as close as I could. (The New York Times later selected Charlotte photographer Logan Cyrus' photo of what was happening inside the circle as one of its photos of the year.)
I neither saw nor heard the gunshot. This magazine's then-editor, Michael Graff, was in a better position:
Then, at about 8:30 p.m., a bang. A gunshot. Or, was it? People ducked and turned and ran. Someone yelled, "No, no, it was just a noisemaker." But others who were closer said other things. "Jesus, Jesus, they shot him," one woman yelled. "They done killed him."
A man lay on the sidewalk near the bus stop, bleeding. Somehow he was moved to a spot near the hotel entrance.
Around the corner, at the College Street exit of the hotel's valet drop area, a group of maybe a half-dozen people gathered and looked back toward the hotel's door. Most had their hands in front of their mouths.
"Oh my god, they shot him."
A man was on the ground with five medics kneeling over him, pumping up and down on his chest. A CMPD cruiser pulled into College Street near the intersection with East 4th. An officer spoke through the cruiser's speaker, "Someone has been shot. Clear the area. We cannot guarantee your safety."
Whether the verdict in the Borum case will lead to anything like the protests of September 2016 is anyone's guess. The fever seemed to break not long after, and it's been an odd two-plus years of relative quiet on the streets. A new mayor and City Council may have helped calm the waters. CMPD outreach to minority communities under Kerr Putney, a black chief of police, continues. The department has registered 13 officer-involved shootings since Scott's death, including one last month in west Charlotte. None has come close to inspiring the unrest we saw in 2016.
So, if the evidence in the Borum trial shows clearly that he killed Justin Carr, Charlotte will face an uncomfortable reckoning. The events of September 2016 are rightly seen as a pivot in the city's modern history, a watershed moment that tore the mask off Charlotte's politesse and benign (and not so benign) neglect of its most deprived citizens. But there'd be a perverse irony in neither precipitating death being the work of an oppressive police department, the primary justification for the protests: Remember that Scott, initially rumored to be holding only a book in an apartment complex parking lot, turned out to be armed with a loaded handgun he refused to drop.
A conviction of Borum wouldn't lessen the responsibility of CMPD to treat its poor and minority citizens with more respect, or our responsibility to help those citizens where and how we can. But it would serve as a necessary reminder that narrative can overwhelm fact, that fury can wrestle reason into submission, and that either can draw blood that someone, long after the fact, will have to clean up.