Real Estate {DEALS} for Dummies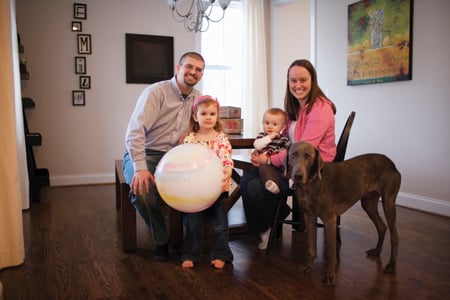 Also see: NC Real Estate Map (PDF) | SC Real Estate Map (PDF) | Neighborhoods by real estate area
In the midst of a buyer's market, everyone wants to be the person who makes his home purchase just as the market hits its bottom, and then ten years later — after prices have recovered — gets to impress friends and family with his tale of real estate deal-making genius.
Today, no one can say when the Charlotte real estate market will hit bottom, if it hasn't already. Likewise, no one can say which property purchases made in the past year or so will be looking like really great deals a decade from now. But if you're at all optimistic about Charlotte's future — and there are lots of reasons to be — many of these deals seem destined to become the stuff of real
estate legend.
We put out some feelers and found five recent deals that caught our attention. And while smarts were a key component in each of them, these stories also include elements of patience, guts, good timing, and a whole lot of luck.
Consider this your textbook guide (and crib notes) to nabbing a deal in the current market.
LESSON 1: The Art of a Short Sale
Behind every short sale there is a sad story. In this case, the tale is tragic: the owner of a fifth-floor unit in uptown's swanky 400 North Church Street building died suddenly, and the condo's market value was less than what he owed on his mortgage. But Realtor Dennis Marsoun of Center City Realty, who lives in the building, worked out a solution that eased the burden on the owner's relatives, and, in the end, also got one couple a roomy Fourth Ward condo at an eye-popping price.
Marsoun knew that retirees Maureen and Robert Fanelli, who had a two-bedroom condo in a building directly across the street, wanted a bigger place. During a chance meeting with Maureen at Fourth Ward Park he convinced her to take a look at the 400 North Church unit—a rare three-bedroom flat. The unit hadn't been updated since it was built in 1997, so it needed a remodel. But Maureen saw the potential, and so they agreed: the Fanellis would offer $425,000 for it.
And then the real work started. To get the bank to agree to the short sale — in which a lender takes less for a property than what is owed on the mortgage — Marsoun spent hours on the phone over a period of weeks, working through the bank bureaucracy. The payoff: the bank accepted $435,000 for a unit that Marsoun estimates would have gone for $625,000 in 2007.
"You have to be very persistent and organized for it to work," says Marsoun of short sales. "In this case, it really did."
LESSON 2: Nabbing the First-Time Buyer Home
Brad Donnelly nabbed his South End condo for 30 percent less than what it was being sold for in 2005.
Chris Edwards
Brad Donnelly would like to say this was all part of his grand real estate plan. At thirty-two, he had a good job as a compensation analyst uptown and was renting a duplex in SouthPark last summer. He decided he was finally ready to buy, and it turns out in-town condo sellers were really, really ready to sell. So he hopped on a shuttle bus one Saturday morning that was taking prospective buyers on a tour of a dozen or so different condo complexes. The one that won out for him: The Arlington, South End's pink high-rise, which still has units left to sell from when it opened more than seven years ago in 2003.
He felt like the building's location on the popular light rail line and view of uptown ensured its stability. But what really sold him on the ninth-floor, one-bedroom pad he bought was the price: $163,000, or 30 percent less than what his upstairs neighbor paid for a similar unit in 2005. On top of that, Donnelly's purchase (assisted by Realtor T. J. Larsen of My Townhome Realty) netted him an $8,000 first-time homebuyer tax credit.
"I wish I could claim that I timed it all this way intentionally, but really I just lucked out," says Donnelly.
And he tries to avoid bragging. Once, he said, he overheard some long-time Arlingtonites sitting near him on the LYNX, grumbling about the
people who recently bought into the building at significantly lower prices than they did. He didn't tell them that he's one of them.
LESSON 3: Half-price Luxury
After months of watching the listing, the Browns scooped up their lakeview property for more than $500,000 less than the original asking price.
Chris Edwards
Tom Brown, a real estate investor for eight years, owns more than sixty properties in the Charlotte area—mostly small rental homes in modest neighborhoods. So two years ago, when he started eyeing a waterfront house with a deeded boat slip and a fantastic view of Lake Norman that was listed for just over $1.1 million, he wasn't thinking of adding it to his rental portfolio.
He was thinking of making it his family's dream home.
He watched the house — in Cornelius's luxury Peninsula community — as it lingered on the market for months and then finally fell into foreclosure. He saw it pop up again among the listings as a bank-owned property, this time for $875,000. He and his Realtor, Cindy Gwin of Allen Tate, kept tabs on it as the price slowly dropped in $50,000 increments, until finally one day Gwin called to tell him it had hit $675,000.
And he made his move.
The offer: $575,000 cash, and a closing in thirty days. Because he had already seen an inspection report — which he'd purchased for about $100 from an inspector who'd assessed the home for another client — he felt comfortable making the offer "as is," meaning he didn't expect the bank to make any warranties or repairs.
And the bank jumped.
When Tom and wife Tracy moved in last summer, they had to make the kinds of repairs that are typically associated with foreclosures: replacing light fixtures, appliances, and carpets; painting walls and refinishing wood floors. They love the house now, but Brown says he only let himself fall in love with it after his offer was accepted.
"I watch a lot of houses," says Brown. "Most of them I won't get, so I try not to get emotional about any of them.
"In the real estate game, once you get emotional, you've lost."
Tip:
Try putting together an "Ultimate Buyer Protection Plan," which may include closing costs and a warranty.
LESSON 4: Moving Up in a Down Market
The Hancocks made their Huntersville home more attractive to potential buyers with a $1,000 towards closing costs, a home warranty, job-loss protection, and other perks.
Chris Edwards
The problem for a lot of people who want to buy in this market is that they have to sell their current house before they can purchase a new one. But Tabitha and Chad Hancock were in the enviable position of needing to sell a home in a relatively fast-moving price point and wanting to buy one in a slower-moving range.
With the arrival of their second child, they felt they'd outgrown their first house — a three bedroom in Huntersville's Monteith Park neighborhood, which they paid $142,000 for in 2002. Their price limit for a bigger house: about $290,000.
They'd planned on building, but Realtor Craig Anderson of Allen Tate persuaded them to look at a four-bedroom, three-year-old home in their neighborhood that had only been lived in for a year before the owner moved out of state for work. Within days they had a contract to buy it for $282,000, about $18,000 less than the owner paid in 2006.
"Nobody wants to see somebody else lose money on their house," says Chad, an engineer. "But you have to pay what
the market price is."
To sell the Hancocks' three-bedroom, Anderson put together what he calls the "ultimate buyer protection plan," including $1,000 toward closing costs, a home warranty, job-loss protection, and other perks. It was under contract in two weeks, for $186,000. "They got a great deal," says Anderson. "They were just really positioned beautifully."
LESSON 5: Artsy Gets Affordable
The Jacksons took advantage of the first-time homebuyer tax credit to purchase their NoDa bungalow.
Chris Edwards
In mid-2008, when Melinda and Daniel Jackson started shopping for homes in Charlotte's NoDa neighborhood, they weren't sure they'd be able to afford to buy in the hip area just north of uptown. They wanted a house with at least three bedrooms and 1,300 square feet—enough room to start a family — and they were discouraged by what they saw in their $200,000 price range.
"We were looking at some pretty trashy properties," says Daniel, a Gastonia newspaper editor.
A few months later, though, the world changed. The country's financial markets collapsed, Charlotte's go-go real estate growth came to a screeching halt, and the Jacksons' hopes for a quaint cottage near uptown — where Melinda works — got a lot brighter. Realtor Dana Parker Burleson of Savvy + Co. Real Estate showed them a little white bungalow beingsold by an out-of-town owner who just wanted to be rid of it. They jumped at it, paying $198,000 in April 2009 — $47,000 less than the previous owner had paid in June 2006.
Once they moved in, they spent much of their first-time homebuyer tax credit on fixing it up using local contractors and vendors. And their timing couldn't have been better. Son Atticus Jackson was born in early September and now crawls the hardwood floors at a whole lot less per square foot than if he'd been born a year earlier.
Jen Pilla Taylor is a Charlotte freelance writer. E-mail: editor@charlottemagazine.com.