Relax. No One Wants to Ban Houses.
As Charlotte explores a ban of single-family zoning, confusion persists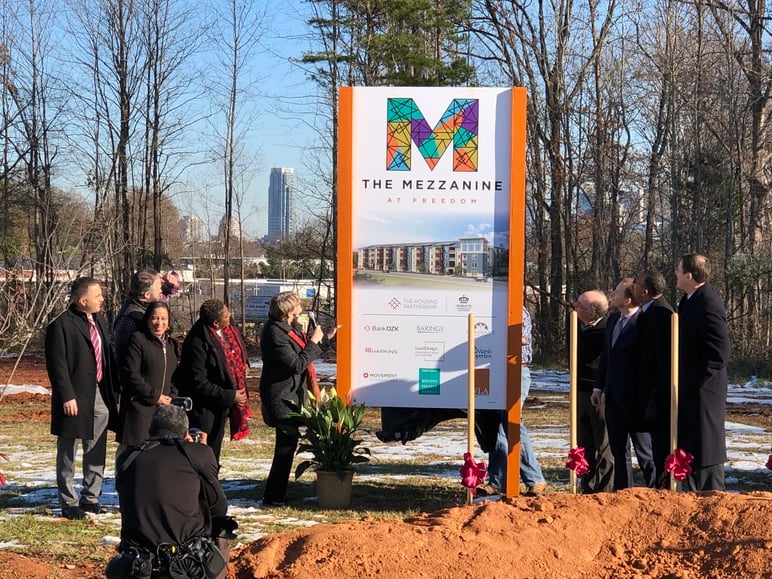 As he scrolled through his Twitter feed Tuesday afternoon, Joe Padilla took note of a New York Times article about a phenomenon growing in the middle of his profession. "Cities Need Affordable Housing, but Builders Want Big Profits," read the headline. "Can It Work?" Padilla, executive director of the Charlotte trade organization REBIC (Real Estate and Building Industry Coalition), began reading—and stopped when he read this sentence: "To further construction of multifamily units, Minneapolis recently moved to rezone most of the city to ban new single-family homes."
Padilla groaned. "Minneapolis has not done this," he wrote in his retweet of the Times story. "Check your facts, @nytimes." No one in the United States has even suggested a ban of detached single-family homes—traditional houses with yards that separate homes and neighbors from each other. (The paper has since published a correction.)
"So frustrating," he told me this week. "Those of us who work in planning and zoning and land use saw what happened in Minneapolis, and banning single-family homes was never the goal. It's like a restaurant that has a fruit menu, and the only thing they have for a long time is apples. Well, now they're expanding their menu: 'Now we've got apples, oranges, bananas.' And the headline is, 'Restaurant bans apples.'"
The corrected sentence refers to Minneapolis' decision in December to adopt a long-range comprehensive plan that bans single-family zones, designated areas that allow nothing but houses—no apartments, duplexes or triplexes, "multi-family homes" in Plannerese. Minneapolis is trying to reverse its share of the consequences of single-family zoning, which for decades has effectively separated American cities' wealthy, white residents from poor, mainly black and Latino ones—creating segregated neighborhoods of haves and have-nots that can either aid or cripple the economic prospects of people who live there. Other cities—and one entire state, Oregon—have since adopted similar measures; Charlotte, still grappling with the 50th-of-50 results of the infamous Chetty study, is considering it.
Charlotte city planners are discussing the idea in meetings with community groups as they work toward a new comprehensive plan and corresponding rewrite of land use regulations, both of which they hope to present for City Council approval in 2021. Planning Director Taiwo Jaiyeoba told me he adopted new terms this spring to talk about a potential abolition of single-family zoning; now, instead of using ominous verbs like "ban" and "eliminate" to refer to the zoning, he uses "expand" and "allow" to refer to the types of homes.
He notes that 84 percent of Charlotte's residential land is zoned exclusively or mostly for detached single-family homes. But that model, in Charlotte and cities throughout the country, is growing more and more expensive. The average sales price for a home in the Charlotte region has risen by more than seven percent in the last year, to $323,316, according to housing data released this week. Despite efforts by the city and private-sector partners, the affordable housing crisis persists.
"People are still going to have single-family residential homes" even if the city does away with single-family zones, Jaiyeoba said. "The question is, can we expand within that 84 percent to allow townhomes, duplexes, triplexes? … But people are going to go with what they hear."
It can be tough, especially in this viral disinformation era, to determine whether the confusion about banning single-family zoning versus banning single-family homes stems from honest misunderstandings or bad-faith, web-enabled yanking of chains. The notion of overbearing governments that restrict the rights of private homeowners hammer-strikes the nerves of citizens who nervously eye the horizon for signs of the impending New World Order. ("(T)he detached single family home is THE AMERICAN DREAM," one of them happened to tweet Thursday.)
REBIC, thankfully, doesn't count itself in that number. Padilla said he's taken part in discussions with Jaiyeoba and the public about the comprehensive plan and doesn't oppose eliminating single-family zones in principle. "We're very intrigued by the idea," he said, "although I think we all want to see specifically what they come up with before we take a position on it."
Padilla just wishes others would do the same rather than jump to lazy, ill-informed conclusions—which may be spitting into the wind these days. A man can hope. "What I think the market is going toward is density and walkability, and detached single-family homes on big lots are increasingly just not what a large number of buyers are looking for," he said. Still, banning them "was never the goal. But people grab hold of that idea, so when we do get around to trying to adopt something, there's built-in opposition."