Salud Beer Shop named one of top 10 beer bars in U.S.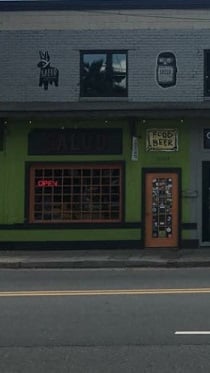 Not a bad past seven days for Jason Glunt.
His craft beer shop, Salud Beer Shop, just celebrated its sixth anniversary with a huge party Friday. A day later, Glunt's beloved Michigan Wolverines punched their ticket to the Final Four. And to top it all off, he learned that Salud had been named as one of the top 10 beer bars (No. 5 overall) by USA Today.
Salud was initially chosen from a panel of beer experts across the country as one of 20 finalists for the award, and it was then up to readers to vote for the top 10.
"It was pretty cool just to be nominated among the other bars," Glunt says. "And then, I didn't realize it was a vote but some of my staff got behind it and rallied everyone to vote. We're super excited; really, it's an honor to have our place on that list with bars that have been open a lot longer than we have been and are much bigger."
Salud will receive a plaque from USA Today for the honor, and this is the second time in the last three years the craft beer shop in NoDa has been nationally recognized, as it was also named one of the top 100 beer bars in 2016 by Draft Magazine.
"To be nationally recognized twice in a small amount of time is great – not just for us, but putting Charlotte on the map, too," Glunt says. "And this one just got announced last week, but we've already seen a few people come in from out of town saying they read about us and wanted to check us out."
The beer shop is the centerpiece of a quickly-growing Salud empire. Upstairs, Salud Cerveceria has almost doubled its sales since bringing on new head brewer Dustin Di Lorenzo from Newgrass Brewing, and will slowly begin keg distribution to local craft hotspots such as Brawley's and Common Market, along with a few select accounts in Asheville and Raleigh.
Next door, construction is still ongoing for Salud's new kitchen. The brick oven for wood-fired pizzas recently arrived, and Glunt says they are currently waiting on some city permits but still eyeing a summer opening.
Amid the accolades and expansion, Glunt says it's all humbling considering where it all started six years ago.
"I was just trying to figure out what the heck I was doing," he says with a laugh. "When we first opened we had four taps and were just trying to get people to find us.
"We were just a tiny little shop that wanted to do something different. We certainly never expected all of this, but it's been fun to see it all grow."