Should Charlotte Invest More in Higher Ed?
Former Mayor Anthony Foxx signs on with Lyft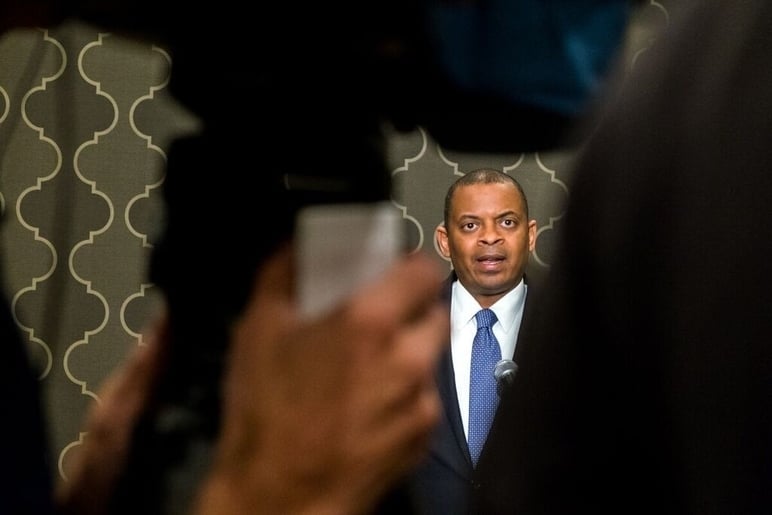 The October issue of the magazine has probably landed in your mailbox by now, so long as you subscribe. It has a big feature about assorted college towns in the region: Knoxville, Athens, Charlottesville, Boone. Charlotte isn't one of them. "It's not a big college town," as a fictional band manager once said in a different context.
This is one of the many subtopics we want to address—within the larger topic of higher education in Charlotte—during our next #discussCLT event, a week from today at Catawba Brewing Co.; details here. Despite roughly three dozen college campuses in the region, Charlotte isn't known as a city with a strong collegiate presence, an asset that contributes heavily to any city's cultural and economic life. We thought it was a ripe subject for discussion after the infamous Amazon rejection in January, which highlighted the glaring difference between Charlotte and the Research Triangle area, in particular rival Raleigh.
So there are certain questions worth exploring, even if they can't be answered simply: What would it take for Charlotte to build a higher ed infrastructure that could attract the ballyhooed "tech jobs of the future" and stock them with talent? Would the investment be worth it? Has Charlotte's dependence on growth through the corporate sector built the development ceiling too low? As with transit, would it be possible without significant investment from the state and federal governments?
Andy Smith and I discuss these and other issues in the latest #discussCLT podcast, about which I have to issue a mea culpa. During the episode, I referred to Queens University as a small, liberal arts college with an enrollment of about 900. I was, er, quite a ways off. Queens is a comprehensive university with business and health colleges and a combined (undergraduate and postgraduate) enrollment of about 2,400. My mistake.
The larger discussion about higher ed ties itself cleanly to an even bigger issue: How well cities can shape their own futures through investment in all kinds of systems—higher ed, K-12 ed, philanthropy, transit. A prominent Charlotte native had some thoughts on the subject Tuesday:
There is a transformation underway across the world and in the United States. People are increasingly flocking into cities, seeking better opportunities and quality of life. This growth is compounding the challenges of moving ever larger numbers of people within the relatively tight footprint of our urban regions. If we're not careful, sheer population growth and slow adaptation of technologies that might otherwise relieve congestion, create more connections and increase economic access will limit our potential as a nation. There will be some trial and error. There will be some transition challenges. But the direction — safer, faster, smarter, cleaner and more connected to opportunity — and to each other — will be worth it. My belief is woven into my life experience.
Growing up in Charlotte, I rode with my grandparents on weekend trips to the grocery store. They were retired school teachers and cared for me throughout my childhood. We routinely passed by the stores closest to us because they offered moldy meats and seafood. These stores would never have attempted to open in more well-to-do parts of my hometown. So, every Saturday morning, my grandparents traveled to three grocery stores across town, one for staple foods, another for meats, fruits and vegetables and still another for fish. It does not get any more fundamental than food.
My grandfather bought used cars. He put enough gasoline in them to make the trips he needed but rarely filled the tank. The car was a necessity but it was also a cost center. We were lucky to have a car. I saw so many nearby families who did not. How much more discretionary money might my family have had if we never owned a car — if there had been a way to pay for the trips they needed instead of the car itself? How about those families I saw growing up who had no choices — not for food, not for work, not for school, not for health care?
That's Anthony Foxx, the former Charlotte mayor and U.S. Transportation Secretary, who announced through the above Medium entry that he's taken a job as chief policy officer for Lyft, the ride-sharing company that like its primary competitor Uber is beginning to branch into the dockless bicycle and scooter markets.
What's interesting about Foxx's explanation is his explicit connection of affordable, convenient transportation to opportunities for the poor, the main rationale behind Charlotte's expansion of its fixed-rail transit system. Our last #discussCLT event in August explored some of that question, too—with transportation options multiplying by the week, how sure can planners be that a fully built public transit system will be able to compete with ride-sharing and dockless whatever? No one quite knows.
Foxx, who championed the east-west Gold Line project when he held public office, understands the complexities of connecting people to jobs, schools, and each other. He's indicated before, and did again Tuesday, that be believes private transportation investors such as Lyft can complement public systems even as they compete for riders and funding. He may be right. As usual, it all depends on the execution, and how willing tomorrow's leaders are to ensure everyone gets where they need to go, no matter what kind of wheels they use.