Summer Chill: Cool Off on This Mile-High Mountain
Lower temperatures are just one reason to head a couple of hours west to enjoy Grandfather Mountain's rejuvenating landscape.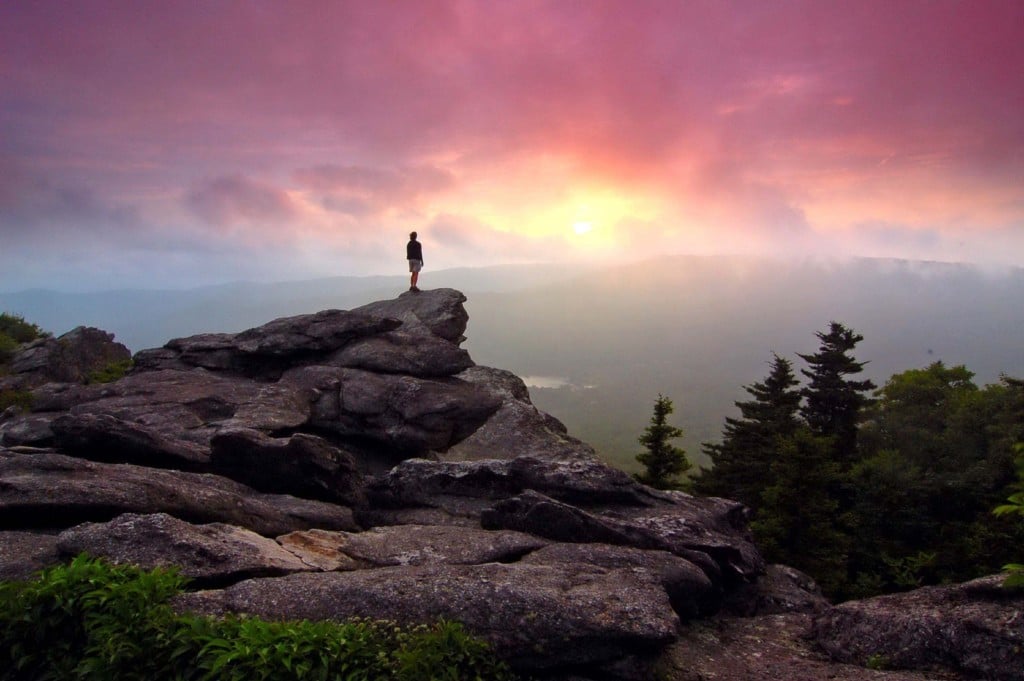 Summer in Charlotte is notorious for being hot and sticky. Some days, the breeze is so non-existent it feels like we're sitting in a pot of soup. Other days, the sky is so cloudless it's as if the sun is searing directly into our skin. Truth be told, it's time for a break from the heat.
The good news is: Relief isn't too far away.
Just two hours west of uptown, you'll find cooler temperatures, thinner air, and a rejuvenating respite from Charlotte's smothering summer weather. The iconic Grandfather Mountain stands at 5,946 feet above sea level, making it more than a mile high. As you might imagine, this lofty elevation is a plus for Charlotteans needing to chill out—the temperature here is an average 15 to 20 degrees cooler than the Queen City on a summer day.
What to do on Grandfather Mountain in the Summer
Located less than 15 miles from Boone and 70 miles from Asheville, Grandfather Mountain offers plenty to do while you hide out from the heat. Whether you want an outdoor adventure, an exciting one, or a leisurely one, Grandfather Mountain has it all (without the sweat-inducing weather).
Enjoy the views
Home to the world-famous Mile High Swinging Bridge, Grandfather Mountain is the ideal location for your next Instagram snap. As you stand more than a mile above sea level on the 228-foot Swinging Bridge, your eyes become overwhelmed by beauty in every direction. Bask in the panoramic views and cooler temperatures in your perch above the clouds with this one-of-a-kind excursion.
Hike to your heart's content
The nonprofit nature park features access to over 12 miles of pristine alpine hiking trails, enabling explorers of all skill levels to experience the fun. For the more advanced climbers, try one of the trails that require cables and ladders to traverse! Grandfather Mountain is one of the most rugged mountains in the Eastern U.S., alluring hikers with some of the Blue Ridge's most memorable trails.
The park is open year-round (weather-permitting and with the exception of Thanksgiving and Christmas), and you can also opt for a guided hike.
Attend an event
Prefer to plan your trips around events? Grandfather Mountain is always hosting fun and interesting events—some for kids, some for nature lovers, some for those who love a good show.
For summer 2019, the iconic Highland Games return to the area, plus other exciting happenings. See some of the upcoming events below.
Summer 2019 Events at Grandfather Mountain
---
Grandfather Mountain is open daily year-round, weather permitting. The not-for-profit Grandfather Mountain Stewardship Foundation strives to inspire conservation of the natural world by helping guests explore, understand and value the wonders of Grandfather Mountain. For more information, call 800-468-7325,or visit www.Grandfather.com to plan a trip.