Testimony Begins In Borum Trial
Man accused of killing Justin Carr told friend he did it, prosecutor claims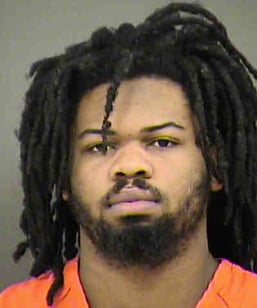 After two weeks of jury selection, the Rayquan Borum murder trial in Superior Court began in earnest Monday with opening statements and testimony from three witnesses. A caveat's in order here: Opening statements are not evidence, and promises of testimony are no hard guarantee that the testimony will come, or show what a prosecutor says it will.
Still, as a rule, the more detailed and specific the opening statement, the stronger the case, and for Assistant District Attorney Glenn Cole to display these specific details on a courtroom video screen for jurors, as he did Monday morning, displays a courthouse-sized degree of confidence. On the screen were quotes that Cole said came from the defendant, who was in jail and on the telephone with a friend after his arrest in the shooting death of 26-year-old Justin Carr:
"It's over for me."
"I already told 'em that I goddamn did it."
"Man, they showed me pointing the gun, bruh."
"Get everything out your house."
"I think I fucked up this whole case. I talk too much."
"You know you can switch it up when you get a lawyer."
Cole didn't specify who Borum was talking to, although prosecutors believe it was a friend of Borum's named Marcus Williams, one of three who accompanied Borum to the protest uptown on the evening of September 21, 2016, a day after the police shooting of Keith Lamont Scott in northwest Charlotte. (When Borum told his friend to get everything out of his house, Cole told jurors, he was referring to the 9mm semiautomatic handgun he'd used to kill Carr.) Borum, 24, who was convicted of felony breaking and entering in 2011, is charged with first-degree murder and possession of a firearm by a convicted felon and would spent his life in prison if convicted of murder. He went to the protest wanting to kill a police officer, Cole said; he was aiming at a cop when he accidentally shot Carr in the head.
"The fact that he didn't mean to hurt Justin doesn't matter at all," Cole said. "The intent transfers."
Darlene Harris, one of Borum's two attorneys, used most of her opening statement to emphasize what often is a defendant's best friend, reasonable doubt. The Charlotte-Mecklenburg Police Department, under pressure to make an arrest, "rushed" their investigation to take her client into custody, she said. "Instead of seeking truth," Harris told the jury, "they sought a conviction."
The trial is expected to last three to four weeks, plenty of time for jurors to determine the veracity of that claim. The first of many witnesses were Carr's mother, Vivian; John Covington, a close friend of Carr's who accompanied him to the protest; and Ryan James, a journalist on a freelance assignment for The Daily Beast who, in a first-person story at the time and again from the stand Monday, identified the shooter as an African-American male civilian with dreadlocks; in court, James didn't specifically identify Borum as the shooter.
The hardest testimony to hear came from Vivian Carr, the first witness, who went through a grueling two rounds of essentially the same testimony—the first time to allow Judge Gregory Hayes to rule on a defense motion to prevent her from being called as a witness, which Hayes denied; and the second time before the jury. For the second round, Vivian Carr seemed to have been drained of any emotion; she answered Cole's questions in a quiet monotone. Justin Carr, the youngest of her three sons, wanted his mother to go with him, but she had to work late that Tuesday night. She last spoke to Justin Carr a few minutes before he was shot to death. Vivian Carr testified that he called her when he was walking toward his car, parked behind the Omni Hotel, and preparing to go to work. The protest had been peaceful, he told her.
One of her other sons called her 20 to 30 minutes later to tell her Justin Carr had been shot and taken to Carolinas Medical Center. "I immediately went to the hospital," she said, where she found her son in a coma. The next day, she made the decision to remove "my baby boy" from life support.