The 2018 Midterms in Charlotte: Strong Turnout and a Blue Shift
ANALYSIS: Unpredictable results in nation, state; lurch to Dems in Mecklenburg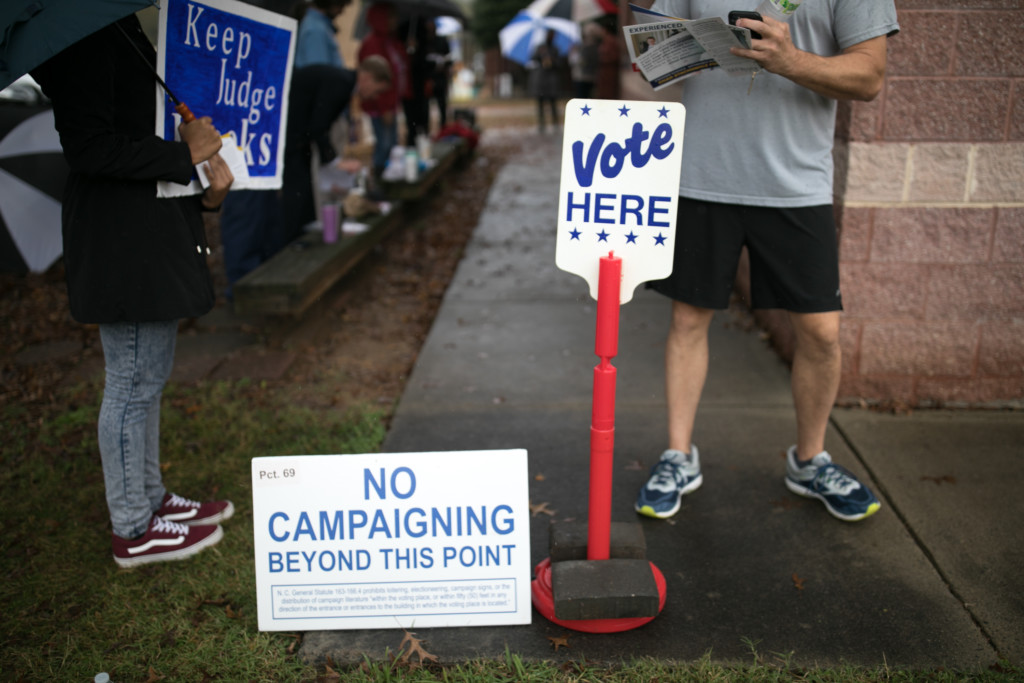 "Help," read a sign outside the YMCA branch in NoDa on Tuesday, a midterm election day that citizens across the country anticipated with a roiling mix of optimism and dread. "Restore Health to Our Democracy. VOTE Nov. 6th." They did, nationally and in Mecklenburg County, where a little more than half of eligible voters cast ballots, placing in the shade the 39 percent county turnout for the last midterm in 2014.
If you're inclined to think that high turnout and wildly disparate results indicate a good bill of health for a democracy, most of Tuesday's results had you skipping out the front door this morning, even if you were still bleary-eyed from staying up to watch them trickle in. Statewide, 52 percent of eligible voters cast ballots, the most since 1990. Republicans retained the U.S. Senate, but Democrats captured the House. In North Carolina, Democrats broke the GOP supermajorities in both legislative houses, but Republicans still hold majorities there; voters approved four of the six GOP-sponsored referenda to amend the state constitution, including a voter ID provision, but widely rejected two others that would have limited the governor's power to appoint judges and members of the state Elections Board—an attempted legislative power grab flagrant enough to earn the public condemnation of all five living former governors, from both parties.
In Charlotte and Mecklenburg County, though, the news was almost all good for the Democrats. The county Board of Commissioners' 6-3 Democratic majority went to 9-0, a profoundly satisfying result for those who've been yearning for years to see 11-term incumbent and unrepentant bigot Bill James finally ousted from the board. A referendum to more than triple the amount of money in Charlotte's dedicated fund for affordable housing passed easily. So did referenda on bonds for transportation and neighborhood improvements.
Elections can be like that, the momentous sharing space on ballots with the granular. But this midterm felt different. There was a sense that something elemental about the country's future was on the ballot. Regardless of which way you voted, or why, or to what degree you saw the midterm as a referendum on the sitting president, you wanted, more so than in previous off-year elections, to get out there.   
The local ballot measures were what compelled Jamel Williams to drive 40 minutes Tuesday evening to cast his vote. He used to live in east Charlotte, out near Albemarle Road and East W.T. Harris Boulevard. Then he moved to the Ballantyne area a month ago and forgot to update his voter registration. So he trekked out to the Precinct 94 polling place, Albemarle Road Recreation Center, in the dark Tuesday evening and arrived 15 minutes before the polls closed.
The future of the country? Anything related to the balance of power in Congress? Didn't care. Williams, 30, was out there to vote "yes" on the city bonds. "We need lots of stuff fixed around the city," he said. "Local change. Trump didn't have anything to do with why I voted." Mablelene Burrell, who spent most of the day handing out fliers in support of the bonds, said "a steady stream of people" had poured into and out of the rec center all day.
Thomas Rector, the chief judge at Precinct 121 in south Charlotte, said the line at the administrative building at William Davie Park extended into the parking lot when voting began at 6:30 a.m. "It's been very steady, busy all day," he said at a little before 3:30 p.m. "It's extremely encouraging." Then he caught himself. Precinct 121 is in a majority-Republican area, and he didn't want to come across as partisan. "As a citizen, I'm encouraged. We already have twice as many as we had (for the primaries) in May. And we've got four hours to go yet."
Outside, Gayle Harris was stumping for his son, Wesley Harris, the 32-year-old Democratic candidate for N.C. House District 105. The elder Harris was clad in his economic consultant son's gray campaign T-shirt, with his slogan, "The Nerd We Need," emblazoned on the back. (The voters of District 105 apparently agreed. Harris defeated Republican incumbent Scott Stone in a traditionally strong district for the GOP.)
Chad Stachowicz, the Democratic challenger for the N.C. Senate's District 39 seat, didn't fare as well against Republican Dan Bishop, earning only 47 percent. Still, it was a strong showing against a prominent incumbent, and it reflected some growing blue encroachment into historically red territory in the General Assembly. Up in Lake Norman, Natasha Marcus easily beat three-term Senator Jeff Tarte, and young Democrat Brandon Lofton edged incumbent Republican and former Charlotte City Councilman Andy Dulin in southeast Charlotte's House District 104.
Stachowicz's campaign manager, Taylor Allen, spent her Tuesday afternoon handing out campaign literature at Davie Park. Allen graduated from UNC Greensboro with a political science degree in 2017 and quickly plunged into the fray. "I knew that going into the midterms, it was kind of time to put my money where my mouth was," she said. "I have the belief that … politics is about action and people and investment. It is not about academic theory. It is not about sitting in an ivory tower or even just working in a think tank. If you have never been on the ground and spoken to the people you're trying to change the lives of, I think that smacks of incredible entitlement. And no matter which party you fall on, it is a requirement for anybody involved in politics to talk to people, because that's the heart of this."
Allen unspooled this recitation without notes. She wasn't finished, either.
"Decisions are made by people who turn up. And we have lost, especially in my generation, the understanding that voting is not an endorsement. It is a practical, strategic choice about who you would like to represent you. Because at some point, somebody is going to be sitting in that seat. You can't deride the system for not being functional if the key component of it is missing. You cannot remove yourself from politics."
Teasing, I told her I couldn't imagine why she'd decided to major in political science. She turned sheepish. "If I tend to speechify a little bit," she said, "I apologize."
In a way, the midterm results did reflect the "blue wave" that many had predicted and Democrats had hoped for, even if it wasn't a tsunami that cleared everything in its path. You could view them as the harbinger of a stronger Democratic wave to come, or just a natural recalibration toward the center after the Republican conquest of 2016. Clearly something was shifting, even if the shift turns out to be temporary. Here's one exhibit from Tuesday: John and Maureen Hickey, both 76, transplants from New Jersey and lifelong Republicans, virtual worshippers of Ronald Reagan, who for the first time in their lives cast votes for Democrats.
"I've been a Republican since I was 18 years old," offered Maureen on her way out of Davie Park. "But I've been down here four years now, and I see the damage of a state being run by one party. I see the disaster in the public schools, and all the people in Raleigh—their kids are in private schools. So are my grandchildren. There needs to be a change in the school system, but nothing is happening in Raleigh. The teachers' pay is ridiculous …
"I want to see somebody go to Washington, or even go to the state capitol, because they want to help the people, not because they want to line their pockets and be there for four years and get a pension for life, free medical—it's not right."
She sounded like an emissary from a different age, when Democrats and Republicans saw themselves as members of opposing parties, not combatant tribes in a War for the Soul of America. But the Hickeys were willing Tuesday to do what we've been told is electoral poison—compromise, bend, modulate away from the extreme. "We've always voted all Republican. But we didn't today," John Hickey said. "It's mostly because we're not happy with what the Republicans are doing." Maybe you can take things too far in politics, spend so much time at one pole or another that you end up dying of exposure. Tentatively, it's a lesson for Republicans who don't wield the power they thought they did, and for Democrats tempted to grab their electoral successes from Tuesday and get drunk on them.