The 'Big Cat' Left Signs
Panthers' fan base shouldn't shrug off Jerry Richardson's behavior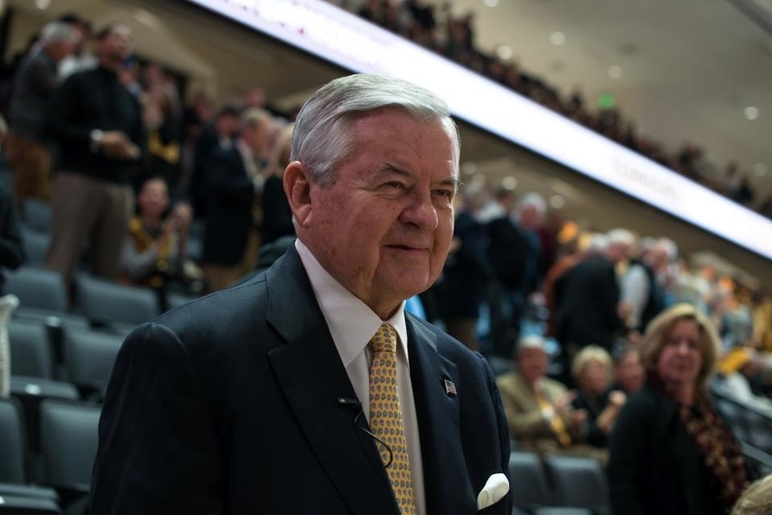 The news and its consequences come quickly these days. The first public sign that something was amiss in the universe of the Carolina Panthers was the team's statement, dropped late on a Friday afternoon eight days before Christmas, that the team was conducting "an internal investigation into allegations of workplace misconduct against the team's owner and founder, Jerry Richardson."
On Sunday morning—after numerous observers raised the obvious question of how a team could properly investigate its owner—the National Football League confirmed that it was taking over the investigation. A couple of hours later, Sports Illustrated published the story that cleared up why events were moving so quickly. A few hours after that, Richardson—the man who brought professional football to the Carolinas—announced that he was selling the team.
That last piece of news allowed the Richardson story to zoom past its own cringeworthy aspects—that the 81-year-old multimillionaire habitually commented on how female employees put on tight jeans, that he "copped feels" on women under the pretext of buckling their seat belts on lunch outings—and into breathless speculation over who's likely to buy the team and whether it will remain in Charlotte. (Can Diddy assemble an ownership team with Steph Curry and install Colin Kaepernick at QB? Are Snoop Dogg and Jay-Z interested? How 'bout Justin Timberlake?)
The fan base shouldn't shrug off Richardson's behavior that easily. Neither should the rest of us. Aside from the details about at least four confidential settlements with former employees over sexual harassment complaints, the most unsettling theme of the SI report is its examination of the mechanism of power Richardson and the organization used to shield itself from accountability. "He was the boss," one ex-employee told SI. That's just Mr. Richardson being Mr. Richardson. It was more a creepy-old-man thing than a real threat. "And you don't want to lose your job," said another ex-employee.
How often, since The New York Times' reporting on Harvey Weinstein in October launched the #MeToo movement, have we seen the unmasking of serial sexual harassers and predators unfold in more or less this way? Matt Lauer, Al Franken, Charlie Rose, name your fallen figure: It starts with an imbalance of power, then the man taking advantage of that power, at first subtly—in a way that can be dismissed as a misunderstanding—then gradually escalating, to the point at which the victim senses she's been violated but still wonders if she's been complicit all along. It's a form of psychological abuse that outlines the physical violations, and Richardson, according to SI, was quite skilled at the game:
Multiple female employees recall that their notes eventually came accompanied by small cash payments and encouragement to use the money to treat themselves to massages or dresses. The women would thank Richardson; when he responded with lines on the order of You won't find another man to treat you the way I treat you, it was still viewed as flattery, if clumsily rendered, by an older man from an older era.
Well, that era appears to be over—Tina Becker, a woman and former TopCat, took full control of the organization Monday—and episodes from over the years that you could dismiss individually are harder to forget when they're viewed in combination. Years flatten the effects. But people remember Richardson's instruction, to television reporter Morgan Fogarty during a 2011 news conference, that she sit in the front row so he could "abuse" her as her station had abused him. Fogarty, who now works for WCCB, clarified Monday that the incident wasn't part of the league investigation, and that Richardson had always been "a gentleman" to her. But the incident takes on a new, darker color given what we know now.
So do Richardson's suggestions this season that his players might be punished for publicly commenting or demonstrating on social issues. Players met with Richardson at his home early this season, when the #TakeAKnee movement hit its peak. It was a private conversation, and the owner's public comment about the movement was noncommittal. But another incident comes to mind: His insistence to Cam Newton—which he related during an interview with, of all people, Charlie Rose—that the quarterback refrain from acquiring any tattoos or piercings.
If there's a common thread here, it's the need to dominate. Richardson is the only current NFL owner, and only the second in the league's history, to have played in the league. Two years ago, during the Panthers' run to the Super Bowl, I spoke with New York Giants President and CEO John Mara, who talked about Richardson's well-documented hardness during NFL owners' 2011 labor negotiations with the players' union. This was a couple of years after Richardson's heart transplant. During a particularly tense meeting, Mara told me he turned to Richardson and said, "'I'm not sure whose heart you got, but that guy had to have been a tough son of a bitch."
"He laughed like hell," Mara said.