The Business Side of WaPo's Super Bowl Ad
Journalism may, in fact, survive. But as a viable profession?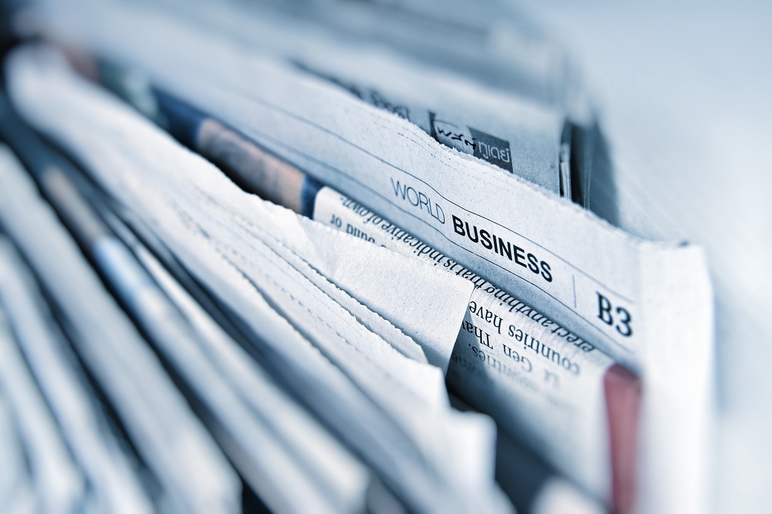 By now, if you haven't seen the ad, you've almost certainly heard of it. It opens with a still, black-and-white photograph of the Normandy landing on D-Day accompanied by the cacophony of battle, the perspective slow-zooming closer for the full Ken Burns effect. "When we go off to war …," intones Tom Hanks in voiceover. Selma, Alabama, in 1965 is next in the series: "When we exercise our rights …" Images of a Capitol-rotunda lying-in-state, California wildfires, and a bombed building emerge and recede before our eyes as Hanks gets to the point: "… there's someone to gather the facts, to bring you the story, no matter the cost." Photos of Austin Tice, Marie Colvin, and Jamal Khashoggi—journalists captured or killed on the job since 2011—punctuate the last four words.
It's a tribute to journalists and journalism, of course, and it aired during the Super Bowl on Sunday. The Washington Post paid what may have been more than $10 million for the minute-long ad. (CBS, which televised the dog's breakfast of a game, was charging $5.25 million for a 30-second spot, according to CNBC.) The backlash materialized quickly, and not just from people predisposed to detest journalism on what passes for principle. It came from Post journalists themselves. "I'm really proud to work at a newspaper that does this vital work," tweeted reporter Sarah Kaplan. "But maybe next $10 million could go toward better health benefits, parental leave, equal pay, and more jobs for reporters?"
Journalism, as a business, has taken on water since the mid-2000s, and it's no big secret why: The advertising market went online. To extend the sinking-ship metaphor, the first torpedo hit when Craigslist went live in 2007, stripping newspapers of the classified ad revenue on which the industry had held a virtual monopoly. Google and Facebook ads have taken care of most of the rest. American newspaper advertising revenue peaked at $49.4 million in 2005, according to the Pew Research Center. It fell to an estimated $16.5 million in 2017. Circulation revenue has actually grown slightly since the early 1990s. But, as I and other journalists often explain to people not familiar with the industry, circulation has always accounted for a mere fraction of its revenue. Advertising was the game. Starting in the mid-2000s, newspapers began losing it.
Much of journalism's coverage of its own decline has followed the contours of an action movie about the defenders of The Alamo, following a gang of plucky survivors bonding in the face of impossible odds and holding off an enemy army with a broomstick and an old revolver. Last week, McClatchy—which owns eight papers in the Carolinas, including the Observer, the News & Observer in Raleigh, and The State in Columbia—announced its offer of 450 buyouts that President and CEO Craig Forman said "will help us get to growth faster in a digital company that will be smaller for the foreseeable future." After the announcement, Jane Elizabeth, managing editor of the N&O and The Herald-Sun in Durham, took to Twitter to try to summon up the old spirit. "Here's what we did: Journalism," Elizabeth wrote. "Editors edited. Reporters reported. We created & published hundreds of stories, videos, photos, social media posts. We held meetings to plan projects. We lined up our top stories for our weekend newspapers … The business model may be broken but journalism is not. Journalism supports democracy & democracy supports journalism. Journalism will outlast all of us."
I can't deny that a big part of me responds to this with moistened eyes, a stiffened spine, and a "Hell, yeah"; I spent most of my career in newspapers before I took a buyout from the Observer in 2008, and I know that much of what keeps you going through the low pay, long hours, and doors slammed in your face is the sense that you're serving, that you're the spear tip of an institution critical to the functioning of a healthy democracy. (We love to observe, no pun intended, that journalism is the only private profession explicitly protected by the Constitution.)
But in 2019, Elizabeth's rallying cry, no matter how inspiring, can't help but sound like the band playing on. Journalism may outlast all of us, but how? If the business model is broken—or, more accurately, bankrupt and sold off for parts, or scooped up on the cheap by billionaires as quaint side investments—what kind of consolation is that? "I know this thread is intended to mean well," Brian Powell, communications director for the N.C. Conservation Network, tweeted in response to Elizabeth's thread, "but the journalists trying to make rent and eat in the real world are probably not interested in clichés about how the Platonic ideal of journalism is gonna be just fine."
So we arrive back at the essential question: What is journalism's future? One of the smartest and most realistic answers I've seen came from an unnamed source at ESPN after one of the cable network's harshest rounds of layoffs. The source said, essentially, that people will continue to produce good works of journalism, but what's dying is journalism as a viable profession; it'll increasingly resemble painting or sculpture or fiction, artistic disciplines dependent on assorted subsidies that range from grants to income from alternate careers.
The forecast had the ring of sober truth, to me, anyway. Pretty depressing, I know, unless you're one of those mole rats who thinks of journalists as agents of the Deep State. (Hey, congratulations, you got us. That collapsing-business thing? A clever ruse.) But the wealthy-benefactor model is a crapshoot. The subscriber model has a low ceiling. Information is having to compete on the open market with customized fantasy, which has no nutritional value but tastes better. If you value solid information about your community, nation, world, you'd better be prepared to pay for it, or even unearth it yourselves. Democracy dies in both darkness and debt.