The Donkey Has a Heartbeat
We'll see in the next few years if the N.C. Democratic Party has a spine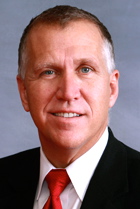 The Observer reported this morning on a leaked memo detailing a liberal organization's "attack plan" against Pat McCrory, Thom Tillis and other prominent Republicans holding state office. This is shocking, in that it requires one to believe North Carolina Democrats are on some level "organized" and have a passing familiarity with the concept of "attacking," but all indications are that this is a real thing.
As clandestine plots go, this really is not terribly surprising, or even inadvisable. It turns out that the North Carolina Democratic Party has a plan to not take a four-year nap despite its superminority status in the General Assembly, and that it plans to challenge Republicans politically. This is what it means to be an "opposition party," and it's not like the Dems can offer any resistance on the floor of either legislative house. They have to count on political guerrilla warfare. That's what this is.
A few points, in case anybody out there has a hankering to play the "how dare they?" card:
a) A stated Democratic goal is to weaken Republicans' ability to govern. I wonder where they might have gotten that idea?
b) The memo observes that "McCrory is extremely thin-skinned." Yes, he certainly is. It won't be long before he bristles, snaps and looks quite foolish — which won't help an approval rating already starting to flatten.
c) A Charlotte Republican consultant, Larry Shaheen, opined to the Observer's Jim Morrill that any hope of bipartisanship is now … ruined, defiled. And just as the sweet nectar of bipartisanship was about to rain gently upon the Legislative Building, wrapping all in the tender embrace of balanced approaches and bonhomie! "Any hope they had of working together in the legislature," Shaheen said, "just got dashed." And they were so close!