The Economic Crisis for Young Black Men
YMCA's DeVaul: Men have to engage in boys' lives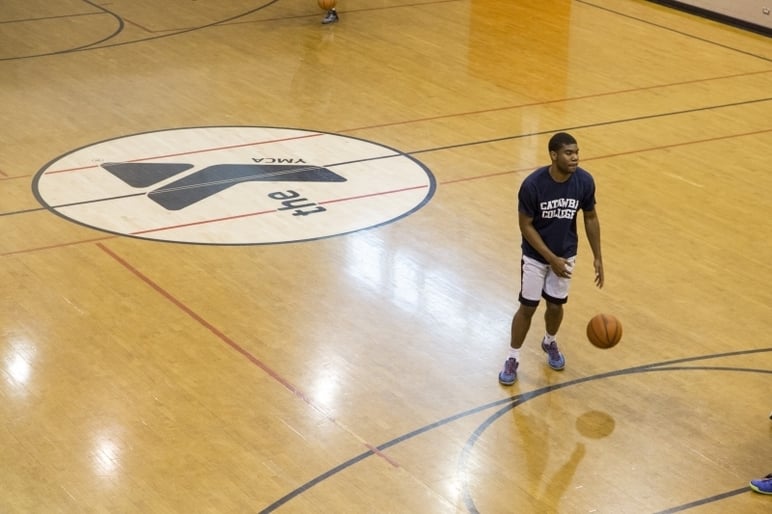 The story went live on The New York Times' website Monday morning. Over the next several hours, 10 or so friends emailed, tweeted, or Facebook-messaged Michael DeVaul about it. They thought he'd understand what it meant and how they could respond.
"Most people were saying, 'OK, enough is enough. What are we doing about this?,'" DeVaul, the YMCA of Greater Charlotte's senior vice president and chief impact officer, said Tuesday from Chicago, where he was attending a national YMCA meeting. "I think everybody's exhausted, and there's definitely a level of anger and frustration."
The Times story reported on a new study by a pair of researchers familiar to Charlotte: Raj Chetty and Nathaniel Hendren, the Harvard University economists who along with colleagues at the University of California produced the infamous 2014 report that ranked Charlotte last among 50 large American cities for economic mobility. The latest study is an installment of The Equality of Opportunity Project, the effort that produced the first report.
Its findings don't single out Charlotte, as the 2014 paper did. But it's in some ways even more revelatory and alarming, as the Times summarized:
Black boys raised in America, even in the wealthiest families and living in some of the most well-to-do neighborhoods, still earn less in adulthood than white boys with similar backgrounds, according to a sweeping new study that traced the lives of millions of children.
White boys who grow up rich are likely to remain that way. Black boys raised at the top, however, are more likely to become poor than to stay wealthy in their own adult households.
Even when children grow up next to each other with parents who earn similar incomes, black boys fare worse than white boys in 99 percent of America. And the gaps only worsen in the kind of neighborhoods that promise low poverty and good schools.
According to the study, led by researchers at Stanford, Harvard and the Census Bureau, income inequality between blacks and whites is driven entirely by what is happening among these boys and the men they become. Though black girls and women face deep inequality on many measures, black and white girls from families with comparable earnings attain similar individual incomes as adults …
If this inequality can't be explained by individual or household traits, much of what matters probably lies outside the home — in surrounding neighborhoods, in the economy and in a society that views black boys differently from white boys, and even from black girls.
"One of the most popular liberal post-racial ideas is the idea that the fundamental problem is class and not race, and clearly this study explodes that idea," said Ibram Kendi, a professor and director of the Antiracist Research and Policy Center at American University. "But for whatever reason, we're unwilling to stare racism in the face."
One way to process the findings is to acknowledge that, for all the mockery it's inspired, the saying turns out to be fundamentally true—it actually does take a village. DeVaul, the father of two sons in their 20s, led an effort last year called Summer of Opportunity, which offered free access for young people to three YMCA branches on weekend nights. The program was successful enough to win a pair of grants to expand into an all-year effort, now called Level Up. Because the three branches were in neighborhoods in east, west, and northwest Charlotte, DeVaul specifically recruited volunteers from black fraternities and sororities because he wanted black children—most participants were boys—to connect to adults who came from the same background. "We went to those fraternities and sororities and said, 'You've got to show up,'" he said. "To their credit, they did."
So he understood instinctively, and through experience, that black boys in particular needed mentors—father figures, if not actual fathers. That observation is nothing new—DeVaul said none of the people who shared the story with him did so out of surprise—but the researchers' findings erect a hard framework of data around the anecdotal. Another excerpt from the Times story (emphasis mine):
The authors, including the Stanford economist Raj Chetty and two census researchers, Maggie R. Jones and Sonya R. Porter, tried to identify neighborhoods where poor black boys do well, and as well as whites.
"The problem," Mr. Chetty said, "is that there are essentially no such neighborhoods in America."
The few neighborhoods that met this standard were in areas that showed less discrimination in surveys and tests of racial bias. They mostly had low poverty rates. And, intriguingly, these pockets — including parts of the Maryland suburbs of Washington, and corners of Queens and the Bronx — were the places where many lower-income black children had fathers at home. Poor black boys did well in such places, whether their own fathers were present or not.
"That is a pathbreaking finding," said William Julius Wilson, a Harvard sociologist whose books have chronicled the economic struggles of black men. "They're not talking about the direct effects of a boy's own parents' marital status. They're talking about the presence of fathers in a given census tract."
Other fathers in the community can provide boys with role models and mentors, researchers say, and their presence may indicate other neighborhood factors that benefit families, like lower incarceration rates and better job opportunities.
It's a startling idea: What determines whether young black men succeed or not isn't economic opportunity or even the presence of their own fathers but the engagement of older men in their lives, regardless of whether those men are their fathers. DeVaul still champions the idea of black men tending to their own children, observing that black boys whose fathers helped raise them are more likely to do the same for their own children. But he understands the value of the secondary "parenting," if that's the right term, that a healthy, stable community can provide.
"If you go back to the 1930s, '40s, '50s, '60s, it's also splintered neighborhoods. Harvey Gantt no longer lives next door to me if I'm low-income," he said. "Growing up in Evanston, Illinois, my father was an auto mechanic, but the guy next door owned an auto body shop, the guy across the street was a physician. So I had more men who raised me than just my father."
DeVaul is talking about social, racial, and economic factors that took decades to establish and that won't be reversed without more years and the will to reverse them. You can't talk about splintered black neighborhoods in Charlotte without discussing the role of urban renewal projects in splintering them, or the lack of involvement by black men in their sons' lives without acknowledging how many black fathers have ended up in prison for minor drug infractions over the last 35 years.
But to the question, "What do we do about this?," DeVaul has an answer: Engage. Volunteer, befriend, care. He mentioned the time-honored Charlotte tradition of community discussions and charitable contributions that allow donors to insulate themselves from the lives of the people they claim to want to help. That has to stop, he said. "Money obviously doesn't solve the problem. That's why Charlotte is 50th out of 50," he said. "We're not lacking in money. What we're lacking is people going in to connect to communities. To me, that's the difference between charity and philanthropy. Philanthropy means, 'I don't need money to connect to another African-American kid. I just need me.'"