The Gallery That May Return a Piece of NoDa to Its Gritty Roots
The COVID economy leads Evening Muse co-owner, Tough A$$ Crew artist to make an artists' space out of what was Sunshine Daydreams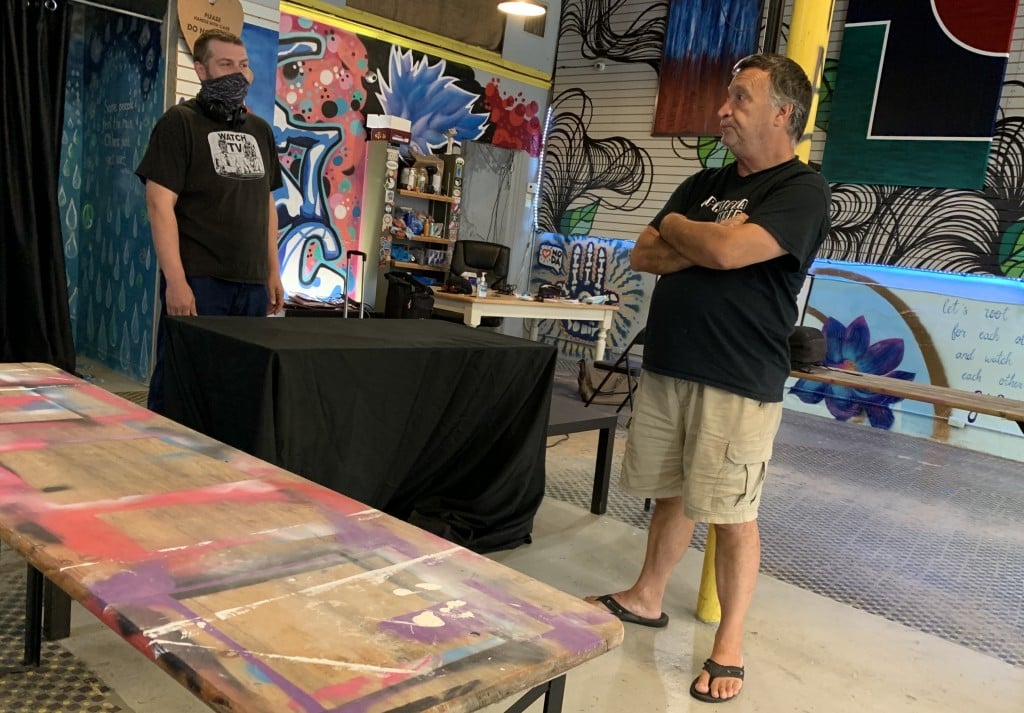 This past Sunday, artist Matt Alvis, who goes by the nom de brosse "Stencil Spray," took about four hours to co-paint a mural of Dizzy Gillespie on the East 36th Street side of The Evening Muse, the NoDa music club. Alvis explains Friday morning that he and his partner, @jbird.the.vandal, still have a few things to touch up. "That's the reason we haven't signed it yet," he explains.
"Yeah," interjects Don Koster, one of the Muse's owners, "when are you going to get to that, dude?"
"J. Bird is supposed to come today."
"What have you been doing with your time?"
"Nothing!" Alvis retorts in mock exasperation as Koster laughs. "I'm just hanging out and pissing my life away."
They're joking, of course. Alvis has spent all week preparing the space we're in—3225 N. Davidson St., next door to the Muse and until recently occupied by the gift boutique/head shop Sunshine Daydreams—for a reopening. Even in NoDa, where buildings and businesses seem to sprout from the earth every time you turn around, this may set a record: from conception to opening in two weeks. The twist: A stagnant economy, not a booming one, drove the rapid development, and what's "new" here is a return of sorts to NoDa as it was two decades ago.
Alvis, 39, plans to open an art gallery Sunday in the old Sunshine Daydreams space, sell local artists' paintings, drawings, and other works on consignment, and rotate pieces as spaces open up. For now, it'll operate from 11 a.m. to 9 p.m. Tuesday through Sunday—Alvis explains that he's fine with a post-dinner crowd but not a sloppy-drunk one—and under the name TAC Gallery.
The name is a nod to Tough A$$ Crew, the artists' consortium he helped found and whose members have spent the last week decorating the once-empty space with graffiti flourishes, reclining nudes, and lime-green whales in anime style. "So this is brought to you by a lot of TAC members, and then tangential people who know people are the reason that we were able to put this together so quickly," Alvis tells me. "I'm in for 90 bucks worth of LED (lights) and $200 worth of beer."
COVID pushed the first in a series of dominoes that tumbled toward the project. In May, cratering sales numbers forced Sunshine Daydreams to leave the space where it had operated for more than 20 years and relocate to more affordable Mint Hill. Koster and his wife, Laurie, devoted live music fans who bought a share of The Evening Muse from founder Joe Kuhlmann in 2017, had eyed the Sunshine Daydreams space as a possible Muse annex. But COVID landed hard on the Muse, too; Koster tells me Friday that income from the Muse's infrequent livestreams since March adds up to about 5 percent of what the club had been making. "And that's pretty accurate," says Koster, 64, "because I'm the accountant."
When the Sunshine Daydreams space came open, Koster spoke again with Paul Sires, the artist and former Center of the Earth Gallery owner whose management company owns the property. Sires asked Koster if he was interested in renting the space. "I don't know what's possessing me to say this," Koster replied, "but yes, I am." He leases the 1,500-square-foot space and sublets it to Alvis at a discount.
"I've spent my whole life being one of the dummies and seeing the smart people do smart things," Koster tells me Friday, "and one of the things the smart people do is, when there are s—ty times, they do something like this, and they come out smelling like a rose. … This may well be insanity. But this is an opportunity that won't come around again in a long time. And we really need to figure out if we can do it."
If it succeeds, even modestly, TAC Gallery could function as a piece of the much-missed version of NoDa that existed from roughly the early '90s to the early 2000s—a genuine artists' neighborhood with low rents, multiple galleries and their accompanying weekend crawls, drum circles, the beloved Fat City bar and music venue. The flavor of the old mill village gradually faded until housing prices began to spike around 2013 and, with the 2018 opening of the light rail line, fully transformed it into a hub for expensive studio apartments and trendy eateries—the familiar Charlotte gentrification story.
Charlotte Art League and other full-time galleries have established themselves on NoDa's outskirts. But one near the Davidson-36th intersection, the neighborhood's nucleus, recalls the days when NoDa was more about art and artists than food and entertainment. In the short time that Alvis has worked on the space, word about the gallery-to-come has spread. Bad economies, it seems, bring some benefits. "The arts community has gone bonkers with the prospect of a gallery returning to NoDa," Koster says. "It's been fun for me to watch, because I'm a neophyte in the arts community. And it's given me some gratification during hard times to know that The Evening Muse is living on and providing something."